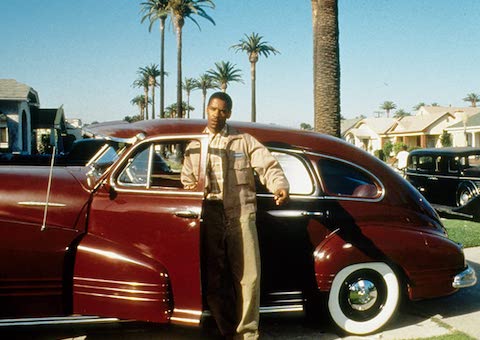 Devil in a Blue Dress


With the annual Home Movie Day Los Angeles event going virtual on October 17, we've been thinking about films that reflect different notions of home—as memories, elusive feelings, and physical spaces where familial and communal bonds are built. In this week's Safer at Home Cinema watch list, our curators, archivists and film experts explore this theme and offer their streaming recommendations. Subscribe to our email newsletter to receive these bi-weekly movie picks and other updates from the Archive.
About Home Movie Day Los Angeles: this event is organized by regional archivists and UCLA graduate students in archival studies. The live stream on Oct. 17 will consist of moving image materials curated from cultural institutions, as well as home movies collected from Angelenos in advance. Submit your 8mm, Super 8 or 16mm movies by September 20 to have them picked up, inspected and digitized for free. Submit digital content by September 30. Learn more.


Mark Quigley, John H. Mitchell Television Archivist

East LA Interchange (2015, free on Tubi and also available here): Director Betsy Kalin's independent documentary thoughtfully examines the enduring legacies of East Los Angeles' historic community of Boyle Heights. In the 1950s, Boyle Heights was considered one of the most diverse areas in the United States, serving as home to African American, Asian American, Jewish American, Mexican American and Russian émigré residents, living harmoniously as neighbors with distinct cultural identities that served to forge mutual kinships. Through interviews with educators and residents, augmented by vintage photographs and home movies, Kalin illuminates the immense external pressures the area has been subjected to over decades—from the devastating, unjust incarceration of Japanese Americans during World War II, to the systemic racism and environmental terrorism that enveloped the neighborhood in unchecked freeway development. Despite the impact of such negative institutional forces, what emerges is a potent tale of the heroic resilience of a community that simultaneously continues to face challenges (including gentrification) while thriving.
A Boyle Heights family in East LA Interchange


Lauren Poleski-Schultz, Digital Lab Production Coordinator
Running on Empty (1988, free on Hoopla and also available here): Directed by the legendary Sidney Lumet and written by Naomi Foner, this is a classic coming-of-age story with a twist: a teenage son of anti-war radicals is feeling the pressure to have his own life and realize his future. Danny Pope (River Phoenix) has been on the run from the FBI with his family since he was two, constantly having to relocate and live under new assumed identities after his parents blew up a napalm laboratory in the 1970s. He doesn't consider his future until a music teacher recognizes his immense talent and pushes him to audition for Juilliard. Danny must now choose between remaining with his fugitive family and keeping the lies going or pursuing his dream. Loosely based on a true story, this film has heart and really shows you the importance of family, especially during unprecedented times—this one will do anything to stay together.
River Phoenix in Running on Empty


KJ Relth, Film Programmer
No Home Movie (2015, where to watch): Completed following her mother Natalia's death in April 2014, Belgian auteur Chantal Akerman's final masterpiece premiered at the Locarno Film Festival just two months before the filmmaker took her own life. In spite of its ironic title, No Home Movie proves achingly intimate and familial as Akerman's digital camera captures not major holidays but banal breakfasts and quiet moments in Natalia's bourgeois Brussels flat during the final moments of her long life. Excepting a few shots, we are aware of Akerman's gaze inside a dwelling or home environment, the camera peeking over a balcony or stationed on a counter to capture the two as they share a meal and discuss family lore. Even as her work wrests her from that maternal warmth and transports her to far flung locales, Akerman makes efforts to film Skype calls with her maman in an attempt "to show that there is no distance in the world."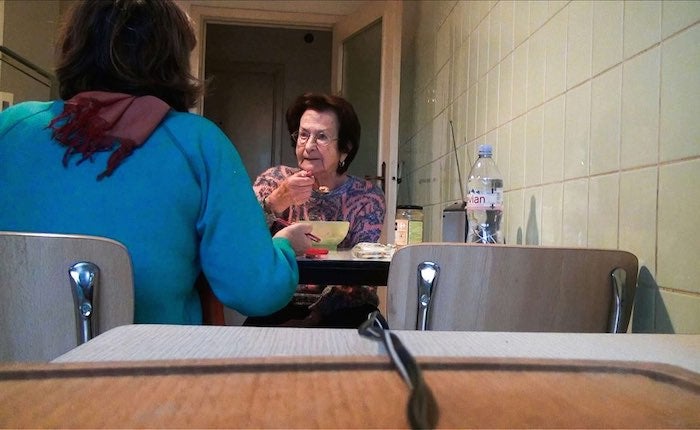 Chantal and Natalia Akerman in No Home Movie


Paul Malcolm, Film Programmer
Devil in a Blue Dress (1995, where to watch): "Man, I loved coming home to my house." So says Easy Rawlins (Denzel Washington) pulling into his driveway in an African American neighborhood thriving under the palm trees of late 1940s Los Angeles. In writer-director Carl Franklin's adaptation of Walter Mosley's mystery, Rawlins identifies as a homeowner long before he becomes a private eye. His mortgage is what leads him to take a job tracking down the girlfriend (Jennifer Beals) of a wealthy white politician and into a conspiracy of blackmail and murder that has him criss-crossing the city's racially segregated boundaries. But as Franklin returns to lovingly rendered images of Easy's neighborhood, the meaning and feeling of home linger longer than his neo-noir shadows. Before the end, a headline seen in a Black-owned newspaper adds the intended poignancy: "Negroes Angered By New Property Restrictions." After all the fictional onscreen felonies, Franklin reminds us of where the real crime was occurring.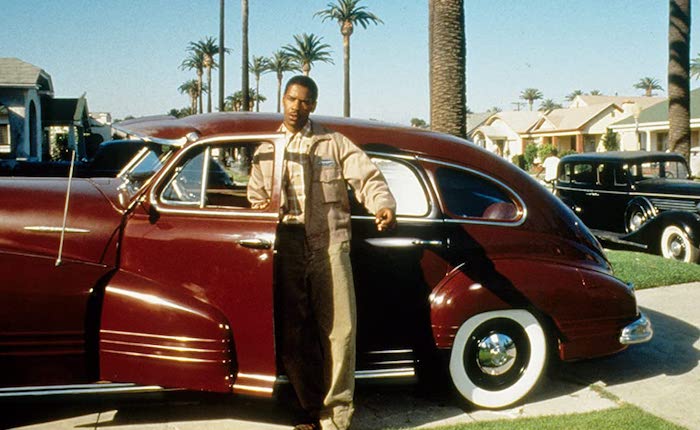 Denzel Washington in Devil in a Blue Dress


Maya Montañez Smukler, Archive Research and Study Center Officer

The Bigamist (1953, free on Kanopy and also available here): Harry Graham (Edmond O'Brien) has two homes: one modern apartment in a high rise building in San Francisco that he shares with his wife Eve (Joan Fontaine), as they wait for their adoption papers to be approved; and the other, a cozy house in Los Angeles that he shares with wife Phyllis (Ida Lupino) and their baby. The lonely life of a traveling salesman has propelled Harry, an otherwise ordinary man, into a domestic crisis of sensational proportions. Lupino (director, co-star) and her ex-husband Collier Young (writer, producer), who was married to Fontaine at the time, collaborated on The Bigamist for their independent production company, The Filmakers. The movie uses noir aesthetics to cloak the threesome in lies, deceit and shadowy city settings, while maintaining a humanity at its core in how melodrama can also reveal forgiveness and understanding between characters. Home is where the guilty and apologetic heart is.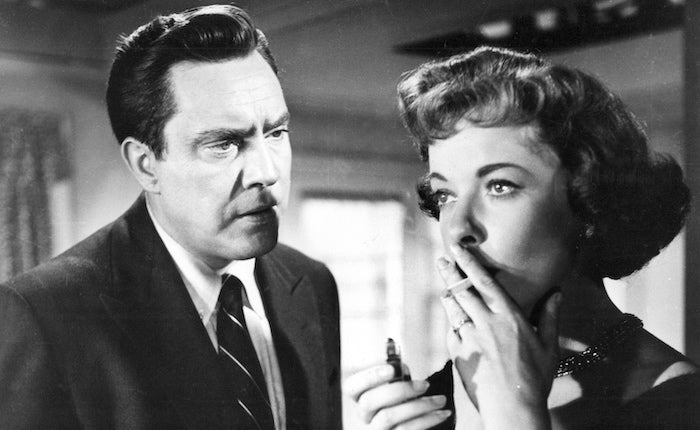 Edmond O'Brien and Ida Lupino in The Bigamist


Jim Smith, Chief Studio Projectionist

My Own Private Idaho (1991, where to watch): Following his first two Portland-set features, Mala Noche and Drugstore Cowboy, Gus Van Sant returned to a script he had put down about street hustlers in his native city but found funding elusive. Keanu Reeves had signed on but River Phoenix seemed key to getting a greenlight. Unable to get the script to Phoenix through his agent, Reeves drove his motorcycle from Canada to the Florida ranch of the once itinerant Phoenix family to deliver it in person. The epic journey mirrored the journey their characters would take in the film. Reeves' Scott Favor acts out against his father's demanding expectations, hustling until he receives his inheritance, the Shakespearen themes and his Falstaffian mendacity in playful view. Phoenix's Mike Waters yearns for an elusive "home" broken by his transient mother, abusive father and his own narcolepsy. Time-lapse photography and home movie memories punctuate his narcoleptic episodes, and slippery, steely American standards underscore the misplaced and displaced street hustlers' plight.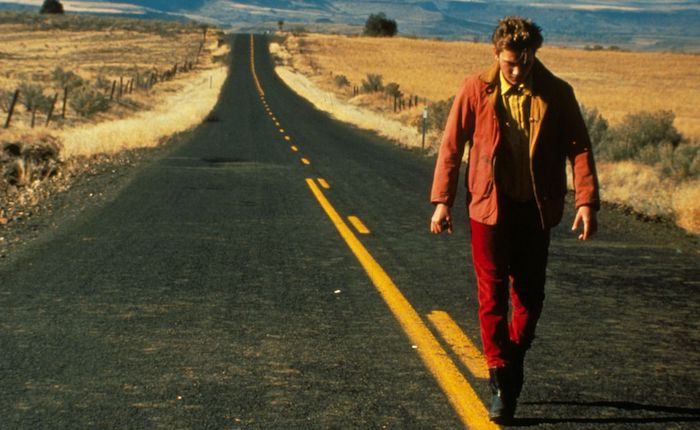 River Phoenix in My Own Private Idaho