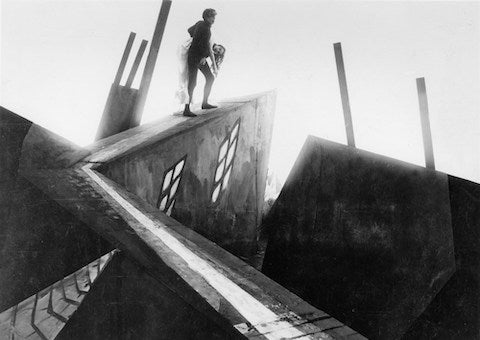 The Cabinet of Dr. Caligari


Looking for your next at-home movie fix? Each week, our staff offer their recommendations for international films and TV shows, old and new, classic and obscure, all available for viewing online. In this edition, we look at some notable ways that architecture and design have been used to tell stories on screen.


Mark Quigley, John H. Mitchell Television Archivist
Incorporating elements of Soviet-style montage, art deco, and elaborate special effects and miniatures, Things to Come (1936, on Kanopy and other platforms) is a landmark visual spectacle worthy of its author, H.G. Wells. Helmed by pioneering production designer William Cameron Menzies (Gone with the Wind), with art direction by Vincent Korda (The Thief of Bagdad), the cautionary tale spans a century of war and resulting consequences in the bustling fictional metropolis of "Everytown" (modeled on London). Anticipating the horror of World War II, and frighteningly dramatizing unrest caused by a pandemic (here, the result of biological warfare), it is the film's representation of a "utopian" future that still stuns—searing 1930s Streamline Moderne futurist motifs crashing up against an imagined technocracy both prophetic and (yet) unrealized.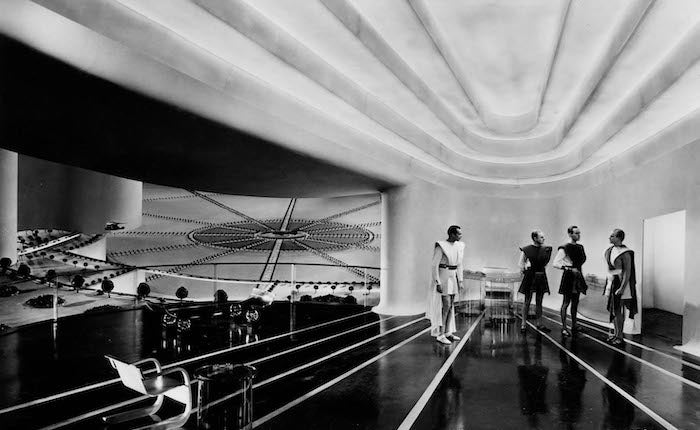 Things to Come


Matt Hewitt, Collections Coordinator
Taking influence from the literary work of J.G. Ballard, eventually adapting his novel Crash, several of David Cronenberg's films utilize cold, brutalist concrete structures to suggest a near-future, dehumanized and impersonal. Scanners (1981, on Kanopy and other platforms) crafts a universe of corporate monoliths and laboratories. Their terror is rendered, conversely, both banal and awe-inspiring. Though best remembered for the gore associated with his body horror oeuvre, the minimalism of these utilitarian complexes generates an uneasy foreboding, the antiseptic atmosphere amplifying the shocking horror of the former. Carnage and concrete coalesce, creating a horror that is clinical, and ultimately, more abject. Brutalism has become shorthand for a certain kind of totalitarian dystopia, but that was a vision championed by Cronenberg long before it defined the zeitgeist.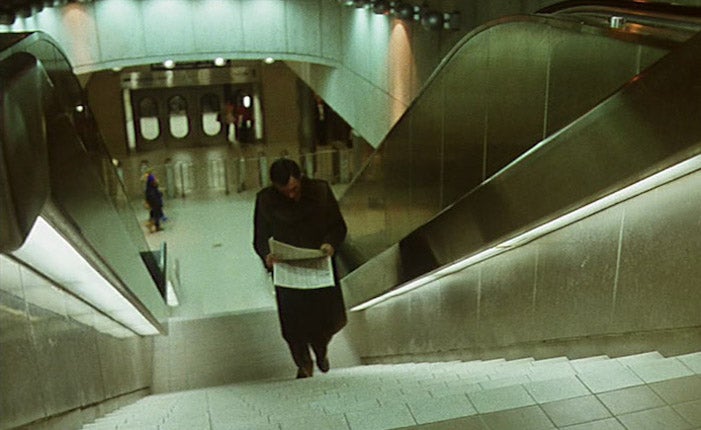 Scanners


Steven K. Hill, Assistant Motion Picture Archivist

Can't sleep? Consider entering The Cabinet of Dr. Caligari (1920, restored version on Kanopy and Criterion Channel), Robert Wiene's German Expressionist masterpiece—a horror film so revolutionary that its influence still resonates throughout the cinematic universe. While featuring an eerily sympathetic performance by Conrad Veidt as Cesare the somnambulist, and a lunatic turn by Werner Krauss as the titular doctor, one could argue that the true heart of the film can be found in the distorted and hallucinatory production design by Walter Reimann, Walter Röhrig, and Hermann Warm. As visually exciting today as it was in 1920, this is a dark, mad world populated with twisted angular buildings drenched in malevolent shadow—a nightmare realm designed to conjure subconscious fears and infernal dread. Ready to see the doctor? Then step right this way—YOU MUST BECOME CALIGARI!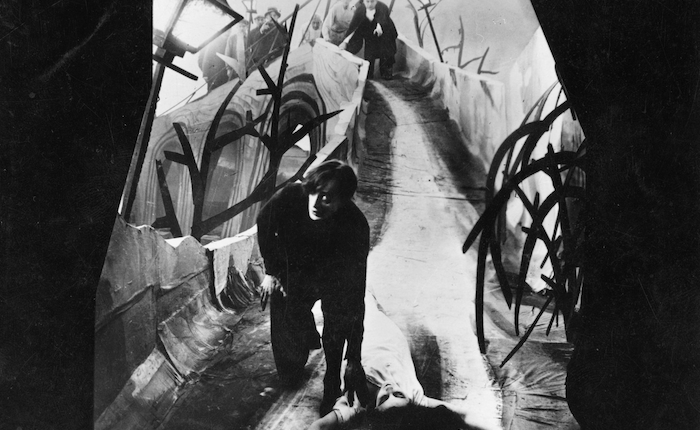 The Cabinet of Dr. Caligari


KJ Relth, Film Programmer
Why settle for an amuse bouche when you can indulge in an architectural feast? Filmmaker and critic Thom Andersen's Los Angeles Plays Itself (2003, on Kanopy and other platforms) is a cinematic essay of Herculean effort, equally a cinephilic ode to his hometown and an insistent plea to see Los Angeles as a real place, more than the version Hollywood depicts. Uniting moments from over 100 feature films shot in and around the City of Angels, Andersen implores us to scrutinize the documentary-like way narrative movies portray "the most photographed city in the world." Noting scenes when Los Angeles masquerades as parts elsewhere—perhaps most hilariously, as Chicago in Wellman's The Public Enemy—and progressing to granular investigations of how the movies use Union Station, the Bradbury Building, Angels Flight and Frank Lloyd Wright's Ennis House, this 169-minute feat is also an indictment, an investigation, and an insight into the real histories of a forgetful city "where only a few buildings are more than 100 years old."
The now lost Bunker Hill neighborhood in The Exiles, 1961, seen in Los Angeles Plays Itself


Paul Malcolm, Film Programmer
In 1940, prominent radio producer Arch Oboler commissioned Frank Lloyd Wright to design a residence on his 360-acre Malibu ranch. Of the full project, only a gate cottage and a retreat were completed, enough for the Obolers to move in and for Oboler to use as the striking setting for his seminal, post-apocalypse drama, Five (1951, where to watch), a decade later. "Eaglefeather," as the site was dubbed, bears all the hallmarks of Wright's organic style, wood, glass and stone rising up in gentle harmony from a sage-covered promontory. Though a minor work in Wright's iconic career, it's a fitting locale for Oboler's tale of five survivors who converge there after a nuclear war. Wright was fond of declaring architecture "the mother-art of civilization" and it allowed independent Oboler to shoot on the cheap. Received at the time of its release as an "art film" for Oboler's long takes of Malibu the hills and skies, as well as the home itself, Five plays pulpier today, featuring all the genre's familiar tensions which necessarily take on distinct undercurrents of Wrightian discourse. The beatnik decries the "cheap honkey tonk of a world" lost while villain of the piece, an urban European aesthete, natch, resists his "return to nature."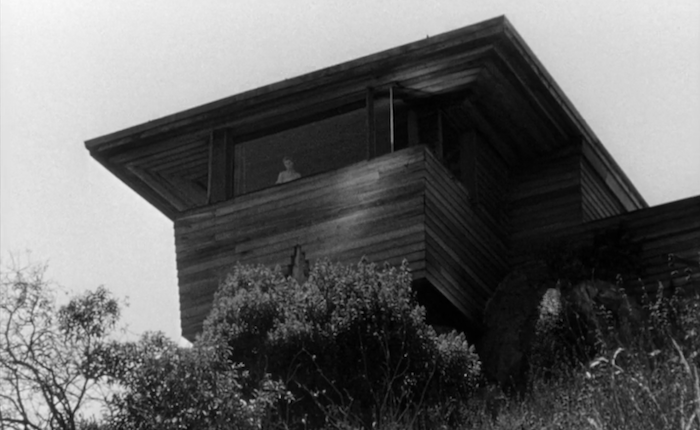 Five


Todd Wiener, Motion Picture Archivist
#Saferathome has allowed me to start checking off some of my bucket list film viewings, one of which was Lobster Films' 4K restoration / Flicker Alley's release of L'Inhumaine (1924, on Kanopy and Amazon Prime). This grandly produced and hypnotic silent film was created as a preview to Paris's 1925 International Exhibition of Modern Decorative and Industrial Arts. The plot focuses on femme fatale prima donna Clair Lescot and the consequences of her cool indifference to her many suitors. Described by Director Marcel L'Herbier as a "fairy story of modern decorative art," this avant-garde melodrama enhances its fanciful science fiction elements with jaw-dropping Art Nouveau, Deco and neo-cubist sets all created by a myriad of famous architects and designers. This impressive restoration restores the filmmaker's original tinting scheme and is accompanied by a captivatingly percussive score by Aidje Tafiel.
L'inhumaine (image courtesy of Flicker Alley)