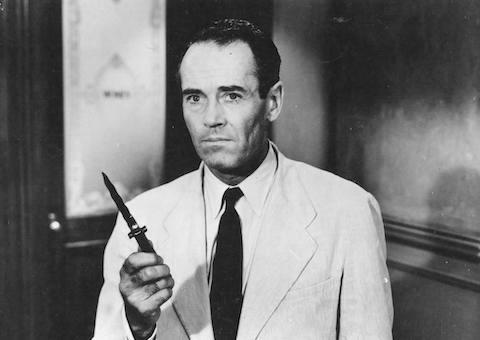 12 Angry Men


Looking for your next at-home movie fix? Each week, our staff will offer their recommendations for international films and TV shows old and new, classic and obscure, all available online through streaming platforms. For this edition, we've selected some great movies that unfold over the course of a single day or night.
Share your #SaferAtHomeCinema thoughts with us on Twitter, Instagram and Facebook and subscribe to our email list to receive updates!


Mark Quigley, John H. Mitchell Television Archivist
12 Angry Men (1957, where to watch): Screenwriter Reginald Rose adapted his Emmy Award-winning Studio One teleplay for this acclaimed feature helmed by master director, Sidney Lumet. Henry Fonda is indelible as unnamed "Juror #8"—an ordinary citizen unafraid to challenge the pervasive groupthink and bigotry of fellow jury members eager to quickly dispense of their civic duty out of callous indifference. As the afternoon wears on, Lumet and director of photography Boris Kaufman keep the proceedings increasingly claustrophobic, with the camera closing in as the gravity of the case, a murder charge against an underprivileged minority youth, comes into focus. Boasting a stalwart ensemble cast, including an explosive Lee J. Cobb, the humanist film remains a timeless mediation on the tenets of altruism and compassion.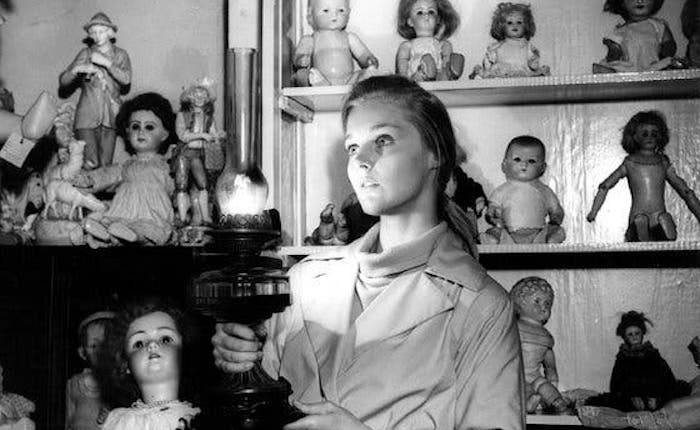 Bunny Lake is Missing


KJ Relth, Film Programmer
Bunny Lake is Missing (1965, where to watch): After Ann Lake (Carol Lynley), fresh from New York City, begins settling into her new London home, she attempts to collect four-year-old daughter Bunny at school. When the administration claims they've never even heard of Bunny Lake, a worried Ann, her brother Steven (Keir Dullea) and Superintendent Newhouse (a mid-career Laurence Olivier) set out on a citywide, day-into-night search for the girl—who may or may not be real. The swift pace at which Steven, Newhouse and various others gaslight Ann into her rapid undoing is just one way this single-day neo-noir twists and turns into unexpected, deeply unnerving territory. Since its lackluster release in 1965, this late Preminger has undergone critical re-appraisal and been lauded for its distinct tone—not to mention its raw Saul Bass titles and those original tunes by The Zombies.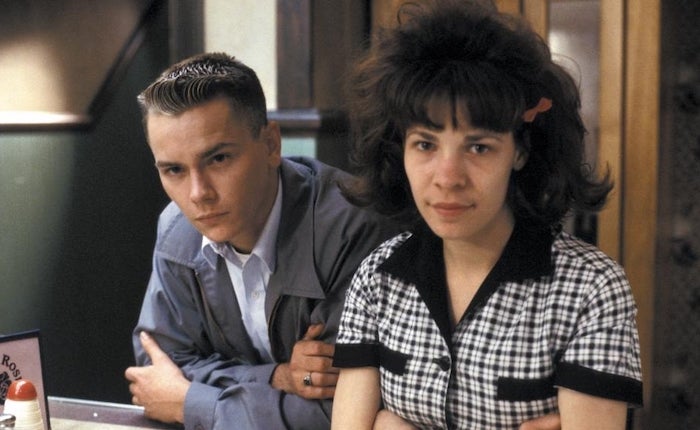 Dogfight


Maya Montañez Smukler, Archive Research and Study Center Officer

Dogfight (1991, where to watch) is set in San Francisco, 1963, during the last day before Marine Eddie Birdlace ships out to Okinawa and begins his tour of Vietnam. Eddie starts the film as a profile in military aggression, but quickly meets his match with Rose Tenny, a fierce pacifist and folk music aficionado who gives him a lesson in human decency. The two spend all night together, exploring the city and fostering a meaningful bond that can only take place between strangers when the clock is ticking. Director Nancy Savoca creates powerful rapport between these two characters through the expert performances of her actors, River Phoenix and Lili Taylor, anchoring a tumultuous 1960s America in a love story that matters, even more so, today.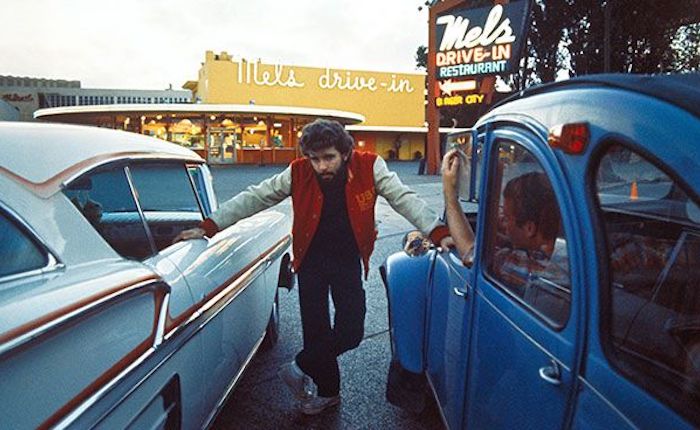 George Lucas during the filming of American Graffiti


Jim Smith, Lead Projectionist 
Where were you in '62? Teen bookworm and surf seeker John Milius was in Hawaii, rapt in a Kurosawa retrospective. Denied from military service, he continued writing at USC and sided with visual tone poet George Lucas, who was perceived to be an over-achieving student. A failing studio system sought the two, previsioning classic literature into 16mm vérité, namely, Apocalypse Now. But Lucas' school project turned feature, THX 1138, went bust at the box office, leaving business partner Francis Ford Coppola to coax a change in Lucas' direction. Commercial accessibility drove Lucas to create his own coming-of-age tale, American Graffiti (1973, where to watch). Cast in four storylines, non-stop period music, and custom car culture, Debbie Dunham (Candy Clark) shines in platinum grace, while dark id figure John Milton… or Milius?! (Paul Le Mat) provides unexpected esprit de corps.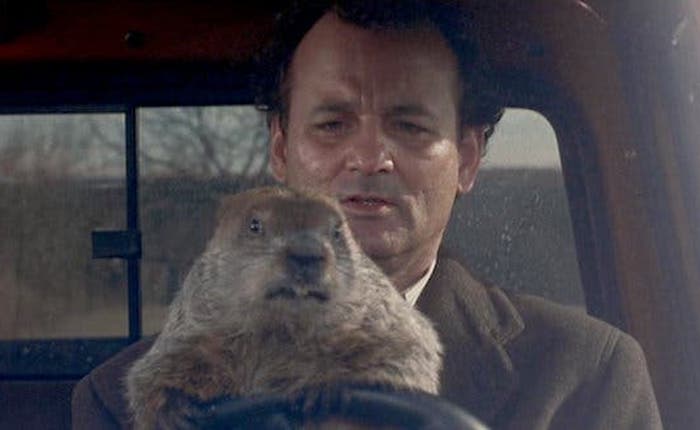 Groundhog Day


Todd Wiener, Motion Picture Archivist
Groundhog Day (1993, where to watch): "What would you do if you were stuck in one place, and every day was exactly the same, and nothing that you did mattered," states arrogant weatherman Phil Connors while doomed to live the same day over and over. Personally, it had become a household joke that I had never seen this film, but I finally broke and treated myself after countless mask-wearing neighbors kept commenting on how COVID-19 life was like the movie. It is easy to see how this charming romantic comedy is a perfect allegory for quarantine life. Bill Murray's deliciously contemptuous performance is a riot, but it is the profound underlying themes of accountability and redemption in the face of monotony that make this a very prescient film right now.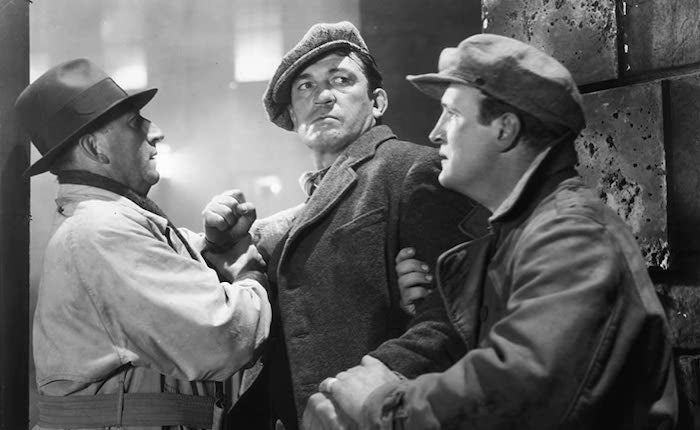 The Informer


Paul Malcolm, Film Programmer
The Informer (1935, where to watch): A critic writing in 1935 praised the decision by producer-director John Ford and screenwriter Dudley Nichols, in adapting Liam O'Flaherty's novel set in Ireland during the troubles, to "shoot much of the film in silent sequences." Ford, it was argued, understood that "action is more interesting than dialogue." The point—excepting some excess speechifying by the prettier cast—stands. Ford's experiment in probing the inner world behind Victor McLaglen's brutish mug cemented his contemporary status as studio artist and won them both Oscars (along with Nichols and Max Steiner for score). Compressing that action into a single, sustained bout of tortured carousing as McLaglen's Gypo drowns his conscience and his fate closes in is one of cinema's great long dark nights of the soul.