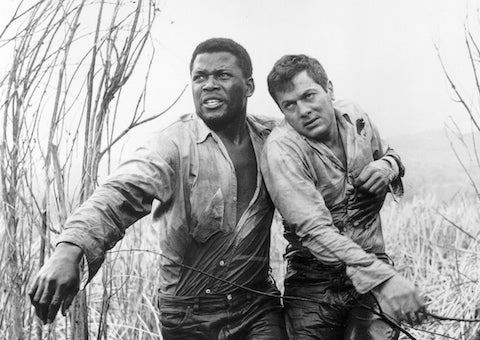 The Defiant Ones


Looking for your next at-home movie fix? Each week, our staff will offer their recommendations for international films and TV shows old and new, classic and obscure, all available online through streaming platforms. For this edition, we've curated double bills around the theme: Entrapment and Escape.
Share your #SaferAtHomeCinema thoughts with us on Twitter, Instagram and Facebook and subscribe to our email list to receive updates!


Mark Quigley, John H. Mitchell Television Archivist
The Outer Limits: "Nightmare" (ABC, 12/2/1963, Hulu and Amazon): Sparse, expressionistic sets and a chilling shock ending mark this incendiary morality play from writer-producer Joseph Stefano (screenwriter of Psycho) that explores themes related to military ethics and the othering of foreign enemies. Bill Gunn, Martin Sheen and James Shigeta star as members of a multi-national space crew from Earth trapped in a horrific experiment by grotesque alien captors. The Twilight Zone: "The Jeopardy Room" (CBS, 4/17/1964, where to watch): Future blockbuster director Richard Donner (Superman) helms Rod Serling's tense Cold War thriller that finds a Soviet defector (Martin Landau) trapped in a hotel room rigged with a hidden explosive device by closely-surveilling KGB agents. The sadistic cat and mouse game offers only death, and no escape. One of the very few Twilight Zone episodes sans sci-fi or supernatural elements.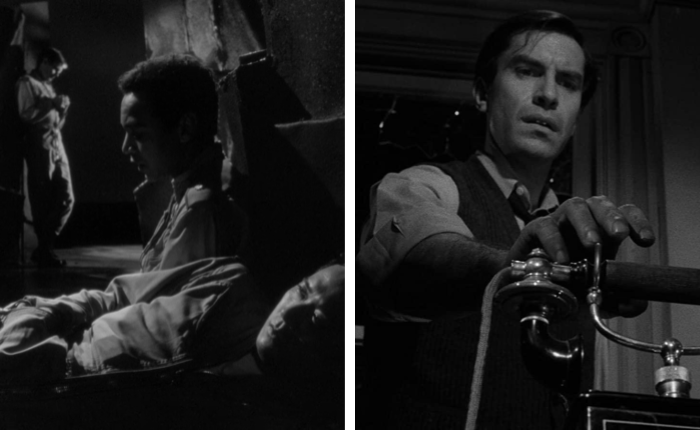 The Outer Limits: "Nightmare;" The Twilight Zone, "The Jeopardy Room"


Todd Wiener, Motion Picture Archivist
Midsommar (2019, where to watch): For inaugural viewing on the new-to-my-household Kanopy platform, we set aside classic Hollywood self-care and watched director Ari Aster's unsettling and creepy second feature. This R-rated pagan fever dream meditation on relationship equity and female empowerment starts off as a slow burn, but it is the fantastic Florence Pugh that holds the focus until the disturbingly psychedelic finale. The film to make us feel better about canceling all our summer vacation plans. The Defiant Ones (1958, where to watch): Explosively relevant when originally released, producer-director Stanley Kramer's first of many social justice films is ripe for a revisit as our nation becomes embroiled in COVID-19-related politics. Sidney Poitier's simmering, rage-filled performance is the highlight here as he and co-star Tony Curtis portray escaped convicts who overcome racial prejudices in order to survive.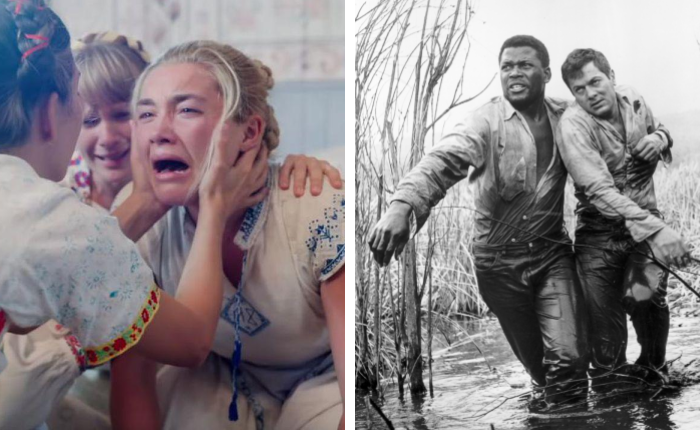 Midsommar, The Defiant Ones


Maya Montañez Smukler, Archive Research and Study Center Officer
The entrapment and escape of women has always been a favorite cinematic fascination. Michael Powell and Emeric Pressburger's Technicolor fantasy The Red Shoes (1948, restored by the Archive, where to watch), follows ambitious ballerina Moira Shearer as she dances her way to center stage. Eventually, the red toe shoes that once offered her every opportunity trap the young dancer in an impossible choice between love and art. In Thelma & Louise (1991, where to watch), two best friends are locked in the doldrums of bad relationships and limited life choices when a traumatic encounter alters their lives completely. This film is an exhilarating collaboration between first-time screenwriter Callie Khouri and established action director Ridley Scott who bring to the screen a pair of irresistible outlaws on the run and forever free.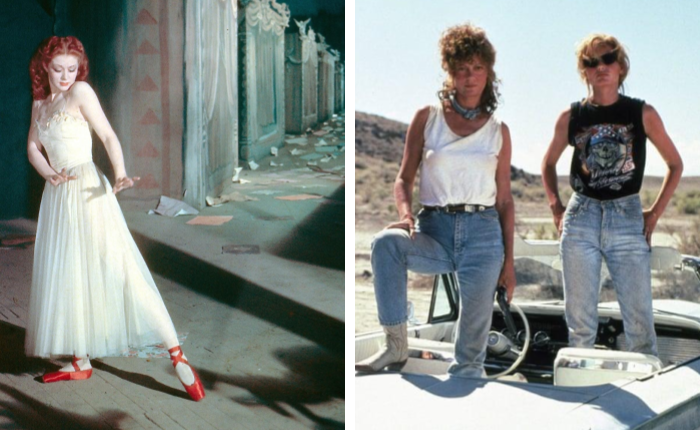 The Red Shoes, Thelma & Louise


Jim Smith, Lead Projectionist
Sustained pressures and strangling snares lead to civil war in the dire environs of the Badlands. Federal representative Ray Levoi (Val Kilmer) moves amid rival factions for survival, and the soul of his people. Midway through a flourishing documentary, narrative film and television career, filmmaker Michael Apted and his expert crew crafted Thunderheart (1992, where to watch) with humor and heart from beginning to end. Real-life adventurer Aron Ralston (James Franco) informs his family that he is off to Utah in pursuit of natural highs. A trip lands Aron half-suspended, held fast by a forearm mashed between a boulder and canyon wall, alone. 127 Hours (2010, where to watch) re-enacts some of Ralston's camcorder memoir, his hallucinations, relational amendments, and the paradox of becoming undone.
Thunderheart, 127 Hours


KJ Relth, Film Programmer
Two black-and-white World War II films provide perfect arcs of claustrophobia and catharsis. René Clément's The Damned (1947, Amazon) centers on a group of Nazis escaping to South America on a German submarine on the eve of Berlin's collapse. Shot primarily aboard an authentic U-boat, the narrow corridors and confined spaces lead to mounting tensions among the sudoric passengers, whose hopes of freedom are dashed as dread ceaselessly escalates once word comes in that Hitler is dead. The French doctor brought unwittingly aboard distances himself from his fascist captors, but Clément waits until the final second to reveal whether good or evil prevails. Robert Bresson's A Man Escaped (1956, where to watch) similarly focalizes a French character, this time a Resistance fighter captured and imprisoned by the Gestapo. Look past the spoilerific title to Bresson's primary concerns: the details and nuance of escape against seemingly impossible odds.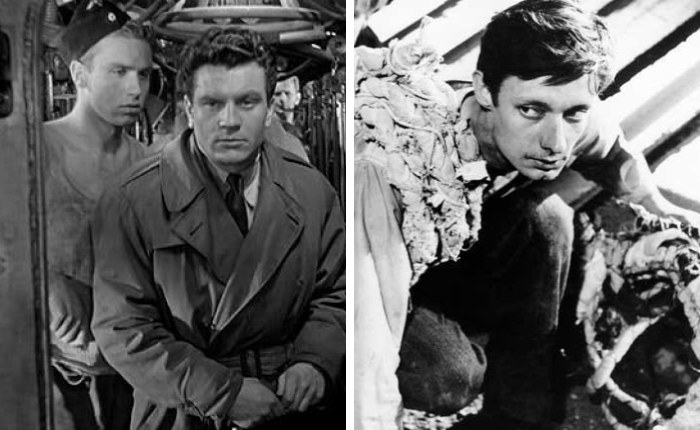 The Damned, A Man Escaped


Paul Malcolm, Film Programmer
Le trou (1960, Criterion Channel): Based on a true story, Le trou was heavily informed by director Jacques Becker's own experience in a German internment camp during the war. Five prisoners sharing a cell in France's infamous Santé Prison hatch a plan to tunnel out. In long takes of their labor, literally minutes at a time of hammering, chiselling and digging, Becker ratchets up the tension with every inch toward freedom. Dark City (1998, where to watch): Released a year before The Matrix, Alex Proyas' Dark City got lost in the shuffle on the way to allegorizing the digital moment but if the Wachowskis had an eye for the future, it's Proyas' feel for the past that makes Dark City infinitely more pleasurable. A mash-up of influences from Metropolis to Forbidden Planet cast in an eternal film noir night, it's a spooky seductive pastiche about the inhabitants trapped in terminal urban landscape manipulated by forces unknown.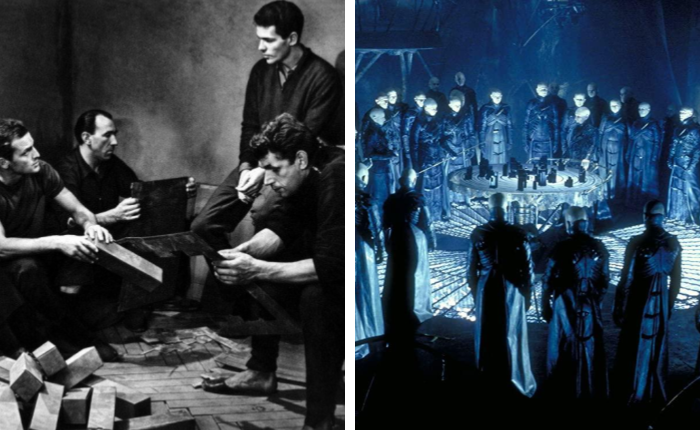 Le trou, Dark City