The Young Girls of Rochefort


Looking for your next at-home movie fix? Each week, our staff will offer their recommendations for international films and TV shows, old and new, classic and obscure, all available online through streaming platforms. Share your #SaferAtHomeCinema thoughts with us on Twitter, Instagram and Facebook and subscribe to our email list to receive updates!
Today we present new perspectives and streaming options around last week's theme, desert island films: which three movies would you bring if you were cast away on a remote island?


Paul Malcolm, Film Programmer
Any desert island list of mine is going to have a Hitchcock on it, but which one? It's an almost impossible choice but in the end I come back to the breakneck, cinematic inventiveness of The 39 Steps (1935, where to watch). From the music hall to Scottish Highlands and back again, this one contains worlds within worlds on its way to creating the modern action movie. Next up, what brilliant luck to be stranded the same week that Arbelos Films' new restoration of Béla Tarr's monumental, world-building tour de force Sátántangó (1994) can be streamed via the Archive's unique Vimeo link in support of its public programs. Finally, assuming there'll be enough Technicolor fauna on the island, I'll stick with another black-and-white fave, Ernst Lubitsch's To Be or Not to Be (1942, where to watch). There's no better example than Lubitsch's spoof of Nazism—and needy actors—of the role of comedy in dark times and no better example of how to do it.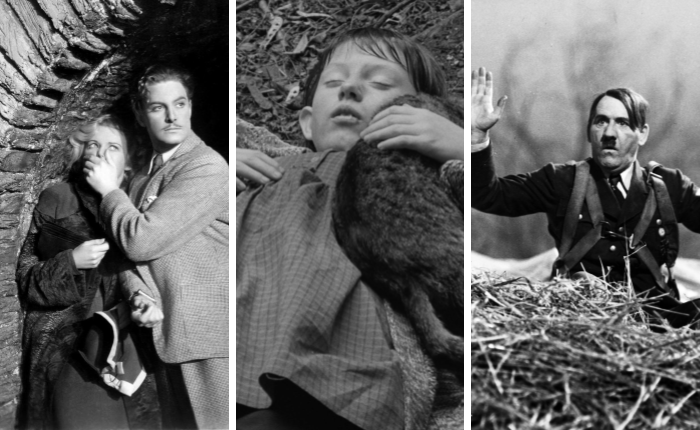 The 39 Steps, Sátántangó, To Be or Not to Be


Randy Yantek, Digital Lab Manager
I would hope that I had my collection of Beatles records to play, plus, if one broke I could use it as a knife! My first-choice film to watch over and over would be Stanley Kramer's It's a Mad, Mad, Mad, Mad World (1963, where to watch), an outstanding comedy from start to finish, with a cast of talent too big and too long to name. My second choice would be Mel Brooks' Blazing Saddles (1974, where to watch)—the unforgettable dialogue, Gene Wilder, Cleavon Little, Harvey Korman and cameo by Count Basie take this film to new heights. My third choice would be the UCLA restoration of Rio Grande (1950, where to watch), a John Ford classic starring John Wayne and Maureen O'Hara. You can't go wrong.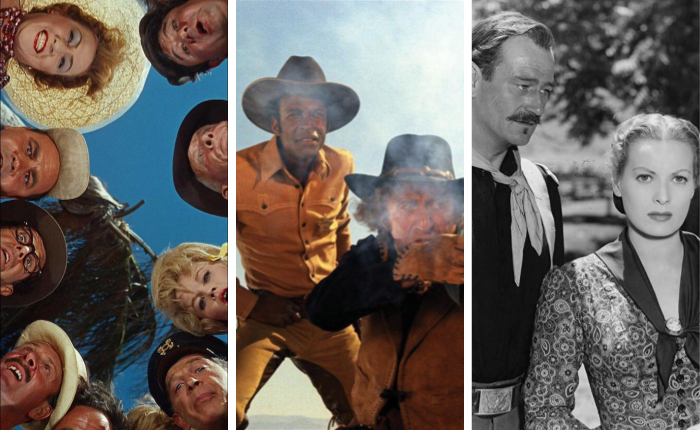 It's a Mad, Mad, Mad, Mad World, Blazing Saddles, Rio Grande


KJ Relth, Film Programmer
The cinematic sustenance I want shipwrecked with me includes an excess of color, a bellyful of laughter, and a bit of poetry. Jacques Demy's eye-popping musical spectacular The Young Girls of Rochefort (1967, where to watch) provides not just endless visual and aural pleasures, but also a chance to finally learn that exuberant choreography—and an excuse to brush up on my French. Plus, the scenes with Gene Kelly would make up for Archivist Todd Wiener stealing Singin' in the Rain for his island! My favorite screwball comedy, Peter Bogdanovich's What's Up, Doc? (1972, where to watch), for days I need to laugh 'til I cry. Barbra Streisand's whiplash wit, Ryan O'Neal's clumsy charm, and that final perfect car chase add up to 94 minutes of comedy therapy. Finally, Arrow Video's new digital restoration of Mohsen Makhmalbaf's The Silence (1998, where to watch), a colorful yet quiet film with a subtle arc sustained by the heartbreaking performances of two children.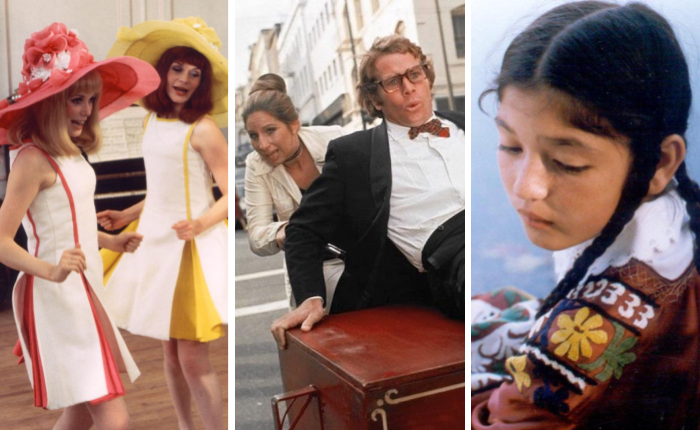 The Young Girls of Rochefort, What's Up, Doc?, The Silence


Jim Smith, Lead Projectionist
Merry Christmas, Mr. Lawrence (1983, where to watch): David Bowie is neck deep in this moving-as-can-be, single-takes, no-dailies, prisoner of war tale by Nagisa Oshima. (Side note: Bowie later produced Magic Hunter (1994), Ildikó Enyedi's crossroads inspired pagan spiritual, but this is woefully unavailable for viewing). Irma Vep (1996, where to watch): A veteran réalisateur goes deep, too, while directing the remake of a silent classic, Les vampires, with the help of jaded crew members and cinéma pur resolve. Diva (1981, where to watch): A precocious mail boy surreptitiously creates the only recording of a beloved opera singer, which unwittingly leads to a life-risking, tape-trading twist. Lofty and pulp storylines collide in this visually radiant Delacorta adaptation.
Merry Christmas, Mr. Lawrence, Irma Vep, Diva