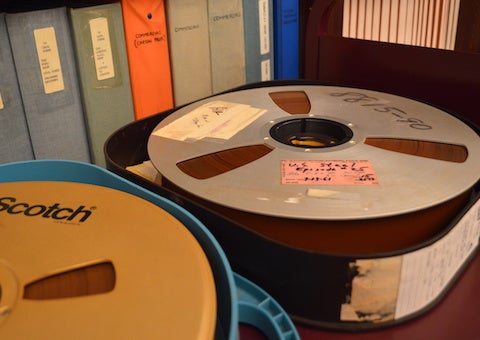 2-inch videoreels of U.S. Steel Hour
Premiering on ABC-TV in 1953 amid a crowded broadcast landscape of similar dramatic programs, U.S. Steel Hour (single-sponsored by United States Steel Corporation) distinguished itself as one of the most prestigious and longest-running anthology series of the "golden age of television," before succumbing to cancelation by CBS in the spring of 1963.  Produced by The Theatre Guild as a direct descendant of their popular, long-running radio program, Theatre Guild on the Air (1945-1953), U.S. Steel Hour was honored with 10 Emmy Award nominations and three wins over the course of its 10 seasons, including being named "Best New Program" and "Best Dramatic Program" by the Academy of Television Arts & Sciences in 1954.  Originating from New York and remaining there for the duration of the production of the series (long after most other anthology series relocated to Los Angeles), the live, bi-weekly U.S. Steel Hour began its impressive run with adaptations of established stage plays, before expanding into developing literary adaptations of novels and short stories, and original plays written directly for television.
UCLA Film & Television Archive holds over 80 episodes of U.S. Steel Hour, generously donated (in some instances with broadcast rights) by individuals notably associated with The Theatre Guild, including Marilyn and Phillip Langner, Armina Marshall Langner and Benjamin Aslan.  The physical collection of media encompasses approximately 20 16mm kinescopes and 60 2-inch videotapes, and includes select episodes of the series that most likely do not exist anywhere else.
U.S. Steel Hour episodes held at the Archive include fascinating early glimpses of future superstars, such as Johnny Carson in a rare acting role in "Queen of the Orange Bowl" (1960); Cliff Robertson in "The Two Worlds of Charlie Gordon" (1961), where he originated the title role for which he would later win a Best Actor Academy Award in the film Charly (1968); and James Dean in an early supporting role in "The Thief" (1955).  The collection also includes a rare kinescope of the original broadcast of the hard-edged drama "The Rack" (1955) by Rod Serling, which was later adapted into a feature film of the same name, released by MGM in 1956, and a humorous star turn by actress, writer and director, Gertrude Berg (of The Goldbergs radio and television fame) in the comedic production, "Six O'clock Call" (1955), which concerns a widow who may be speaking to late her husband by telephone.  In an era of digital binge-watching of new television series via online streaming, we invite you to pull up a chair to our website for a unique look back into our cathode past with a curated selection of U.S. Steel Hour.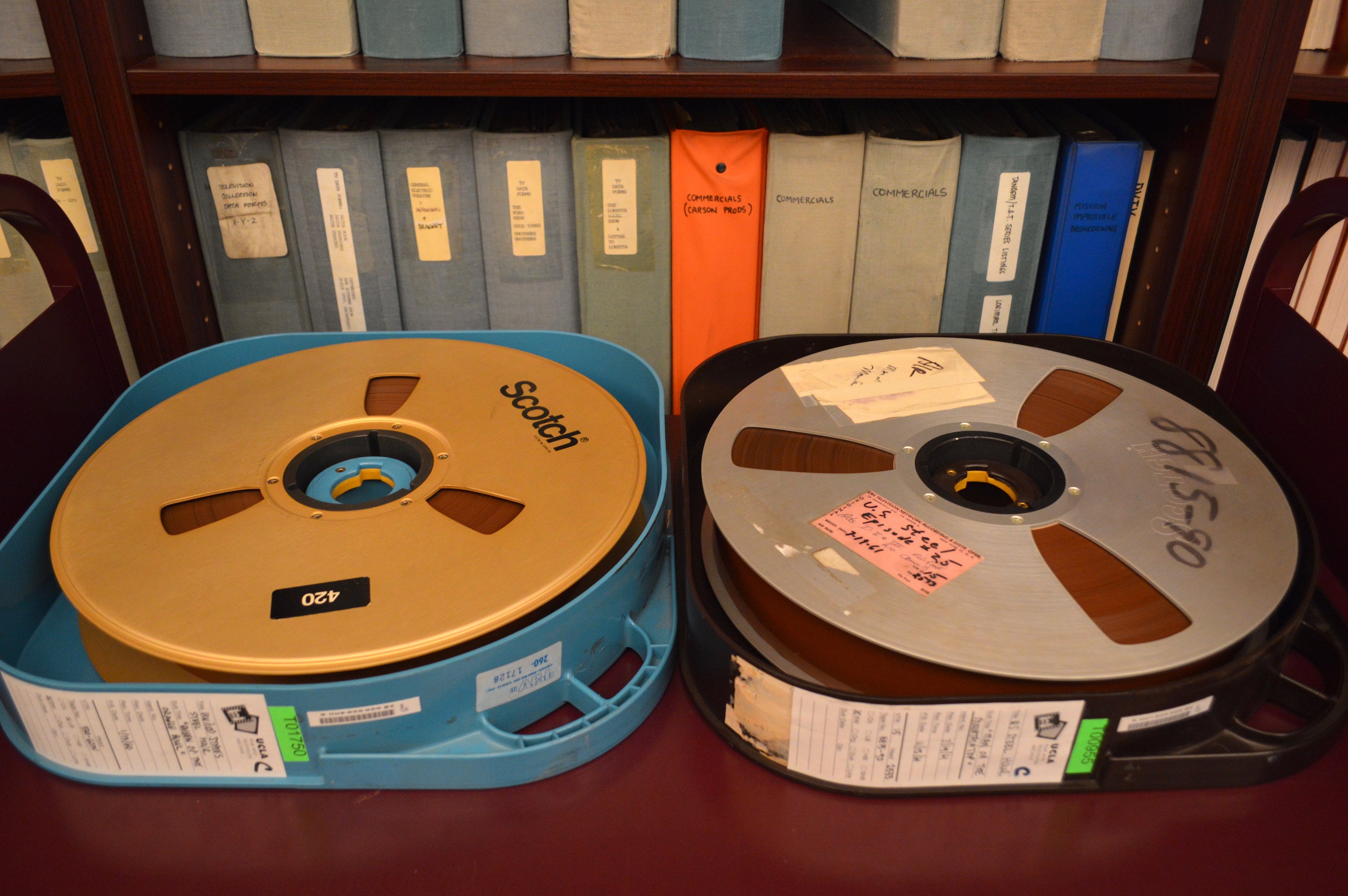 2-inch videoreels of "Queen of the Orange Bowl" and "Man on a Mountaintop"


"One of the early selling points of videotape for producers was that tape could be reused to save costs.  As a result, tapes of many important programs were erased—so each one of these 2-inch videoreels that survives is in a sense a miracle time capsule.  In terms of preservation, when you have a 2-inch videotape master, the very skilled video engineers we work with can play back that master and it essentially looks the way it did the day it was recorded." —Television Archivist Mark Quigley.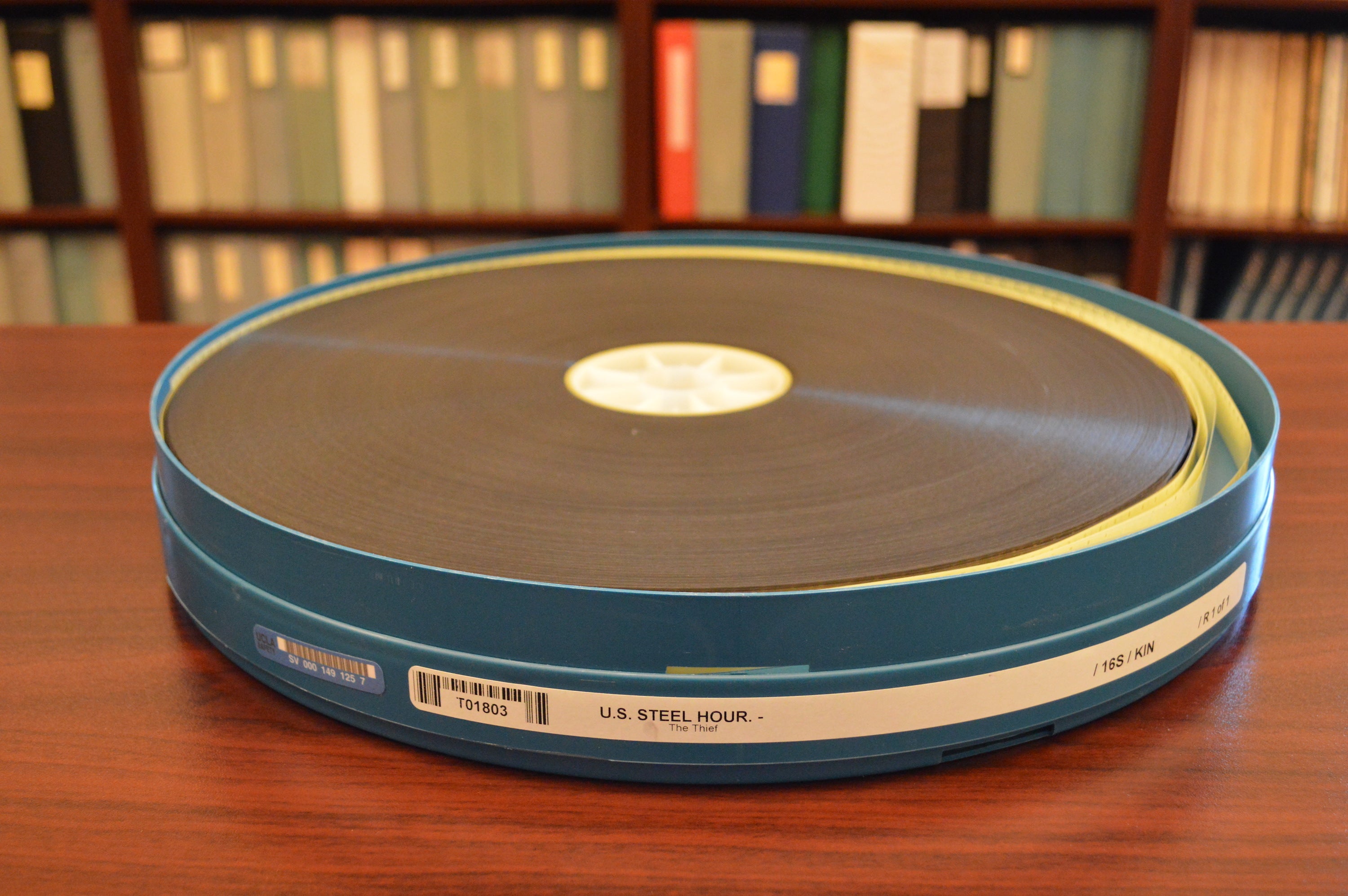 16mm kinescope of "The Thief"


"We love kinescopes and sometimes that is all you have.  But recording a show on kinescope was a crude means to preserve a program by literally filming it off of a television screen.  With the development of videotape as an alternative, a much better quality record of programs was made possible, which is evident in the programs presented here that originated on tape compared to the ones here that now only exist as kinescopes."—Mark Quigley.


Watch a selection U.S. Steel Hour episodes online.



Advertisements for U.S. Steel Hour

1st row left to right: Variety (Jan. 5, 1955); Variety (Jul. 27, 1960); Variety (Jan. 10, 1962)
2nd row left to right: Broadcasting (Jul. 8, 1957); Variety (Mar. 9, 1955); The Radio Annual and Television Year Book (1961)
Related resources
Archive of American Television: U.S. Steel Hour (video oral histories)  -  website
Billy Rose Theatre Division, New York Public Library: Theatre Guild U.S. Steel Hour records  -  website
The Definitive The Theatre Guild On The Air Radio Log (history of radio series and transition to television)  -  website
Museum of Broadcast Communications: "Anthology Drama" entry for the Encyclopedia of Television  -  website