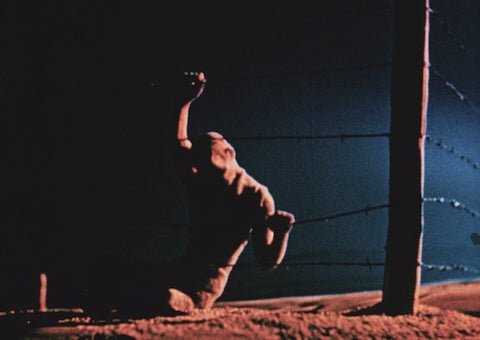 Produced in the aftermath of the horrific destruction witnessed with the dropping of atomic bombs at Hiroshima and Nagasaki, the "tri-dimensional religious art film" The Way of Peace (1947) represents a historic early example of a sponsored anti-nuclear film.  Created under the auspices of the American Lutheran Church, the uncompromising film, animated with stop motion and puppets, was intended to influence public opinion and international policy by graphically illustrating how man's inhumanity to man could ultimately lead to the destruction of the Earth.  The cautionary tale features grim imagery that undoubtedly shocked audiences in its time, including expressionistic sequences depicting torture, lynching and Nazi fascism, culminating with an extended, technically-innovative special effects sequence dramatizing a devastating global nuclear war that results in the extermination of humankind.
The creative team assembled to make The Way of Peace represents a notable cross-section of Hollywood talent of considerable interest to cinema and media historians.  The short film was written and directed by American animator, screenwriter and director, Frank Tashlin, perhaps best known as the director of many golden-era Warner Bros. animated shorts and a number of major studio films starring Jerry Lewis, including Cinderfella (1960).  In a highly successful film career spanning decades, The Way of Peace represents Tashlin's lone foray into dramatic work.  Technical supervision and the "original conception" for The Way of Peace was provided by the Reverend H.K. Rasbach, who would later serve as an advisor to director Cecil B. DeMille on The Ten Commandments (1956) and director George Stevens on The Greatest Story Ever Told (1965).  Rasbach would also later work with the West Coast Commission of the National Council of Churches on film and broadcasting, reviewing scripts to insure they met decency standards.  The Way of Peace was co-produced, photographed and featured puppet design by Chinese-American special effects pioneer Wah Ming Chang, who worked on character designs for Walt Disney, puppet animation and special effects for George Pal, and innovative and highly-influential sculptures and props for the original Outer Limits and Star Trek television series.  The film's other co-producer and art director was noted artist, etcher and set and production designer James Blanding Sloan (foster father to Wah Ming Chang, with whom he formed East-West Studios).  Lastly, The Way of Peace was narrated by Academy Award-nominated actor Lew Ayres, a dedicated pacifist and, controversially, with great personal sacrifice, a prominent conscientious objector to World War II.
In a 1947 article covering the production of The Way of Peace titled "Peace and Puppets," Newsweek magazine reported that "Mr. Rasbach worked with technicians for twenty months at a cost of $60,000 to get the effects he wanted."  That year, the startling product of that labor premiered in Constitution Hall, Washington D.C., with The Way of Peace screening to over 2,700 invited guests, including members of Congress, representatives of the Supreme Court and leaders from numerous branches of government.  Today, The Way of Peace stands as a unique artifact of the atomic age, significantly intersecting the histories of animation, sponsored film, religion, politics, nuclear policy, and propaganda.  In 2014, the landmark film was named to the National Film Registry by the Librarian of Congress.
UCLA Film & Television Archive completed preservation of The Way of Peace in 2017 with a grant from the National Film Preservation Foundation.
— Mark Quigley, manager, Archive Research and Study Center
 Watch the Archive restoration of The Way of Peace (1947):
Images courtesy of Pastor Mark Rasbach.  Click to enlarge.
Left: Frank Tashlin, writer and director of The Way of Peace.
Right: Blanding Sloan, co-producer and art director of The Way of Peace.


Left: Co-producer, photographer and puppet designer Wah Ming Chang with co-producer and art director Blanding Sloan.
Right: Actor Lew Ayres, narrator of The Way of Peace.


Left: Over 2,700 invited guests at the film premiere, including representatives of Congress, the Supreme Court and numerous branches of government, Constitution Hall, Washington, D.C., April 23, 1947.
Right: Blanding Sloan, Glenella Chang, Wah Ming Chang at the premiere.


 Left and right: Program guide distributed at the premiere.


 Left: Letter from writer-director Frank Tashlin to technical consultant Reverend H.K. Rasbach, dated March 30, 1947.  Rasbach is also credited with "Original Conception" of The Way of Peace.
Right: Release sheet to promote 16mm print rental availability of The Way of Peace.