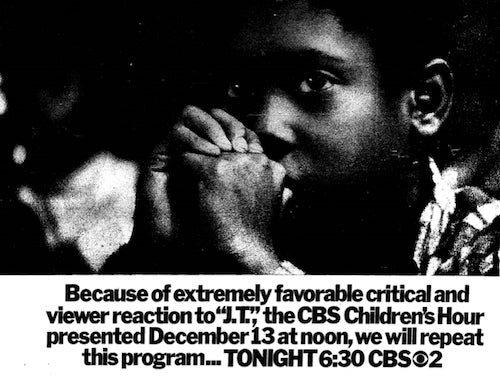 Join us for a free screening of CBS Children's Hour: "J.T." and a conversation with actor-director Kevin Hooks on March 26, part of the 2017 UCLA Festival of Preservation.  Archive Research & Study Center manager Mark Quigley offers a closer look at this memorable drama:

Most people have a specific movie or television program that they fondly recall from their youth as having left a particularly lasting impression.  For a generation of television viewers in the late-1960s through the early-1980s, that program may very well be the original teledrama "J.T.," first aired as the debut installment of the CBS Children's Hour in 1969 and rerun numerous times on the network for well over a decade.  Confidently adult in tone and approach, "J.T." dared to challenge preconceived notions of what children's television can be, taking viewers of all ages on a heart-wrenching journey illuminating loneliness and love via an African-American youth and his bond with a sickly stray cat.  Described by Los Angeles Times critic Cecil Smith in 1969 as "an exquisite film, a shattering experience, written with great compassion and understanding..." "J.T." remains a unique artistic achievement in television, evergreen in its capacity to genuinely move.
At a time when the networks were under increasing scrutiny regarding their highly-successful slate of cartoons such as Scooby Doo, Where Are You!, which dominated the Saturday morning broadcast landscape along with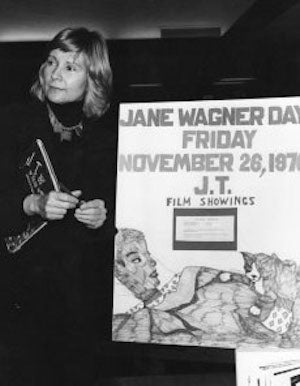 toy and cereal pitches, "J.T." represented a distinct break from traditional kid's fare, with what Time magazine described as the "kind of drama almost never found on commercial television."  The CBS Children's Hour was born out of two other bold network experiments of the late-1960s: CBS Playhouse, which valiantly attempted to resurrect the Golden Age of Television anthology drama in the age of color TV, and CBS Children's Film Festival, an inspired programming gambit to bring acclaimed international cinema (albeit in dubbed versions) to Saturday morning TV.  Charged with combining the best elements of those two programs into a new series of original telefilms for kids were two extremely talented creatives: Barbara Schultz, whom would oversee the endeavor as Executive Producer of both CBS Playhouse and CBS Children's Hour, and series producer Jacqueline Babbin (CBS TV's The Crucible).  In an interview with Variety before the premiere of the series, Schultz noted that 100 potential writers were considered for the CBS Children's Hour.  Jane Wagner [pictured right] would be one of the few writers selected, charged with adapting a song she wrote titled "J.T." into the teleplay that would mark her TV debut.
Directed by Robert M. Young (co-writer and photographer of the landmark independent feature Nothing but a Man, 1964) "J.T." resembles the cinema of Italian neorealism much more than the usual stuff of kiddie TV.  Shot on 16mm and filmed entirely on location in the tenements, alleys and abandoned buildings of Harlem, "J.T." captures an unforgiving environment of poverty in stark, documentary terms rare for network entertainment television of the time, and perhaps unprecedented in children's programming.  Equally matching the depth of both Young's distinctive visual style and Wagner's powerfully humanistic script is the naturalistic, understated performance of young Kevin Hooks (son of veteran actor Robert Hooks) in his lead acting debut.  The teledrama was rounded out by a strong supporting cast including Jeanette DuBois (Good Times) and Holland Taylor (The Practice) and, memorably, an emotive feline in a key role.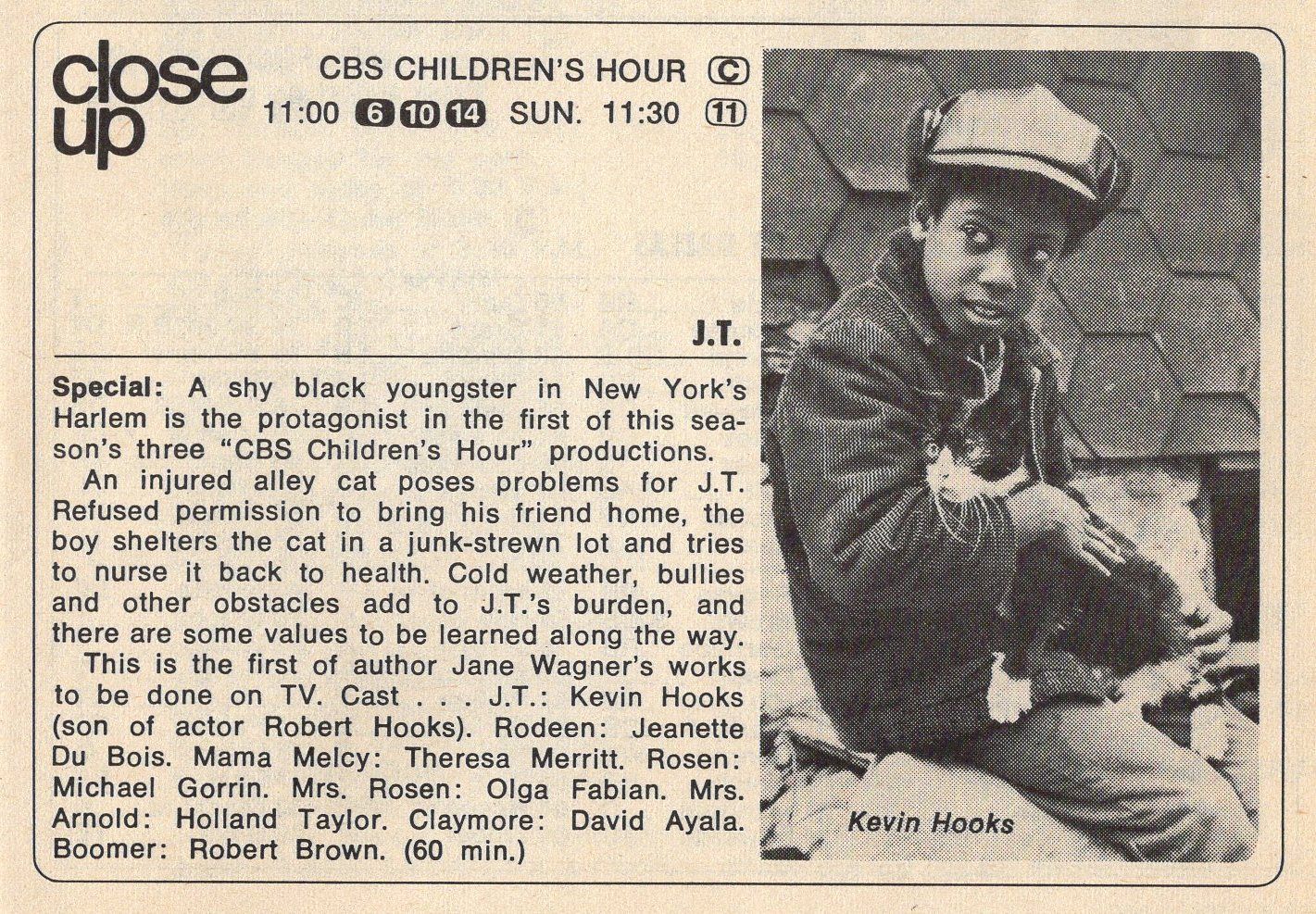 First broadcast midday on CBS on Saturday, December 13, 1969, the critical and public response to Wagner's drama was significant.  Universal acclaim for "J.T." prompted CBS to run full-page ads in major newspapers featuring a large photo of newcomer Kevin Hooks with select quotes from over a dozen positive reviews from publications ranging from The Cleveland Plain Dealer to the Newsweek.  After initially announcing that they would run the show again in six to eight weeks, the avalanche of praise led CBS to take the rare step of re-running the program in primetime only nine days later, preempting their highly rated Gunsmoke series and enlisting Doris Day (star of The Doris Day Show on CBS) to film a special introduction for the encore broadcast.  The Washington Post reported that the evening rerun of "J.T." "outscored all its competition in a national audience survey by Arbitron [ratings company]," further noting that the drama "even outdrew Laugh-in, usually the dominant program of the week." " J.T." would go onto be bestowed with a prestigious Peabody Award for 1969, accompanied by the following official citation:
"A program created by CBS Television especially for young people that combined highly creative and imaginative writing and superb production.  A landmark in children's television programming filled with extraordinary insight and compassion.  In recognition for writing and children's programming, a Peabody Award."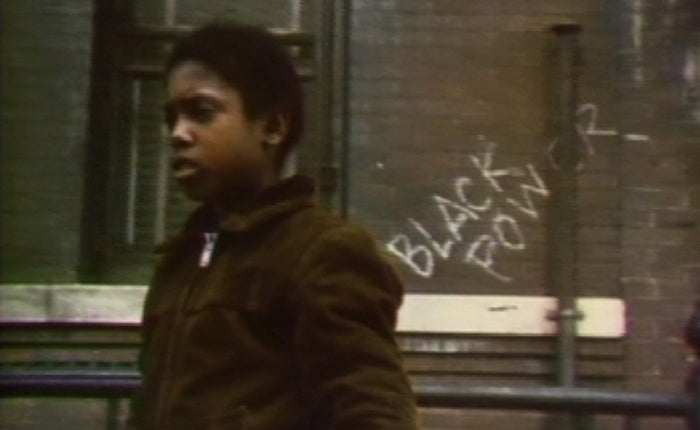 Despite the initial overwhelmingly positive response, high production costs would limit the CBS Children's Hour experiment to only a single season.  "J.T.," however, would enjoy many subsequent special airings on the CBS Network all the way into the 1980s.  The unexpected longevity of the program is perhaps best understood by the successful execution of Wagner's explicit aims for the drama, which she explained to the Los Angeles Times in a 1969 interview:  "I was trying to do something that had universal appeal... to show how the human spirit transcends hate and brutality."
On March 26, join us for a free screening of this memorable drama and a conversation with "J.T." star Kevin Hooks.  Following "J.T.," Kevin Hooks established a distinguished career as an actor in feature films, including Sounder (Academy Award nominee for Best Picture, 1973) and on television as a lead character in the landmark series The White Shadow (1978-1981).  Hooks has also had a prolific career as a motion picture director (Passenger 57), television director (Agents of S.H.I.E.L.D.) and executive producer (Prison Break).  He received an Emmy Award as a producer of the TV movie, The Color of Friendship (2000), which he also directed.  He also recently directed the acclaimed BET mini-series Madiba (2017) about the life of Nelson Mandela.


—Mark Quigley, manager of the Archive Research & Study Center