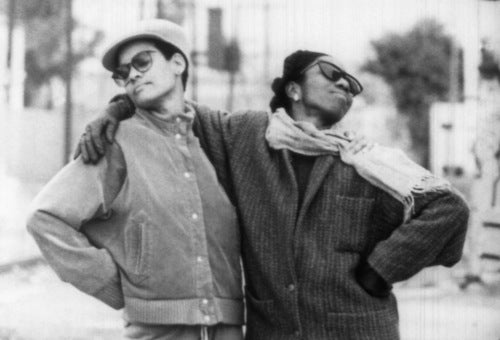 Cycles (1989)
L.A. Rebellion: Creating a New Black Cinema is currently running at Tate Modern in London through April 25.  This is the first time that a significant number of films from the L.A. Rebellion movement have appeared outside of North America.  The screening series includes works by Charles Burnett, Larry Clark, Julie Dash, Jamaa Fanaka, and features in-person appearances by several filmmakers.
On April 12, Tate Modern presented a seminar that brought together filmmakers Barbara McCullough and Billy Woodberry, film curator June Givanni, The Otolith Collective, and Jacqueline Stewart, co-curator of the original film exhibition presented by UCLA Film & Television Archive.
The series will conclude April 25 with a screening of shorts and feature films by Ben Caldwell and Larry Clark.  The evening closes with Caldwell and collaborator Roger Guenveur Smith in a live performance entitled Spaces Looking In Looking Out.
"L.A. Rebellion" is the term used to describe a group of black filmmakers who came to the UCLA School of Theater, Film and Television in the late 1960s to the 1980s as part of an initiative to recruit students from communities of color.  In The Guardian's review of the current retrospective, Julie Dash recalls her experience and goals as a black UCLA film student: "We were totally immersed in it.  We weren't making films to be paid, or to satisfy someone else's needs.  We were making films because they were an expression of ourselves: what we were challenged by, what we wanted to change or redefine, or just dive into and explore."
Since the initial film exhibition and North American tour in 2011, the Archive has continued its "effort to shed further light on the lost or abandoned contributions of the first generations of black UCLA film students" by collecting, preserving and exhibiting these historically significant works.
—Staci Hogsett, UCLA Moving Image Archive Studies