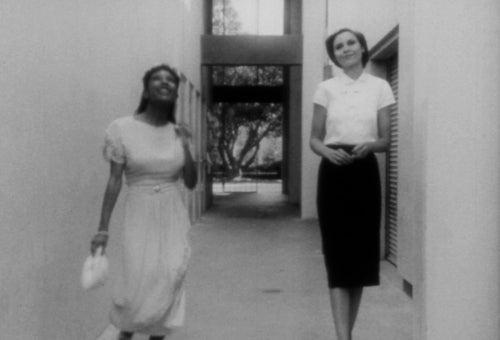 UCLA Film & Television Archive continues its mission of preserving and exhibiting works from the L.A. Rebellion with Revisiting L.A. Rebellion on Monday, March 23 at 7:30 p.m., focusing on women directors of the movement.
Filmmakers Omah Diegu, Jacqueline Frazier, Alile Sharon Larkin and M. Stormé Bright Sweet will be on hand at the event to discuss their work.
Beyond showcasing the perspectives of African American women, these films also touch on subjects such as African heritage, jazz and family, presented in a variety of styles and all the while focusing on political and social issues.
Music plays an important role in Azz Izz Jazz (1978), which features jazz legend Billie Harris, founder of the Azz Izz jazz club in Venice, CA, who passed away only last year.  Music is also a key element in the avant-garde-inspired Forbidden Joy (1972), which tells the story of a woman and a toddler picnicking in a cemetery, as she reflects on her past.
African heritage is explored in detail, and from the viewpoint of children in My Dream is to Marry an African Prince (1984).  The children share their perceptions of royalty, before encountering a man and woman raised in Africa, who offer a whole new outlook on royalty in their descriptions of African customs.
In The Single Parent: Images in Black (1982), M. Stormé Bright Sweet examines the challenges and responsibilities of life as an African American single parent.  Similarly, the protagonist of African Woman USA (1980) faces sexism and racism in her struggle to support her three daughters.
Julie Dash also tackles the issue of racism in Illusions (1982), which centers on two African American women working in Hollywood in the 1940s; one passes as white, while the other is hired to dub the voice of a white actress.  Shot on black and white reversal stock, director Dash explains, "I was going for that 1940's film noir, very rich, rich velvety black look."
With the exception of Illusions, all the films are being shown for the first time outside their original release.  More information about the screening can be found here.
"L.A. Rebellion" is the term used to describe a group of black filmmakers who came to the UCLA School of Theater, Film and Television from the late 1960s to the 1980s as part of an initiative to recruit students from communities of color.  Since the initial exhibition and tour in 2011, UCLA Film & Television Archive has continued their mission of collecting and preserving the works created by this group of filmmakers, which features well-known L.A. Rebellion works alongside rarely-seen student films.  Learn more about this initiative.


—Staci Hogsett, UCLA Moving Image Archive Studies