Archive Head of Public Programs Shannon Kelley recently discovered a review he wrote about All Over Me (1997, dir. Alex Sichel) upon its initial release. Fifteen years later, Kelley has programmed the film as part of our series, "NQC@20: Revisiting New Queer Cinema," which screens Friday, December 7 @ 7:30 p.m., and his feelings for the film have only improved with time. 
From Shannon Kelley: "After 15 years since writing about this film, I'm impressed by what I missed.  First, that the film is so hopeful despite the forces that conspire to drag the characters down.  Claude gets out with her dignity, and that's a pretty big victory, compared with just "getting the girl." (The film anticipates the "It Gets Better" movement by more than a decade).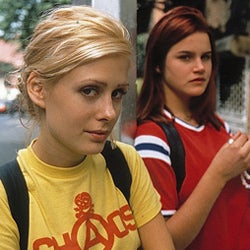 Second, those early moments when Claude is crazy in love are so accurate, you find yourself a little in love too, for her sake, even though the going is tough. Finally… I unbelievably never mentioned the awesome soundtrack, or the Riot Grrrl phenomenon… I didn't see it plainly when it was in full flower, but what a difference this movement made to youth and lesbian culture, not just this film!  Leisha Hailey? Ani DiFranco?  Sleater-Kinney? Babes In Toyland?  The film is a treasure chest and a time capsule of sound." 
Kelley's original review that appeared in Instinct magazine is excerpted below: 
"The story follows the end of a friendship and a young woman's ascent to adulthood. Claude and Ellen are urban teenage girls and longtime friends who dream, or b.s., of starting a rock band together. In fact, they stick together mainly to fill in the missing pieces of their identities. Claude is secretly in love with Ellen and not-too-secretly steals hugs and kisses, while Ellen turns to Claude to smooth over and dignify her own self-demeaning behaviors, especially where men are concerned…Understated production values and killer performances help to convey this sense of history and emotion… Alison Folland—memorable as Nicole Kidman's teenage dupe in To Die For—is less mannered here, but even more powerful. Tara Subkoff as Ellen cuts a tragic figure, tottering in a drug-induced haze; as impressive as Chloe Webb in Sid and Nancy. And the movie is sexy as hell, as the characters negotiate kisses with a silent gravity that's almost terrifying." 
For more on "NQC@20" and our Legacy Project initiative, please visit our website. 
—Meg Weichman, UCLA Film & Television Archive.