On Saturday, October 13, the UCLA Film & Television Archive was pleased to present a "sneak peek" of our restoration-in-progress, Different From the Others (1919), at Outfest's Legacy Awards, a star-studded event at the historic Orpheum Theater in Los Angeles.
In 2005, the Archive partnered with Outfest to create the Outfest/UCLA Legacy Project, which is now the largest publicly accessible collection of LGBT films in the world, having over 20,000 holdings and funding preservation and restoration of at-risk materials.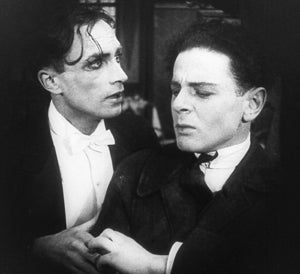 The Project's latest restoration effort may also be one of its most significant. The German silent film Different From the Others is arguably the earliest surviving full-length film that features a gay protagonist; and we could think of no better venue to unveil such an important piece of LGBT history than in a beautiful period theater and in front of such an appreciative audience.
Co-written by prominent sexologist Magnus Hirschfeld, the film stars Conrad Veidt as a music teacher who falls in love with a male student. Taking advantage of the open social mores following WWI, Hirschfeld set out to make a film that would create a powerful statement against German laws that criminalized homosexuality.
Upon release, Different From the Others was a box office hit across Europe, but it was not without controversy. The film was later banned at local levels and became an immediate target upon the reinstatement of national censorship laws in 1920.  In 1927, Hirschfeld was able to incorporate 40 minutes of the film into the documentary, Laws of Love: Innocent But Outlawed!, which is now the only material from the original film known to survive. 
"The audience was very enthusiastic–– I think some were quite surprised by the frank and progressive portrayal of homosexuality in a film that is almost 100 years old," said Wiener.
The Archive was able to obtain this remaining footage from the Russian Film Archive (Gosfilmofond) and UCLA Film Preservationist Jere Guldin has since worked tirelessly to reassemble the film using historical documents, film fragments and photos, in a process Archive Director Jan-Christopher Horak characterized as transforming "celluloid salad" into a "cogent narrative."
Horak was on-hand at the event to speak about the ongoing partnership of the Archive and Outfest. "This was a terrific night for the Archive.  Not only were we able to help present a historically significant film and a highly complex restoration, but we were also able to experience firsthand and in a meaningful way the powerful role film archives and film preservation can play in our communities."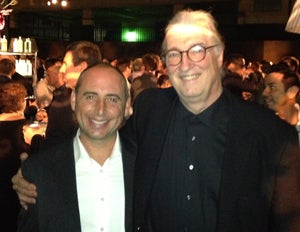 Different From the Others was preceded by a mini documentary on the film's unique history produced by filmmaker Jeffrey Schwartz and featured interviews with Horak and UCLA Motion Picture Archivist Todd Wiener.
The film played to a full house and was presented with musical accompaniment by Robert Israel on the Orpheum's Mighty Wurlitzer, a setting not unlike that which audiences may have originally experienced the film in 1919. While not complete, the print looked beautiful and the film was well received. "The audience was very enthusiastic–– I think some were quite surprised by the frank and progressive portrayal of homosexuality in a film that is almost 100 years old," said Wiener.
The screening also brought heightened awareness to the greater need for film preservation. As Wiener said, "The post-screening question presented to me by several Outfest members was: do you think the remaining footage still exists and what can we do to help find it?"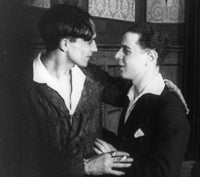 In addition to the screening, the event was hosted by Michael Urie ("Partners"), producers Craig Zadan and Neil Meron (Chicago, Hairspray, "Smash") were presented with the Visionary Award, and actor Darren Criss ("Glee") performed a musical number from How to Succeed in Business Without Really Trying. Following the film, there was an After Party and attendees were encouraged to dress in period costume.
Once the full photochemical film restoration of Different From the Others is completed, the film will be archived at UCLA, helping to ensure the film's survival in the face of any digital format changes. Additional 35mm prints will also be made available for theatrical exhibition so that audiences all over will be able to experience this important piece of cinema— and LGBT—history. 
For more information on the Outfest Legacy Project, please visit our website. 
—Meg Weichman, UCLA Film & Television Archive.