It is with great sadness that UCLA Film & Television Archive announces the passing of our valued colleague, film preservationist Nancy Mysel, on June 17, 2012.  Nancy passed away peacefully in her home in Los Angeles, after a brave, 8-year battle with metastatic breast cancer. She was 45.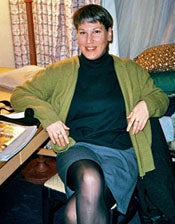 "Nancy's passing was not entirely unexpected, but that hasn't made it any less devastating to those who knew and loved her. Nancy was a skilled and versatile preservationist and her loss has been, and will continue to be, profoundly felt by many on both a personal and professional level," said Jan-Christopher Horak, Director, UCLA Film & Television Archive.
Born in Paterson, New Jersey, Nancy graduated from Boston University's School of Communications and spent seven years as assistant picture and sound editor for National Geographic in Washington, D.C.  During this time, she received an Emmy nomination for Outstanding Achievement in Sound for her work on the documentary The Great Indian Railway (1995).
In 1999, UCLA Film & Television Archive was fortunate to welcome Nancy aboard to work with our collection—and in 2000, she began her career as a film preservationist.  While at UCLA, Nancy collaborated with organizations such as The Film Foundation, Sundance, Film Noir Foundation, the National Film Preservation Foundation and Outfest on a notably eclectic range of projects that reflected her curiosity and passion for moving image history.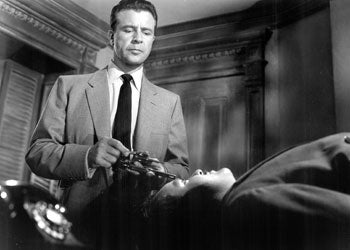 Nancy was particularly interested in the challenges that the unique black and white cinematography of film noir presented.   She was recognized as a leading specialist in the restoration of that genre and supervised the restoration of significant noir rediscoveries The Prowler (1951, Joseph Losey) and Cry Danger (1951, Robert Parrish), among others.
"Nancy was wonderful, sweet, and far too shy and humble—and most importantly, she was a tenacious guardian of cinema history, who set very high standards for all of us. We're deeply saddened by her death," said Eddie Muller, President, Film Noir Foundation.
Additional restoration projects Nancy Mysel supervised include: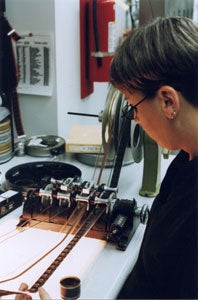 Hollywood features Penny Serenade (1941, George Stevens), Sleep, My Love (1944, Douglas Sirk), Strangers in the Night (1944, Anthony Mann), Cloak and Dagger (1946, Fritz Lang) and Ruthless (1948, Edgar G. Ulmer);
four films by pioneering female director, Dorothy Arzner—Anybody's Woman (1930), Sarah and Son (1930), Honor Among Lovers (1931) and Merrily We Go to Hell (1932);
documentary projects, such as The Naked Eye (1957, Louis Clyde Stoumen) and "The Merry Pranksters/Ken Kesey Home Movie Project" (1964, unedited footage);
groundbreaking LGBT works—Parting Glances (1986, Bill Sherwood), Queens at Heart (1967) and Christopher Street West's First Gay Parade (1970, Pat Rocco);
the "L.A. Rebellion" films I & I: An African Allegory (1979, Ben Caldwell) and Water Ritual #1: An Urban Rite of Purification (1979, Barbara McCullough);
a wide variety of short subjects, including silent animation, comedies, experimental works, publicity films and dramas;
and landmark Holocaust-themed episodes of the television program, "This is Your Life."
(Here is a complete PDF list of Nancy's preservation projects.)
Nancy also worked with preservation officer Robert Gitt on the award-winning project, "Charles Laughton Directs: The Night of the Hunter," the restoration and assembly of production outtakes from the classic 1955 film.  Nancy's restoration of The Chase (1946, Arthur Ripley) will premiere at the next "UCLA Festival of Preservation" in March 2013.
Nancy is survived by her loving parents, Allan and Carol Mysel, and her siblings, Jonathan Mysel and Cathy Yamashita.  Her generous spirit will be dearly missed by her family, her appreciative colleagues at UCLA Film & Television Archive, and the entire moving image archival community.
More:
"Film Preservationist Nancy Mysel Dies" (Variety)
—Kelly Graml, UCLA Film & Television Archive.