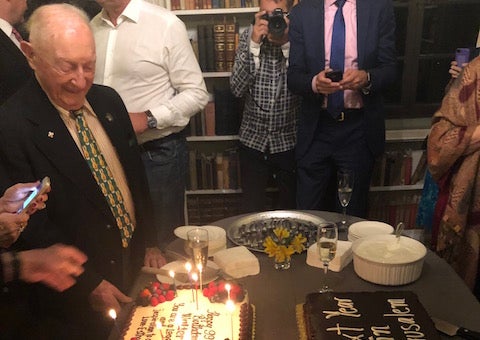 I first met the composer and former music critic Walter Arlen and his longtime companion of 50-plus years, Howard Myers, almost a year ago at the home of a mutual friend and have seen him a few times since then. On July 31 this year, we celebrated Walter's 99th birthday at the Villa Aurora, the German Cultural Center in Pacific Palisades, and former home of the great exiled German novelist, Lion Feuchtwanger. Like Feuchtwanger, Bertolt Brecht, and many, many others, Walter was exiled from his native Vienna when the Nazis were welcomed into Vienna by the Austrians in March 1938. His is a remarkable story. 
Born Walter Aptowitzer in Vienna in 1920, his family owned a well-known department store, Warenhaus Dichter, while he enjoyed a comfortable childhood, dreaming of becoming a composer and actually composing from the age of 10. All that ended at the age of 18 when the Nazis "Aryanized" the family business, his father was incarcerated at Buchenwald concentration camp, and his mother suffered a breakdown, later taking her own life. In 1939, Walter made it to Chicago thanks to family friends, while unbeknownst to Walter his parents and sister (his dad was apparently bought out of the camp) emigrated to London. Depressed by the loss of family, and having to work as a store clerk, Walter took the name Arlen and nevertheless continued to compose.  After winning a competition, he became the assistant of the well-known modern American composer, Roy Harris, even moving in with him and his wife. In 1951, Harris was appointed a professor at UCLA and Arlen followed him there, becoming a music composition graduate student and meeting faculty member Albert Goldberg, the Los Angeles Times music critic who offered him a job.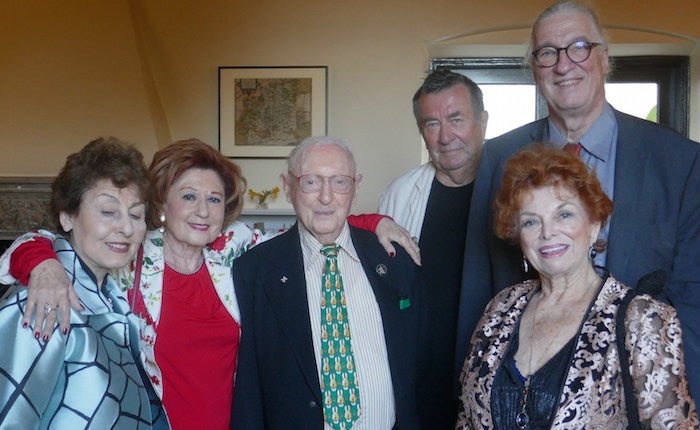 In 1952, Arlen began writing music criticism for the L.A. Times, a job he held for the next 30 years until 1981. Given his background, Arlen maintained close ties with the émigré music community, especially Ernst Toch, Erich Wolfgang Korngold, Erich Zeisl, Mario Castelnuovo-Tedesco, Darius Milhaud and Arnold Schoenberg, never missing a Stravinsky rehearsal or concert, and becoming a specialist for modern music. He developed into a fierce critic with high standards, as L.A. Times music critic Mark Swed noted in 2015 when he wrote, "Arlen could be quite unforgiving when the basics of concerts were not thought through."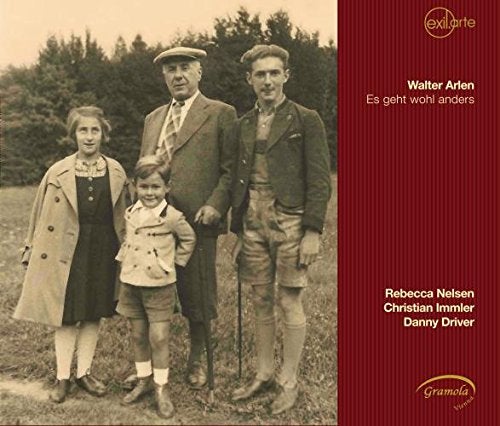 Ironically, Arlen's own music composing stopped dead in its tracks, once he became a critic. As he stated in an interview: "If I'd carried on composing, it would have ended up with a conflict of interest. I didn't feel like showing my wares while I was passing judgment on other people's, so there it was: for 30 years I wrote no music at all." After retiring and joining the faculty of Loyola Marymount University, the flood gates broke. In 1986, he began composing both works for piano and voice. His songs have been collected on a two CD set, Es geht wohl anders: The Songs of Walter Arlen. Sung by Rebecca Nelsen and Christian Immler, accompanied by Danny Driver (Gramola, 2012). His music is influenced less by the modernists he wrote about than pre-classical and classical composers, although his subject matter is deeply imbricated in the painful experience of exile and loss. Among the authors whose poetry he has put to music are St. John of the Cross' Five Songs of Love and Yearning (note: on iTunes this track uses the numerical 5, not "Five"), Czesław Miłosz's Poet in Exile, Robert Frost, Shakespeare, Rainer Maria Rilke and C.P. Cavafy. 
But Arlen's work was not performed publicly until 2008, when some were presented at the Jewish Museum in Vienna on the 70th anniversary of the Anschluss. In attendance were some of the country's leading politicians, as well as many involved in the dissemination of exile music. Arlen was invited back to Austria and Germany to conduct workshops and his music has subsequently been performed in Berlin, Milan, Los Angeles, San Diego and New York. How many composers enjoy an amazing musical career in their 80s, let alone their 90s, although Walter actually stopped composing almost two decades ago. However, he is still active and gregarious and can keep a party entertained with his many stories. May you continue to enjoy life, Walter!