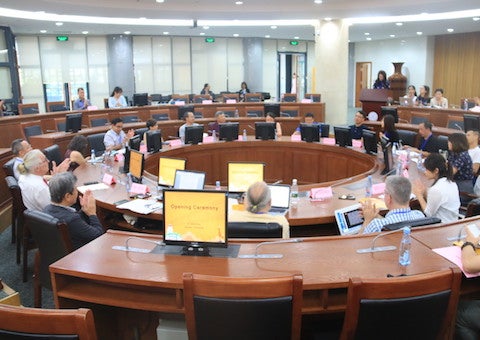 In late June, Xiamen University invited international and Chinese participants to the First International Film Festival and Film Restoration Forum, organized in conjunction with the Golden Rooster Awards, the Chinese equivalent to the Oscars. The Forum was divided into two sections: Global and Regional Film Festivals (June 26-29, 2019) and Film Festival and Film Restoration (June 30-July 3, 2019). At the invitation of Professors Li Xiaohong and Ray Jiing, I presented the opening paper at the second Forum. According to the official invitation letter, this section focused on three aspects: "1) Archive as methodology; the significance of audio visual archives for pedagogy, cultural industry, as well as city governance. This topic dedicates to curatorship, archiving, preservation and education. 2) Memory politics; the archive is the contested terrain especially when we are entering the postmodern and postcolonial world. What is the role of a more decentralized and peripheral archive to local memory, identity and heritage? 3) Film archives as city memory; film plays the role of a bridge between memory and reality, while telling stories about the past however shaping the character and identity of a city."
The Forum was a mixture of papers and films illustrating various archival restorations, and the role of films and archives in anthropological research. The talks began Sunday night with a series of anthropological films that were made in China, as well as Dan Streible's (NYU Cinema Studies, Moving Image Archiving and Preservation) presentation of highlights from the Orphan Film Symposium. The actual proceedings got under way the next morning with opening remarks by Li Xiaohong (Xiamen University) and Ray Jiing (Xiamen University), co-founders of the new Film Archive Studies Center at Xiamen University, which hopes to become the biggest film archiving training program in China, if not Asia. Following my paper on "Constructing History: Archives, Film Preservation, and Programming," Howard Besser (NYU MIAP) discussed the changing images of cities as documented in newsreels, home movies and cellphone movies, and the myriad ways in which these historical images can be used for new visual projects. Next, Karen Chan from the Asian Film Archive in Singapore presented an institutional history of the growth and development of their archive, which has been collecting and preserving titles from a number of Southeast Asian countries, not just Singapore. Finally, Juana Suárez, the Director of NYU's Moving Image Archiving and Preservation program, spoke about the many challenges faced by Latin American film archives, such as underfunding, lack of proper storage, frequent and politically motivated changes in management, and little coordination between individual countries.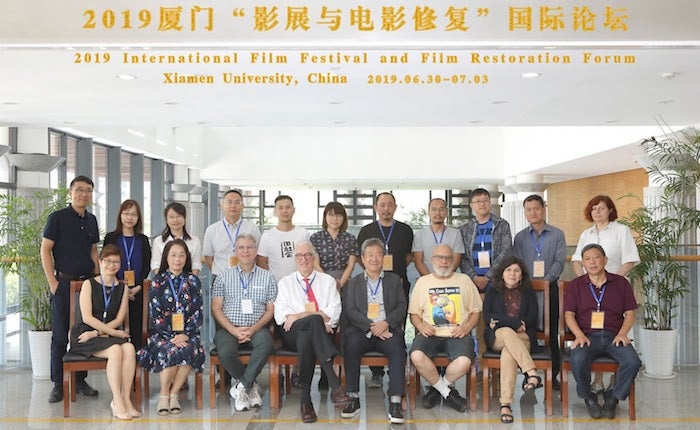 In the afternoon session, Pan Lu (Hong Kong Polytechnic University) discussed her visual art project, Miasma, Plants and Export Paintings (2017), which analyzes the Chinese export art market of the 19th century and what we can learn about colonialism from these paintings. Dan Streible then presented a fascinating paper, breaking down the 50 terms that are associated with how newsreel footage is identified and categorized. After a tea break, Zhang Jin from the China Film Archive in Beijing spoke about the institutional ups and downs of the China Film Archive from its founding in 1958 through its near demise during the Cultural Revolution to its revival and expansion in the last decade. Lin Liang-wen (Taiyi University) discussed aspects of her dissertation proposal that will study differences in operations and policies between museums and archives, while Hsieh Yu-en from the Film Collector's Museum in Taipei analyzed a campaign in 2013 to save Taiwanese home movies. The day ended with screenings of two recent UCLA restoration projects, Roland West's Alibi (1929) and Emilio Ferdández's Enamorada (1946).
The symposium's second day continued with the work of Chinese scholars and filmmakers working in the area of anthropological film. Tan Leshui (Yunnan University) honored the work of his father, a pioneer of ethnographic filmmaking in 1950s China, and a filmmaker whose name "cannot be spoken in public." Chen Xueli (Yunnan University) presented on the way anthropological films can be used to create new works, as he did in his study, Tail After Those Old Photos (2015). Li Xin (Yunnan Arts University) talked about his work training filmmakers from ethnic minorities, in particular the Jinsha Dai people in southwestern China, who never had a written language, but relied solely on oral traditions. Wei Wei (Guizhou Minzu University) discussed ethnographic films made in South China in the 1970s and 1980s of the Miao people. Xiong Libo (Yunnan Arts University) described the excavation and rescue of a film collection from an abandoned theater in the Chinese provinces, while visual artist Tan Dao discussed his guerilla cinema programs, consisting of art and found footage.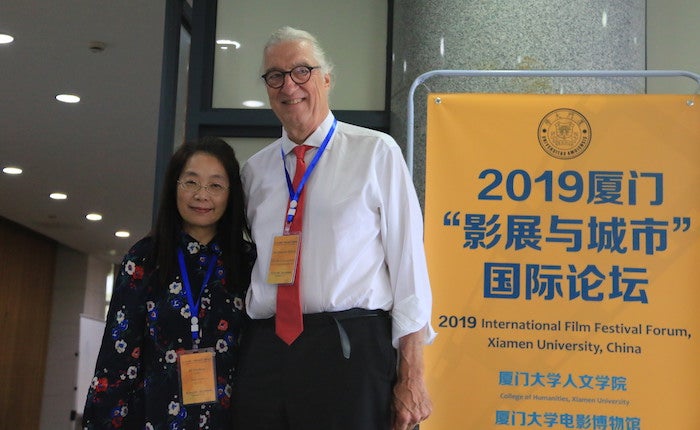 The afternoon and evening, then, were dedicated to screenings of restorations with extended introductions: Howard Besser presented Man with the Movie Camera: The Global Remake (2017); Benedict Salazar Olgado screened Lino Brocka's masterpiece Manila in the Claws of Light (1975); Karen Chan introduced Ring of Fury (1973), a Singaporean kung fu epic that had been banned for decades; Sanchai Chotirosseranee from Film Archive Thailand discussed their restoration of Santi-Vina (1954), the first color Thai feature film. All four films were real discoveries.
On the third and final day, the participants toured Xiamen University, which has three beautiful campuses, in particular the Film Archive Studies Center, where they have established a film archive after acquiring the inventory of one of China's largest state-owned, now defunct regional film distributors. With this archive, students will in the future be able to combine theory with practice.