Writers Guild Foundation collection
On May 15, 2019, the Academy of Motion Picture Arts and Sciences invited film librarians from around the globe to attend the second Film Librarians Conference at the Academy's Linwood Dunn Theater. The first conference was held in April 2017, just prior to the FIAF Congress, and was funded accordingly, while this year's three-day gathering relied solely on volunteered sweat equity from the staff of the Margaret Herrick Library. Nevertheless, librarians and archivists from as far away as New Zealand paid their own way to attend a fruitful discussion focused on cinema's material culture. Unfortunately, I was unable to attend all of the many interesting panels, but I did catch the first day and a half of the proceedings.
The keynote for this year's "Documenting Cinema: Film Librarians Conference" was given by screenwriter Larry Karaszewski, who with his writing partner Scott Alexander has penned the biopics Ed Wood (Tim Burton, 1994), The People vs. Larry Flint (Miloš Forman, 1996), and Man on the Moon (Miloš Forman, 1999). Karaszewski spoke about his love of libraries and how research in libraries was essential to his work as a film biographer. He noted that for him the most interesting biopics are about "people who don't deserve biographies," which is why he is making a film about actor Rudy Ray Moore, who created an alter ego, Dolemite, in several so-called blaxploitation films in the 1970s.
David Pierce, Assistant Chief of the National Audio-Visual Conservation Center at the Library of Congress, opened the proceedings proper by discussing the many copyright and legal issues surrounding donated and deposited materials at the Library. It seems in the past, the Library's primary goal was to take in collections, regardless of donor restrictions placed on those materials. As a result, many collections cannot be legally accessed, even when donors are long gone, because of restrictions codified in the donor paperwork. Pierce noted that such limitations are not longer allowable under current policy and that the Library now only accepts unrestricted donations and not deposits.
There was a definite focus on animation and the preservation of cels and other materials. Sharon Mizota (Disney Research Library) talked about the establishment of controlled vocabulary for their database and the use of keywords, which are modified for specific collections. On Thursday a bevy of cel animation conservators—Françoise Lémerige (Cinémathèque Français), Katharina Höyng (Hoeyng Conservation), Carolyn Carta (Getty Institute)—discussed various new methodologies for preserving fragile cels using techniques developed for art conservation.
Speakers on several panels addressed issues involving photography collections, whether newspaper images, as did Kendra Bean who is responsible for two million images in the Daily Herald Archive at Bradford's National Science and Media Museum, or nitrate photo negatives from the Feyder-Rosay Collection at the Cinémathèque Française, as did Flornoy Gilot Arzura.
Another thread running through the conference was the production, housing and use of oral histories, since many institutions now realize that the only way to capture the history of filmmaking, especially as it pertains to women and minorities, is through interviews with survivors. The Academy's own massive online oral history project was the subject of a whole session with María Elena de las Carreras, Teague Schneiter, Brendan Coates, Mae Woods and Tuni Chatterji presenting various aspects of their work. Other oral history projects were addressed by Hilary Swett (Writers Guild Foundation), Christian Pitt (International Cinematographers Guild) and last but not least, the Kitchen Sisters Davia Nelson and Nikki Silva, whose NPR series, "The Keepers," focuses on amateur archivists, rogue librarians, collectors, curators and historians.
Obviously, digitization was another important topic for the conference, since access to many fragile collections of papers, posters and photographs is now only possible through electronic imaging. Steve Wilson from the Harry Ransom Center horrified everyone with tales of having digitized 10,000 posters in the Interstate Film Poster Collection, only to see the software crash, necessitating a repeat of all the work. Mary Huelsbeck from the Wisconsin Center for Film and Theater Research demonstrated how Dictaphone dictabelts from the Rod Serling Collection were digitized. Makiko Kamiya from Japan's National Film Archive spoke about their recent digitization efforts. Unfortunately, I missed a session on the Academy's digital management services, presented by May Haduong, Warren Sherk and Zoe Friedlander.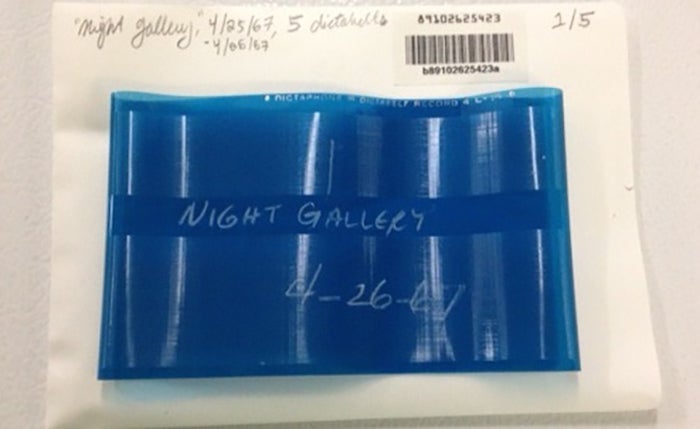 Rod Serling audio recording (source: Wisconsin Center for Film & Theater Research)
Presenting cinema's material culture in public exhibitions was also a relevant subject for inquiry, given the imminent opening of the Academy's new museum (participants were invited to a tour of the construction site). Tania López Espinal and Sofía Arévalo from the Cineteca Nacional in Mexico discussed their exhibition on humor in Mexican cinema, while Sharon Smith Holley from the Motion Picture Editors Guild has set up an exhibition in the Guild's offices. Tom Walsh, former President of the Art Directors Guild, on the other hand, seemed to be looking for a permanent home for the Art Directors Guild Library and Archives, so that their fabulous art work can be displayed publicly.
Listening to panelists and reading about what I missed, I realized this is such a rich field of dedicated professionals, but often underfunded resources. There also seems to be growing awareness of the special nature of the work in this field. Hopefully, the Academy can find the resources to stage the next conference in two years.