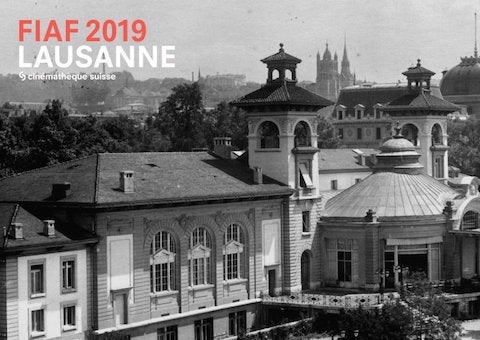 The second day of the FIAF Symposium began with a panel, "Geopolitical Considerations," with participants filing reports on the problems and concerns of newer archives in smaller nations in the Balkans and the Middle East, including Lebanon, Azerbaijan, Albania and North Macedonia. Many of these film archives, which have joined FIAF, have the same problems as all newly founded institutions, but some are also struggling with difficult political or social developments in their respective countries.
Nour Ouayda from the Metropolis Art Cinema Association presented a paper on the "Cinematheque Beirut and Histories of Film Archives in Lebanon." She noted that despite the fact that there has been a native film industry in Beirut, going back to the 1920s, and a lively cinema culture since then, the preservation of the country's film patrimony was not a priority for many decades. The 1960s saw the creation of a National Film Center within a new Ministry of Culture, but that effort promoted mostly film production. It was not until 1999 that the Lebanese National Cinematheque was founded, again within the Ministry of Culture, with the specific mission of beginning to collect and safeguard the country's film archives, after the disastrous wars that had plagued the country since the 1970s. They joined FIAF in 2008 and are now planning to collect and digitize old films, preserving analog film material, as well as collecting the material culture of cinema. However, saving film collections is also being carried out by a number of associations, including Beirut DC, Metropolis, UMAM, and the Fondation Liban Cinema. The Metropolis Art Cinema Association, founded in 2006 to promote the exhibition of non-commercial cinema, is also spearheading the founding of the Cinematheque Beirut, whose mission will be to preserve film and non-film archive material, collect information on film archives to create an online database, create a platform for local filmmakers and organize film festivals and retrospectives. In other words, it seems that a unified national film preservation effort is still an elusive goal.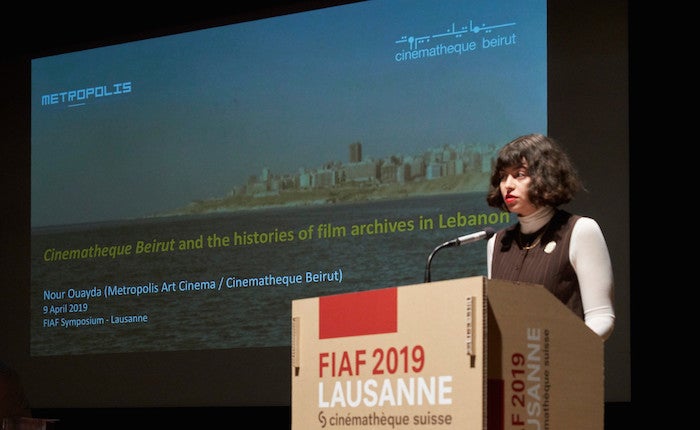 Next, Iris Elezi, Director of the Central State Film Archives of Albania, discussed the myriad problems facing their efforts to preserve Albanian films within a larger institution (Central State Archives) that seemingly has other priorities. Founded in 1947 when Albania became a Communist state, the archive suffered from years of isolation and neglect, leading to huge problems with vinegar syndrome. The archive joined FIAF in 1963, but little changed until after the fall of Communism. Thanks to the American-financed Albanian Cinema Project, organized by Regina Longo, the archive has been able to outsource some preservation work to the Library of Congress and Colorlab, and is now digitizing films in Budapest. A graduate of NYU, Iris Elezi's presentation was so impassioned that she was subsequently elected to FIAF's Executive Committee, a move that will hopefully give her some political clout on her home turf.
Vladimir Angelov, the Director of the Cinematheque of Macedonia in Skopje, which hosted a successful FIAF Congress in 2014, has been going through management changes. Angelov, the third director since the 2014 Congress, began by stating that the country is being forced by the international community to change its name to North Macedonia. He noted that the archive works very closely with their colleagues in other former Yugoslavian republics, including Croatia, Slovenia and Bosnia. The country also had a major international hit when God Exists, Her Name is Petrunya (2019) played the Berlinale Film Festival. On the other hand, the archive's whole computer infrastructure crashed recently when they were hit with a virus, according to a note on their website.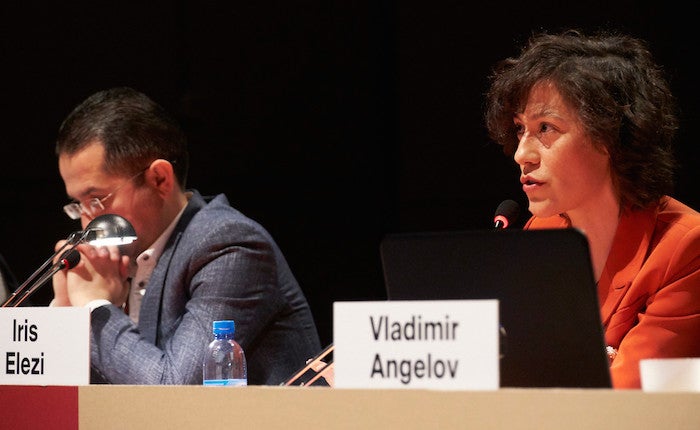 Finally, Rashad Qasimov, Assistant Director of the Azerbaijan State Film Fund, spoke through an interpreter. The archive joined FIAF in 1999, being founded only recently after the fall of the Soviet Union. Unfortunately, as Qasimov reported, all films made in Azerbaijan in the Communist era were taken to Moscow, which has refused to repatriate them, so that the country's actual film patrimony only begins in the last two decades. Azerbaijan does have legal deposit for government-produced documentaries and all other films funded by the government. It has also signed agreements with private film companies to archive their holdings. However, Qasimov stated that Azerbaijan's prime minister wants "to amputate images of pain from his people," which I guess means keeping films of history away from them, a somewhat ominous ending to a symposium panel that was filled with frustration, but also hope for the future.