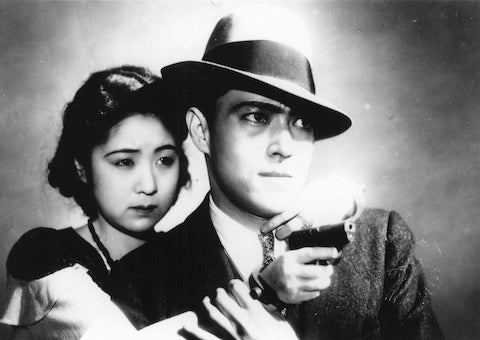 Dragnet Girl (1933)
When I was a film student, I wondered why it took Japan significantly more time to make the transition from silent to sound films (ca. 1936) than America or Europe. It wasn't until I experienced a performance by a benshi at the Giornate del Cinema Muto, sometime in the 1990s, that I realized the Japanese had invented an incredibly hybrid form of sound cinema: benshi performers not only narrated and commented on silent films, but often voiced all the actors, with live musical accompaniment, creating a highly theatrical form. In early March, Angelenos were treated to an amazing weekend of benshi performances at the Billy Wilder Theater, co-presented by UCLA Film & Television Archive and the Tadashi Yanai Initiative for Globalizing Japanese Humanities. Other partners were The Tsubouchi Memorial Theatre Museum at Waseda University and the Top Global University Project, Global Japanese Studies Model Unit and Waseda University. 35mm prints were provided by the National Film Archive of Japan, George Eastman Museum and UCLA. Benshi performers Kataoka Ichirō, Ōmori Kumiko and Sakamoto Raikō were accompanied by a musical ensemble, led by Yuasa Jōichi (conductor, shamisen, guitar), with Tanbara Kaname (piano), Furuhashi Yuki (violin), Suzuki Makiko (flute) and Katada Kisayo (drums).
The best-attended screening of the weekend was Yasujiro Ozu's Dragnet Girl (Hijōsen no onna, 1933), performed by Kataoka Ichirō. Most film scholars, including David Bordwell, differentiate Ozu's early silent films, which were heavily influenced by American genre cinema, from his later Japanese family melodramas, where he began rigorously paring down his film technique: eliminating optical tricks, almost never moving the camera, and keeping the stationary camera at exactly three feet above the ground, allowing for an expansive 180-degree view of landscapes and interiors (including ceilings). Films like Late Spring (1949), The Flavor of Green Tea Over Rice (1952) or Tokyo Story (1953)—one of my favorite films of all time—are about family relations in postwar Japan, caught between modernity and tradition, and life changes over time as children grow up and get married, and parents die. Ozu's That Night's Wife (1930), a film I saw in 2016 at the San Francisco Silent Film Festival, and Dragnet Girl fall into the former category, one being a social issue crime drama, the other a gangster film. While both films feature actors in modern dress and urban settings, they are really about family, even as they rework American genre conventions.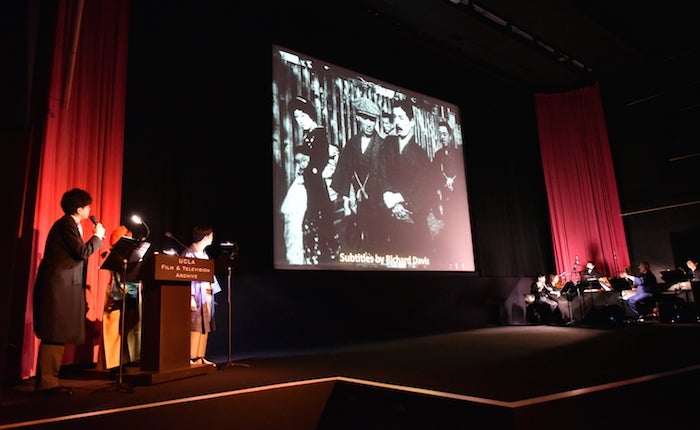 The Art of the Benshi event at the Billy Wilder Theater
That Night's Wife (Sono yo no tsuma, 1930) is more overtly about family relations, even while it starts as a crime drama. Shuji, a commercial artist, commits armed robbery to obtain money for a doctor to save the life of his sick child, Mayumi. He returns home and spends a long night in vigil over Mayumi's sickbed with Detective Kagawa, who has tracked him down and arrests him. The film opens up as a straight crime thriller as Ozu constructs the late-night robbery of an office, creating tension, as the thief ties up employees, takes the money, and then makes his getaway in a taxi. The cabbie, however, turns out to be a cop. In the remaining two-thirds of the film, Ozu keeps his camera in the flat, as the artist, his wife Michiko, and the detective wait and agonize while watching the daughter. In the morning, the detective decides to free the father, but Shuji agrees to turn himself in to save his family.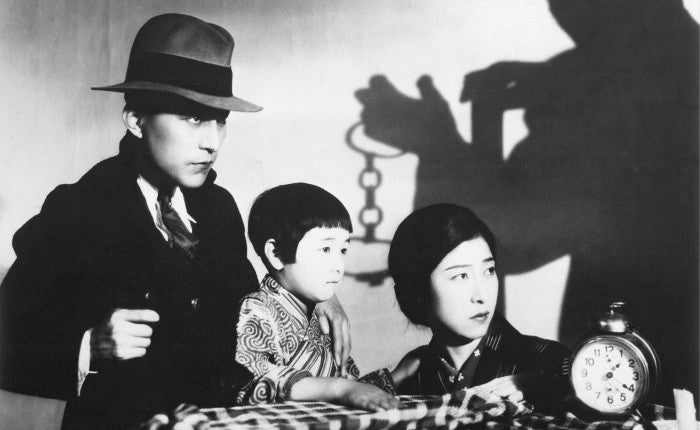 That Night's Wife (1930)
Dragnet Girl starts off as a more conventional gangster film. Tokiko works in an office by day, but spends her nights partying as the girlfriend of a small-time hood and former boxer, Jyoji. When a young student, Hiroshi, falls in with the gangster, Jyoji takes a shine to Hiroshi's more traditional sister, Misako, who in turn is only worried about her brother's apparent abandonment of his studies. Eventually, after much drama involving Tokiko's jealousy, she convinces Jyoji to give up a life of crime, but they first commit one last robbery to save Hiroshi, who has stolen money from his sister's store. The film features many typical gangster locales, e.g. a night club, a boxing gym, a pool hall, urban apartments and big city streets, but the central concerns revolve around family. Machiko fears for her brother, while Tokiko wants to start a traditional family with Jyoji. Indeed it is Jyoji's attraction to Machiko, the only character to appear in a kimono, that makes Tokiko realize that Jyoji is yearning for a traditional family to replace his gang family. Thus, when Tokiko shoots Jyoji in the leg to keep him from fleeing the police, it is to protect the future of the family she will create with him. Thus, in both films, Yasujiro Ozu gravitates toward the concerns about family that would preoccupy him for the rest of his career.