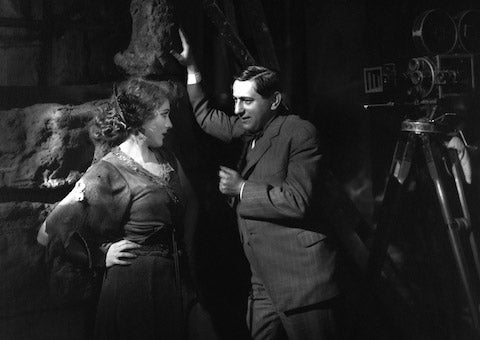 Mary Pickford and Ernst Lubitsch
Last Friday, the American Cinematheque screened the new restoration of Ernst Lubitsch's first American film, Rosita (1923), starring Mary Pickford. Restored by Museum of Modern Art film curator Dave Kehr, with help from archivist Katie Trainor, the film is now available in its original form for the first time since its release. Funded by the Louis B. Mayer Foundation, RT Features, The Film Foundation, and the Celeste Bartos Preservation Fund, Rosita was digitally restored in a two-year process from a 35mm dupe acetate negative, made in the 1960s from a nitrate print that had survived in the Soviet Union. Also scanned was a missing reel of 10 minutes, previously unseen in the 16mm print downs in circulation. The images were cleaned up and tinted digitally, dramatically improving the viewing experience of the film. New English-language intertitles were reconstructed from the translated Russian titles, augmented by texts from the Swedish and German censorship records, while the style was copied from the single reel of Rosita, preserved by the Mary Pickford estate. A new score was created by musicologist Gillian Anderson from original music cue sheets that survive at the George Eastman Museum. Watching the film, I realized that Rosita has not only been undervalued by film historians—probably due to the lack of access—but it is also a major work that really ties together Lubitsch's historical epics in Germany with his romantic American comedies.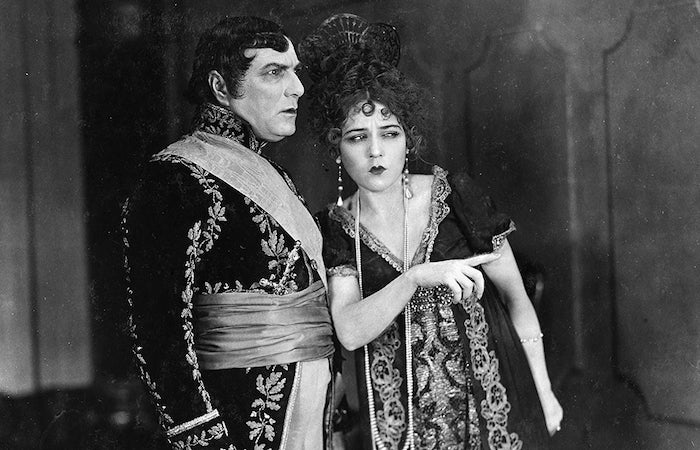 Rosita (1923)
Lubitsch had originally been brought to Hollywood in October 1922 by Mary Pickford to direct her in Dorothy Vernon of Haddon Hall, after he made a huge splash in the United States with his films Madame DuBarry (1919), released in the U.S. as Passion (1920), and Anna Boleyn (1920), released as Deception (1921). However, when production began in March 1923, Lubitsch and Pickford agreed to jettison both a version of Faust (Lubitsch's choice) and Dorothy (Pickford's choice, directed by Marshall Neilan in 1924), in favor of Rosita, which offered Lubitsch plenty of opportunity for the kinds of crowd scenes he excelled at in his German work, heavily influenced by Max Reinhardt's stagings in Berlin. According to press reports quoted by Herman Weinberg in his book, The Lubitsch Touch, Pickford and Lubitsch fought on the set from the first day to the last, Pickford claiming that Lubitsch was only interested in doors. However, Joseph McBride's new biography, How Did Lubitsch Do It?, counters that contemporary reports stated that "their working relationship was relatively harmonious," before and after the production.
Mary Pickford, Ernst Lubitsch and crew on set.
As both numerous contemporary reviews and box office results indicate, Rosita was both a critical and a commercial success, earning back over $1 million, although the film was expected to do better. In later years, Mary Pickford decided inexplicably that the film was a failure and that Ernst Lubitsch had been a terrible director, even though she had offered him a three-picture deal after completing Rosita. Film historians began repeating the myth that Rosita was a flop. In subsequent years, Pickford not only allowed the original camera negative to decompose (except reel 4), but also failed to renew the film's copyright and ordered existing prints destroyed.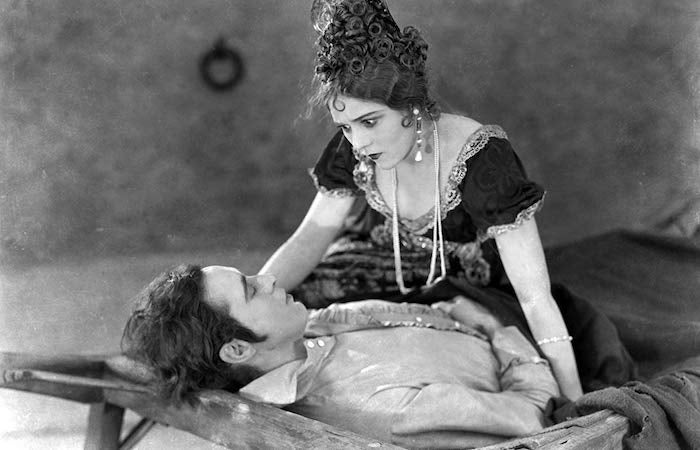 Rosita (1923)
Watching the restoration of Rosita clearly demonstrates its transitional nature, bridging the historical drama of Madame DuBarry and Lubitsch's American boudoir comedies. As in the former film, the opulent sets and extensive Mardi Gras scenes allowed Lubitsch to create sequences of teeming masses in motion. And like Pola Negri in Madame DuBarry, Pickford plays a commoner who is the object of the king's seduction in Rosita and is even asked to marry a nobleman to make her eligible for court (as is DuBarry), except that in Rosita's case she actually wants to marry Don Diego, who had previously rescued her. Don Diego is, however, condemned to die and is actually shot on screen, but then Lubitsch has him literally rise from the dead for a Hollywood happy end. I read this as Lubitsch saying, "in the cinema I can do anything."
As far as Pickford's antipathy towards the film is concerned, it may have to more do with Irene Rich, who consistently upstages Pickford, even though they never share a scene. Rich plays the suffering but sly queen to Holbrook Blinn's serial philandering king, their slightly ironic scenes together having a poignancy sorely lacking in scenes with Pickford. Lubitsch would later cast Rich in his masterpiece Lady Windermere's Fan (1925), another role that would have been far beyond Pickford's reach. Or maybe it was that the German director just talked back to the star who always got her own way.