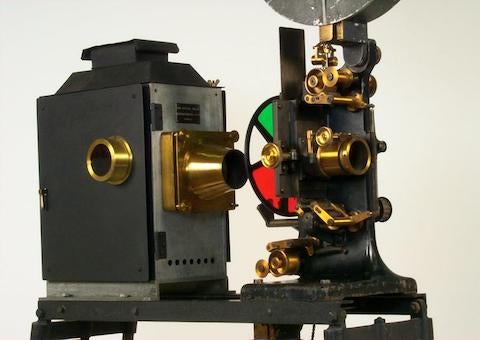 Kinemacolor projector
The Reel Thing 43, a technical symposium held at the Linwood Dunn Theater in Hollywood from August 23-25, opened with a beautiful new digital restoration of Billy Wilder's The Apartment (1960), before work began in earnest the next morning with Andrew Oran's presentation, "The Motion Picture Film Lab: Past, Present and…" It was somewhat of a eulogy for a not quite dead patient, given that Oran's employer, FotoKem, is one of the last analog film labs in L.A., a town that once boasted dozens of labs. At present, there are no more than 10 labs left in North America, some of them very small specialty labs, five in the United Kingdom, 30 in Europe and only 12 in Australia and Asia. Oran wasn't going to predict whether such labs actually had a future (see title), but noted that film stock manufacturers will have to continue producing raw film—there are only 20 stocks still in production—if there is any hope for a future. And there is some reason for optimism, given the renaissance of analog film production in the industry.
Andy Maltz and Dr. Wolfgang Ruppel followed with an update on the Academy's ACES (Academy Color Encoding System), which was addressed to specialists who know far more about digital formats than this reviewer. They were followed by Anthony Matt and Laurel Warbrick who argued for the possibility of 10K scanning, noting that Sony will soon introduce an 8K television monitor and Lasergraphics will soon produce a 10K Directorate. Although a case was made for advantages to 10K scanning, the amount of data that will have to be stored is astronomical, while the end result only offers a slight improvement in resolution over 4K.
Next, Michael Pogorzelski and Heather Linville discussed their 10-year restoration of Edgar G. Ulmer's Detour (1945), which previously was only available in bad transfers from 16mm prints because the original camera negative had been lost, while the afternoon began with Bruce Goldstein's screamingly funny talk on the dos and don'ts of subtitling. Using examples from his own work at Rialto Pictures, which has released dozens of classic foreign films with newly translated titles, Goldstein discussed the ways censorship, mistranslations, and the subtitler's whims had produced inaccurate subtitles in the past.
[Bicycle Thieves (1948) with subtitles, right]
The historical track continued with Jaime Busby and Alan Boyd's presentation of Dunning Color, an obscure two-color (later three-color) subtractive process, using a beam splitter and emulsion on both sides of the base. The inventor, Carroll H. Dunning hoped to create a low-cost alternative to Technicolor, but that market was dominated by Cinecolor. The process would have completely disappeared from memory, were it not for the survival of a truly odd, live action fantasy film, Snickerty Nick and Buzz the Pirate Bee (1935), which Busby and Boyd are restoring.  
On Saturday morning, audio restorationist John Polito got everyone's attention with a presentation on mold and the workflow necessary to remove a mold infestation. Discussing a recent incident with a client, Polito outlined several steps: 1) Cleaning all shelving, hand-rails and boxes with a sporicide. 2) Photographing all paper materials and boxes to capture any metadata before discarding them. 3) Utilizing alcohol to clean all tapes, rather than bleach, which is too strong. 4) Killing mold by storing acetate materials at 25% humidity for at least a week. If the mold is powdery, it is dead.
Another legacy color system, Kinemacolor, was the subject of Davide Pozzi's talk on the digital restoration of this two-color additive process that used two strips of black and white film and color filters in projection. Invented by George Albert Smith in 1906, Kinemacolor has been particularly difficult to digitize, because of problems of parallax, fringing and the limited color space of only having two primary colors available. However, the main problem was that the red and green filters of the projectors did not produce realistic color. The technicians at L'Immagine Ritrovata (Bologna) therefore decided to go with cyan/green and orange/red to produce a more naturalistic look.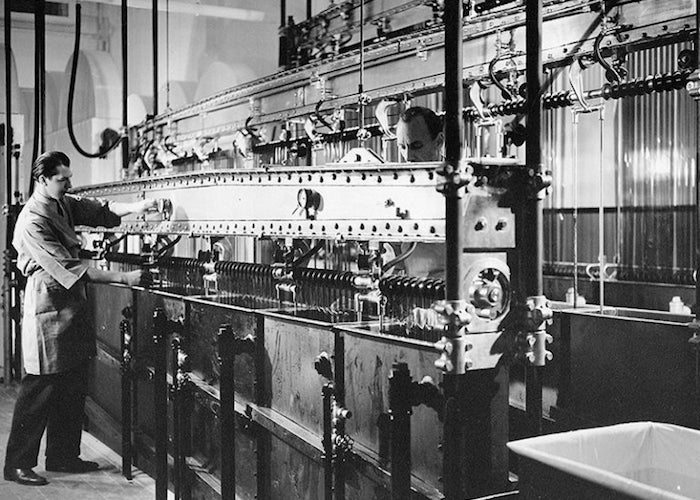 MGM film laboratory, 1938
Next, Paul Stambaugh introduced the Prasad Corporation's mass digitization project of Arab-language films from the Rotana Corporation and Jakub Stadnik discussed restoring audio tracks from Polish nitrate films. Finally, Nicholas Bergh gave a very enlightening presentation on the history of stereo sound technology, beginning with the history of the ERPI/Bell Laboratories in the 1930s and the introduction of stereo in the late 1940s to stereo sound for Cinemascope (using three microphones) in the 1950s, and today's 64 dialogue tracks/400 sound effects tracks for Dunkirk (2017).
The day concluded with a discussion between Paramount's Andrea Kalas and special effects wizards, Craig Barron and Ben Burtt, who have produced events discussing the special effects in films, like It's a Wonderful Life (1946) and The Ten Commandments (1956).
The Reel Thing continues to be an incredible resource for anyone in the moving image archiving field.