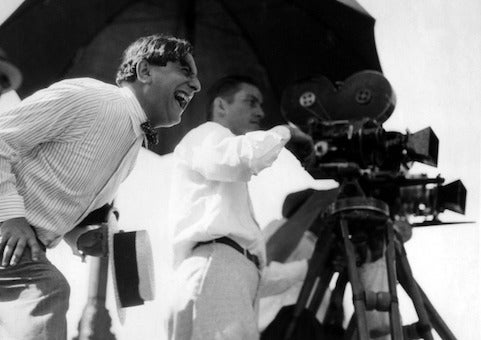 Ernst Lubitsch
As those attending our summer Ernst Lubitsch series know, How Did Lubitsch Do It? Ernst Lubitsch Revisited celebrates a new book by film historian Joseph McBride. Given the book's recent publication, I jumped at the chance to curate a program of Lubitsch films, because the director who died in 1947 has accompanied me throughout my academic career, almost from the beginning.
In fact, I wrote my master's thesis at Boston University on "Ernst Lubitsch and the Rise of UFA." Focusing on Lubitsch's beginnings in Germany before World War I, I followed his rise from a comic actor of shorts to a world-famous film director of epic costume films, noting that his career coincided with the founding of Germany's largest film company in 1917, the Universum Film AG (UFA), where Lubitsch remained its outstanding director, until he moved to Hollywood in 1922. A year later, as a post-graduate fellow at George Eastman Museum, I discovered Lubitsch's wonderful silent comedies, some of which are included in our program. At the time, I was particularly taken with Three Women (1924), The Marriage Circle (1924) and Lady Windemere's Fan (1925), seeing them as adult versions of the comedies of sexual mores that Cecil B. DeMille had been producing in the late 1910s and early 1920s.

Lady Windermere's Fan (1925)
In the early 1980s, I again confronted Lubitsch while writing my dissertation on German-Jewish refugees from Hitler to Hollywood. While Lubitsch was not an émigré per se, he was a guiding light in the German émigré community, as well as the director of possibly the most sophisticated anti-Nazi film to come out of Hollywood during the war years, To Be or Not to Be (1942). He was also heavily involved in the Hollywood Anti-Nazi League and the European Film Fund that supported German refugees. While researching my thesis, I interviewed screenwriter Walter Reisch, who literally worshipped the ground Lubitsch walked on. He told me that Lubitsch was the author of every one of his films, even though he never took credit, working intimately with his screenwriters to hammer our every scene. Reisch or Billy Wilder would throw out the dialogue and Lubitsch would react with a yes, no or maybe, acting out the scene, egging his writers to do better, making suggestions. Lubitsch is still one of my favorite directors, maybe because he was, like me, a mélange of German and American. In the 1990s, I continued on the Lubitsch trail, writing essays about the founding of the European Film Alliance in Berlin in 1920, when Lubitsch became an independent producer-director, and on the German film colony in Hollywood in the 1920s, where Lubitsch again took center stage.
To Be or Not to Be (1942)
Ernst Lubitsch was not only one of the greatest film directors of the classical Hollywood period, he was also one of the most modern. What made Lubitsch modern was that he was a director of surfaces and illusions, insisting that what was not shown was as important as what was visible on the screen. The so-called "Lubitsch touch" implied that a closed door only pointed to the events that happened behind the door, usually sex. Lubitsch's films are filled with objects to which the director lovingly cuts away in close-up, utilizing them as metaphors to visualize what cannot be shown. For example, a cutaway to the purse of a rich widow in Trouble in Paradise visualizes the wealth to be stolen, but also symbolizes her female anatomy. Nothing is what it seems to be. A romantically lighted gondola in the same film turns out to be a garbage "truck." Similarly, when the actors in a Lubitsch film play their roles, they are fully conscious of being actors playing a role, creating a kind of mirroring of emotions that consistently demolishes any hint of sentimentality or melodrama and allows Lubitsch's comedies to be read politically as treatises on contemporary sexual politics.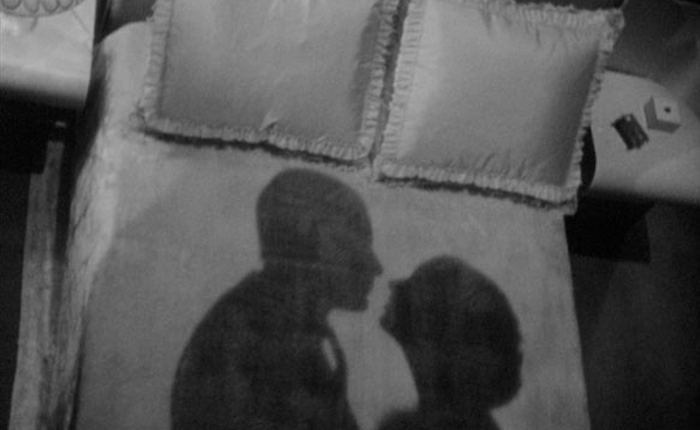 Trouble in Paradise (1932)
Born in Berlin's Jewish garment district, Lubitsch evolved from a director of low-brow slapstick comedy in his early German films, to a director of sophisticated marital comedies among the upper classes in his American films, but he also remained very much a director of Jewish humor. As a result, Lubitsch favors satire and irony in his comedies of upper class sexual relations. But there is also a strong anti-authoritarian streak in his work, symbolized by his cocky apprentices, and a lack of respect for power, indicated by his willingness to pull back the curtain and expose its nasty underbelly.
I'm presently reading Joseph McBride's book and hope to report on it in a future blog.