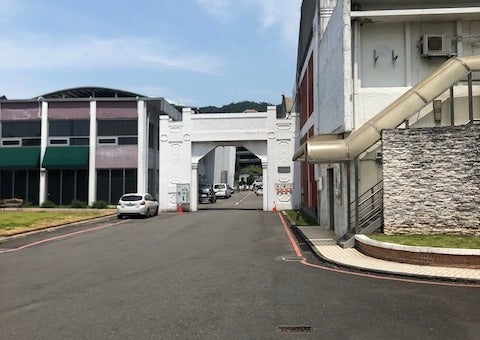 Central Motion Picture Corp.
We were met in Taipei Airport at 5 a.m. local time by Ms. Penny Lim, our translator for the next six days, who guided us as we toured with great efficiency. Organized by the Taiwan Ministry of Culture, our visits to Taipei, Tainan and Kaohsiung included 15 appointments and three museum visits, punctuated by much good food. The grace and charm of all our hosts, their eager willingness to learn, honored me greatly.
It started with my lecture to the film students at Taipei National University of the Arts, five-and-a-half hours after my Taoyuan disembarkation. Although filmmaking students, they were more than dutiful listeners, engaging despite the historical bent of the material. Next we met with Prof. Daw-Ming Lee and his colleagues, before touring the Central Motion Picture Corp. studios and restoration lab. Japan had conquered Taiwan as early as 1895, bringing not only foreign occupation but also modernization. Following the defeat of Japan, the Kuomintang government of Chiang Kai-shek occupied Formosa in 1949 with at least 800,000 soldiers and their families, after its defeat at the hands of the Red Army. The Central Studios became a propaganda film production facility for more than two decades, supporting the brutal dictatorship of the Republic of China, which still laid claim to represent all Chinese, while incarcerating more than 140,000 native Taiwanese to control 86% of its population. Happily, Taiwan today is very much concerned about its ethnic diversity, including 16 aboriginal tribes.
Day two began with a meeting with Wen Tien-Hsiang and Emma Chen, the CEO and Programmer Director, respectively, of the Taipei Golden Horse Film Festival, Taiwan's oldest fest at 54. A working lunch with Director Pin-Chuan Chen and his senior staff from the Taiwan Film Institute (formerly the Taipei Film Archive), followed. After touring the archive, I sat down for a four-hour Q&A with the staff of hardworking and passionate archivists, during which we realized together that whether large or small, UCLA or TFI, we shared many of the same concerns, and some differences, based on experience.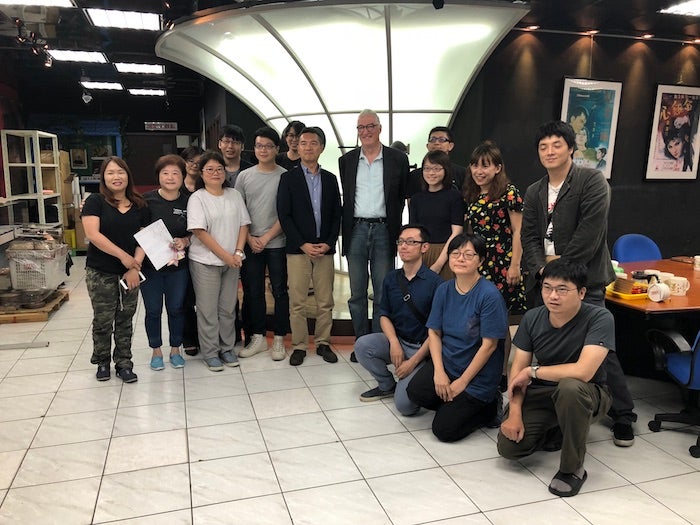 Jan-Christopher Horak with the staff of the Taiwan Film Institute
Day three: I had the pleasure of seeing again Prof. Ray Jing at the newly founded Film Collector's Museum, his third life project after directing the Taipei Film Archive for many years – we first met at FIAF in the early 1990s – and founding and running a film restoration department at Tainan University until last year. We had had dinner in L.A.'s Chinatown just a couple of months ago. It was great to see with what enthusiasm he and a group of collectors have put together exhibitions of film equipment, costumes and other material culture.
We had our official lunch with representatives of the Ministry of Culture, hosted by Deputy Minister of Culture Madame Hsiao-ching Ting, who I had the great honor of showing around the Archive last August. In our frank but discreet discussion of Taiwan's history, I learned much of what is reproduced above. I also realized that Taiwan's desire to remain independent of the People's Republic of China is both ideological and ethnic, since less than 15% of the population is from the Mainland.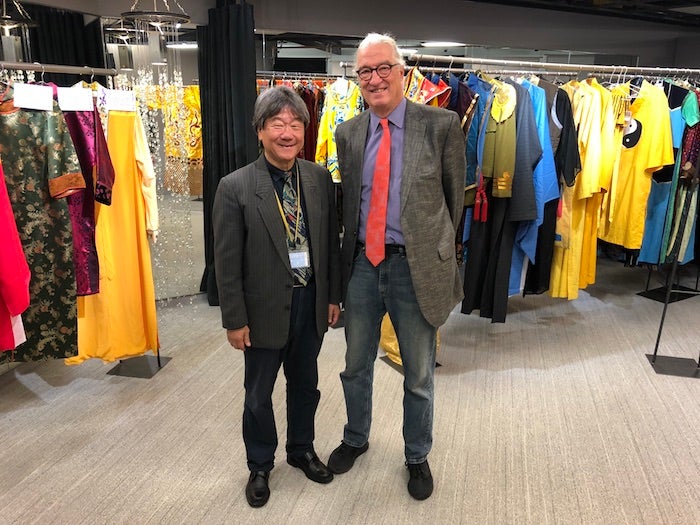 Prof. Ray Jing at the Film Collector's Museum
Then, it was on to a meeting with Ms. Peggy Chiao, a former UCLA film student and Taiwan's most successful film producer, "the godmother of New Taiwan Cinema," with many international hits, such as The Hole (1998), Beijing Bicycle (2001), Drifters (2003), Empire of Silver (2009), and many others. She is also the author of numerous books on Taiwanese cinema, as well as having her hand in the founding or reinvigoration of virtually every institution of Taiwanese film culture.
Afterwards, we took a bullet train to Tainan, approximately 200 miles to the south. Our hosts seemed very concerned that we experience southern Taiwan, since there has been a traditional north-south divide, which is also a divide between the capital and the provinces.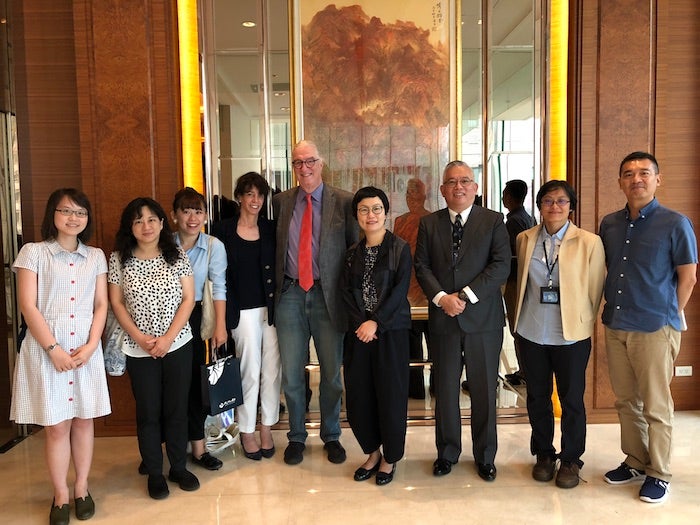 Deputy Minister of Culture Madame Hsiao-ching Ting and her team
Day four began with an appointment with Joe Huang, Curator of the South Taiwan Film Festival. Originally founded by students at Tainan University, the festival specializes in independent and avant-garde Chinese films. In the afternoon I lectured in the film restoration department at Tainan University of the Arts, which has also set up its own digital restoration lab. The students of Professors Chin-Tong Tsai and Chi-Hsien Tseng were extremely focused on learning what they could from the UCLA experience. Next stop: Kaohsiung, a port city 30 miles south of Tainan.
Day five began with a visit to the Kaohsiung Film Archive to meet Deputy Director Huangt Hao Jie. The institution is actually a cinematheque, focusing on screening and producing films, rather than a traditional film archive. We then headed back to Taipei, arriving just in time to attend a press conference of the Taipei Film Festival and a brief meeting with Program Director Ming-Jung Kuo, followed by a meeting with Lin Wood and Wanling Chen of the Taiwan International Documentary Festival.
On day six, we toured the National Palace Museum and met with Director Lee-chun Yao and curators of Exit Experimental film festival: Ming-Yu Lee, Tony Chun-Hui Wu and Liu Yung Hao. We bonded over our mutual friends, Jonas Mekas and Yan Beauvais, and our love of avant-garde cinema, a fitting end to an exhaustive but wonderful week in Taiwan.