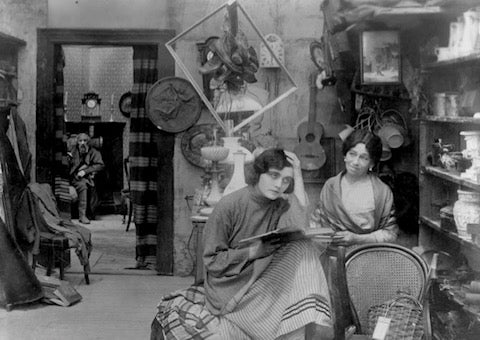 Pola Negri in Der gelbe Schein  (The Devil's Pawn, 1918)
This year's Le Giornate del Cinema Muto ("Days of Silent Film") took place from September 29 to October 8 in Pordenone, Italy.  Under a new director for the second year, Jay Weissberg, the festival drew the usual crowd of international film historians, archivists and cinephiles, many of whom have been attending regularly for 30-plus years.  I first attended the Giornate in 1988 when I accepted the Jean Mitry Prize for my late colleague and mentor, George Pratt, and one of the pleasures of the festival is meeting old friends and eating great meals.  This year's Mitry Prize, which is presented annually to individuals and institutions for their contribution to "the reclamation and appreciation of silent cinema," went to film historian Richard Abel and publisher John Libby.  I was only able to attend the Giornate for four days, so my report is necessarily impressionistic and fragmentary.  Word on the street was that a number of film restorations were not finished in time, which may explain the inclusion of many more short film programs than in past iterations of the Giornate, including "Nasty Women," about headstrong women in early cinema, "The Effects of War," memorializing World War I, and Norwegian anthropological films shot in Africa.  Nevertheless, there were enough surprises and rediscoveries to make the trip worthwhile.
My favorite shorts program was "Beginnings of the Western," which focused on European-made westerns, produced in pre-World War I France, Italy, and even Denmark.  As we know from Richard Abel, the great majority of films shown in American cinemas in that period were from France, and westerns had been popular since The Great Train Robbery (1903).  At least seven westerns were scripted by and starred Joë Hamman, who had toured the American West in his youth and was an accomplished rider.  Produced by Gaumont and directed by Jean Durand, they were shot in the Camargue in southern France, a vast expanse of marsh land that visually resembled the West; La prairie en feu (1912) relates the story of the Sioux chief Yellow Fox, who is cheated by American government agents, then shot in the hand when he protests, leading him to burn down a town before he is mortally wounded.  In Cent dollars mort ou vif (1912) Hamman plays a thoroughly evil gambler who is pursued by a posse, but is ultimately driven to commit suicide, rather than face the hangmen.  Le railway de la mort (1912) is an exceptionally violent western in which two cowboys and friends battle each other to death for a gold claim, chasing each other on horseback, train, and even automobile (in one spectacular scene Hamman jumps onto the roof of a moving train).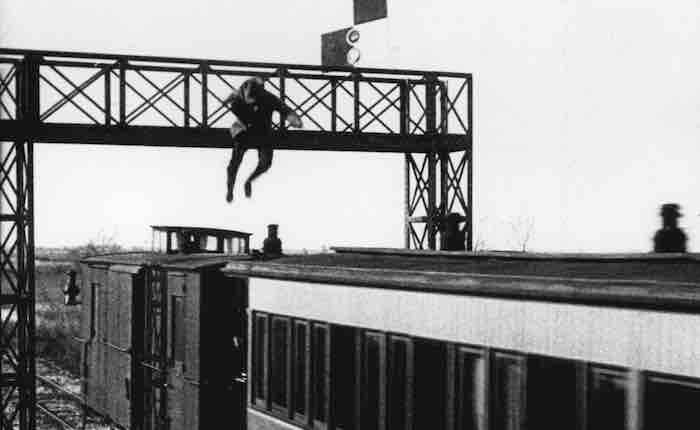 Le railway de la mort  (1912)
The Giornate officially opened with a screening of King Vidor's The Crowd (1928), a modernist film unlike anything MGM ever produced before or after.  It is a story of an everyman who stumbles through life, dreaming of success, but finding mostly failure.  Starring unknown James Murray, who looked very much like Vidor himself, and Eleonor Boardman, Vidor's wife, the film begins where most American films end, with a whirlwind courtship and marriage, before illustrating a big city reality of low wages, small flats, and the heart wrenching death of a child.  It perfectly captures the anonymity of New York's white collar clerical workers in visually stunning shots, like the insurance office with seemingly hundreds of identical desks, crowds marching down a street or mass entertainment at Coney Island.  Unfortunately, MGM executives were so nervous about the film that it was not released until almost a year after completion, by which time The Jazz Singer had made silent films obsolete.  I also thought the film could have benefited from a more experimental score, rather than Carl Davis' traditional Hollywood-Wagnerian treatment.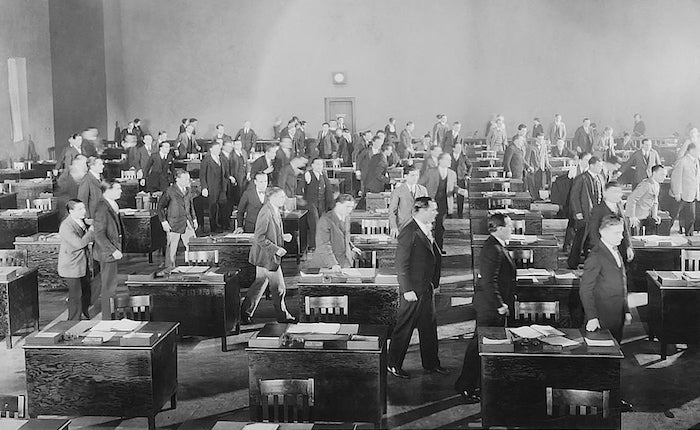 The Crowd  (1928)
Sunday night saw the presentation of Der gelbe Schein (dir. Victor Janson/Eugen Illés, 1918) starring Pola Negri as a Jewish woman from the Shtetl who must procure a "yellow pass" (for prostitutes), in order to study at university in St. Petersburg, because Jews were denied residency in Imperial Russia.  Produced by Ernst Lubitsch's crew at UFA, the film soon veers off into a story of mistaken identity (she turns out not to be Jewish), but is noteworthy for location scenes of pre-war Warsaw (doubling for St. Petersburg), and Negri's extremely nuanced performance, which contrasts to her mugging in Carmen, directed by Lubitsch the same year and shown later in the week.
A Scandinavian program included at least two discoveries: Fante-Anne (dir. Rasmus Breistein, 1920) is a Norwegian film about class and prejudice in a Norwegian farming community that featured incredible landscapes and fjords, while Victor Sjöström's virtually unknown Vem Dömer? (1922), starring Jenny Hasselquist and Gösta Ekman, is a Renaissance tale of superstition, love and redemption that may have influenced Murnau's Faust (1926).  I also finally got to see Pamir – The Roof of the World (1927), an amazing Soviet documentary about the people of the Himalayas that I have been chasing after since 1979, when I tried to program the film for my reconstruction of Hans Richter's 1929 Film und Foto exhibition.  Like the Giornate, it was worth the wait.