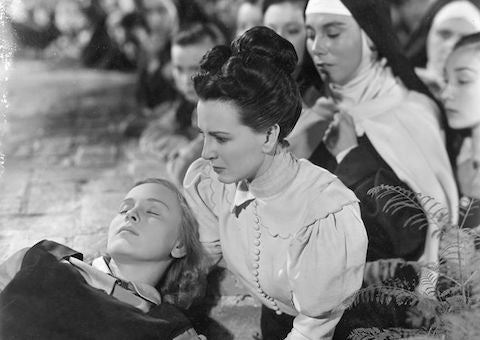 Muchachas de uniforme  (dir. Alfredo B. Crevenna, 1951)
At a recent Outfest Legacy Project screening of Muchachas de uniforme, filmmaker and LGBT film historian Jenni Olson mentioned in her introduction that she had been trying to see this film for decades, because it is a Mexican remake of possibly the first feature film ever made with lesbian content, Mädchen in Uniform (dir. Leontine Sagan, 1931).  Both films, as well as a West German remake from 1958 with Lilli Palmer and Romy Schneider, visualize with more or less explicitness, a teenage girl's crush on a female teacher in an authoritarian girl's boarding school.  I, too, have been chasing after this film for a couple decades, which is not only a Mexican film from the epoca de oro, but was also written, produced and directed by German refugees who fled Hitler.  German exile films, whether produced in France, Hollywood or Mexico, often amalgamated local concerns with a point of view particular to émigrés.  Muchachas de uniforme, like many exile films, can thus be viewed as a hybrid form, both of a particular national film production and as part of a history of German film running parallel to that of the Third Reich; it documents a film culture of the anti-fascist, or "other Germany," to utilize the term preferred by the exiles themselves.
All three émigrés, Alfredo B. Crevenna, Egon Eis and Rodolfo Lowenthal, had landed in Mexico City, presumably because they could not get visas to Hollywood, as did so many German-speaking refugees in the film industry.  Born in Frankfurt am Main in 1914, director Crevenna had just started his career in Germany with a short film in 1937, when he was blacklisted by the Nazis and forced to emigrate.  In Mexico, he was able to direct his first feature in 1945, and then went on to direct more than 140 Mexican films in all genres, before he died in 1996.  The script of Muchachas closely follows Christa Winsloe's script for the 1931 version and was co-written by Egon Eis, a German writer who – along with his older brother Otto Eis — started a successful career in Berlin before 1933 with detective films.  Born in Vienna in 1910, Egon worked in France until WWII broke out, after which he fled to Havana, Cuba, where he remained for the duration of the war.  In France the brothers had scripted Prison sans barreaux (Léonide Moguy, 1938), a film that takes place in a girls' reformatory.  After the war, Eis, Crevenna and producer Rudolfo Lowenthal made at least three films together in Mexico, before taking on the remake of Mädchen.  Born in Berlin in 1908, Lowenthal had been a producer in Vienna in the early 1930s, before Austrian anti-Semitic laws forced him to emigrate.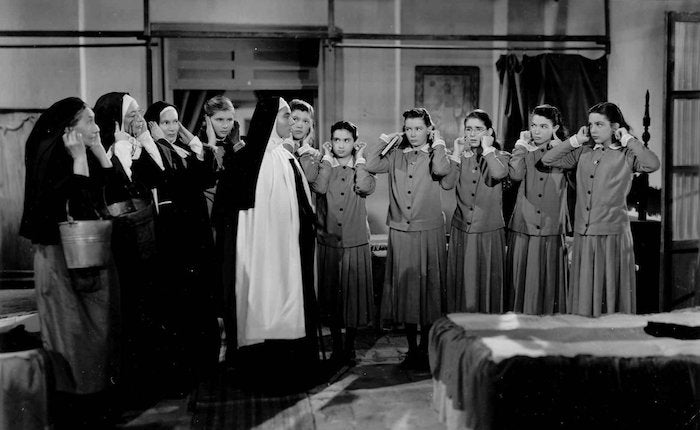 Muchachas de uniforme (dir. Alfredo B. Crevenna, 1951)
All the major plot elements are present in both versions, but the changes these German exiles made are indicative of its production context as a work of exile.  While the 1931 Mädchen plays in a German boarding school for girls, where the daughters of Junkers are taught Prussian values of self-sacrifice and discipline, Muchachas is situated in a Catholic convent school, run by extremely conservative nuns.  In both versions a philosophical conflict is set up between the authoritarian mother superior/head mistress and a more liberal-minded teacher who takes the new student under her wing.  Interestingly, while Hertha Thiele as Manuela von Meinhardis in the German original is of aristocratic birth (like all her classmates), in the Mexican remake, Irasema Dilián's Manuela Medina is a homeless and illiterate member of the Lumpenproletariat, among co-students born into wealth.  Manuela enjoys the solidarity of her fellow students in Mädchen, but is perceived as a social outcast in Muchachas.  The condition of homelessness, of being marginalized into invisibility, makes her susceptible to an emotional attachment to the only person who has ever showed her any kindness.  Exiles who had lost everything, including their identities, understood all too well the psychology of homelessness.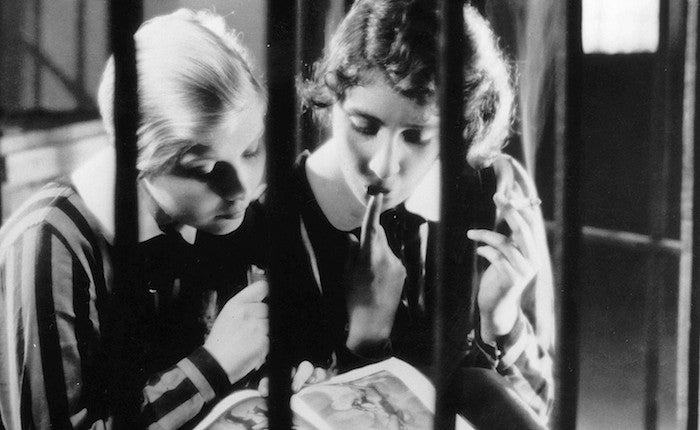 Mädchen in Uniform  (dir. Leontine Sagan, 1931)
This is not to deny that a sympathetic portrayal of lesbianism is clearly present in the relationship between student and teacher in both films, but, surprisingly, the Mexican producers ratchet up the stakes by making Medina's suicide successful, whereas von Meinhardis is saved by her classmates in a last-minute rescue.  In the world of the convent, same-sex love is perceived to be a mortal sin, not merely a matter a lack of discipline or an inability to control emotions, as in the Prussian view.  The two endings capture that difference.  While the German film ends with a shot of the disgraced headmistress slowly walking down the empty hall — a clear indictment of the dehumanizing force of Prussian authoritarianism —, the Mexican film's apotheosis finds the lay teacher taking her vows to the Order (and dumping her invisible boyfriend), thus affirming Catholic theology, but also allowing for a gendered, queer reading of the film.  The real "happy end" here is that the Mexican Manuela dies in a state of grace, despite her two mortal sins, thus placing the film's final emphasis on redemption through faith in the Mother Church; probably a very wise move, given a deeply Catholic Mexico.
Lowenthal and the above German émigrés were not the only ones to make deeply religious, even Catholic films.  Beginning with Franz Werfel's The Song of Bernadette (1943), there was Douglas Sirk's The First Legion (1951), John Brahm's The Miracle of Our Lady of Fatima (1952), Henry Koster and Gina Kaus' The Robe (1953), Fred Zinnemann's The Nun's Story (1959) and Otto Preminger's The Cardinal (1963).
Thanks to Taylor Morales for curating the Outfest Legacy Project program.