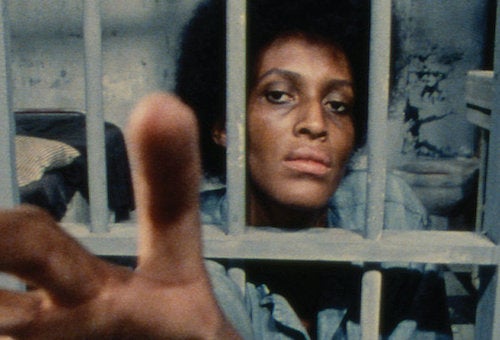 Child of Resistance  (1972)
A couple weeks ago we did a book signing at the Billy Wilder Theater for L.A. Rebellion: Creating a New Black Cinema, published by the University of California Press and co-edited by Allyson Field, Jacqueline Stewart and myself.  That publication and a three-disc DVD set, which will later be available for teaching institutions, are the temporary culmination of a massive archive project that began in 2009.
The L.A. Rebellion initiative set out to find, recover, restore, preserve, catalog, exhibit, make accessible and publicize the films of a group of filmmakers who have come to be known as the L.A. Rebellion.  Thanks to planning and implementation grants from the Getty Foundation for Pacific Standard Time: Art in L.A. 1945-1980, their multi-institution exhibition in 2011, we were able to bring the UCLA-trained filmmakers back home.  At first, we thought that the L.A. Rebellion comprised the work of about 10 to 12 filmmakers.  As our research progressed, however, we discovered over 50 filmmakers who were involved to various degrees with L.A. Rebellion filmmaking, along with over 100 film titles.  As the scope grew, so, too, did the project expand to incorporate numerous components.  First, we sought to locate both films and papers for collection and preservation at UCLA.  Many of the films turned out to have been lost, suffered damage, faded, or survived only as video copies, so the preservation of any original material by making new negatives, digital files and prints was an immediate priority.  Another priority was collecting the papers and surviving documents of Barbara McCullough, Jamaa Fanaka, Julie Dash, Alile Sharon Larkin, Larry Clark and others, which are now housed at UCLA Library Special Collections.  A third component was the recording of over 20 oral histories with filmmakers and "fellow travelers," people who were at UCLA at the same time and taught or worked with the L.A. Rebellion filmmakers.
In addition to striking new prints for circulation, UCLA Film & Television Archive launched a comprehensive website for broader community access and for students, researchers and enthusiasts.  The website has dedicated pages to the filmmakers, filmographies and information about accessing archival materials.
These initial efforts culminated in a three-month-long film exhibition L.A. Rebellion: Creating a New Black Cinema, held at UCLA's Billy Wilder Theater (it has subsequently toured nationally and internationally).  Curated by Allyson Nadia Field, Jacqueline Stewart, Shannon Kelley and myself, the series consisted of approximately 40 titles in 20 public programs that ran from October to December 2011.  Screenings were accompanied by panel discussions featuring many filmmakers in person.  While the Getty funded the film program and catalog, the preservation and dissemination were co-funded by the Andy Warhol Foundation for the Visual Arts, the National Endowment for the Arts, the Academy of Motion Picture Arts and Sciences, and the California Council for the Humanities.  This was one of the first projects in the history of UCLA Film & Television Archive to involve every staff member, and we thank each of them for their enthusiastic and exceptional work throughout this massive undertaking.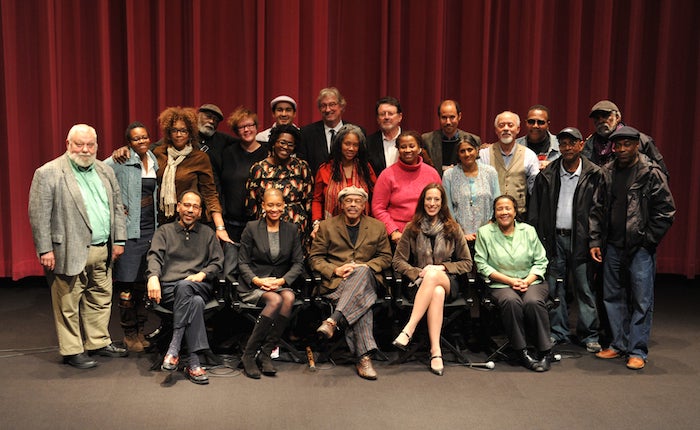 L.A. Rebellion Symposium at the Billy Wilder Theater on November 12, 2011.

A further component was an academic conference.  On November 12, 2011, UCLA held a one-day symposium on the L.A. Rebellion, organized by Allyson Nadia Field and Jacqueline Stewart.  As the scholarly corollary to the film series, the symposium gathered filmmakers, pioneering critics, and more recent scholars to contextualize, assess and reflect on the rich and diverse work of the L.A. Rebellion.  More than a dozen Rebellion filmmakers attended the symposium, which morphed into a giant family reunion.  The symposium was sponsored by Dean Teri Schwartz of the UCLA School of Theater, Film and Television, Dean Barbara O'Keefe of the Northwestern University School of Communication, and UCLA Film & Television Archive.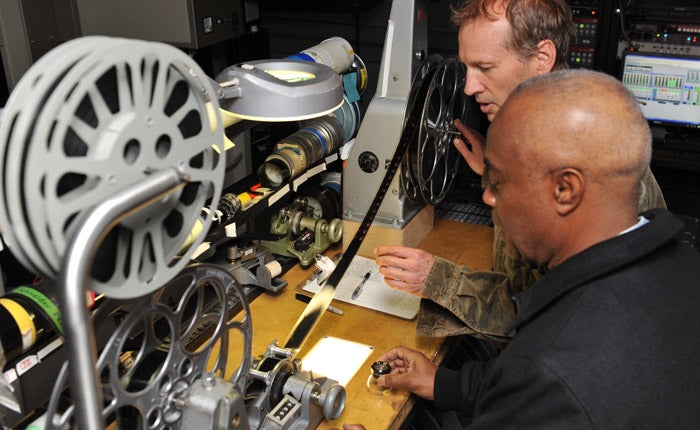 Charles Burnett at the Billy Wilder Theater projection booth.

Our book, finally, L.A. Rebellion: Creating a New Black Cinema, has a montage of statements taken from the oral histories and a filmography of the Rebellion at its end, and begins with a preface from Clyde Taylor, who coined the L.A. Rebellion moniker.  The editor's introduction and nine scholarly essays by established film historians and younger academics follow, including Chuck Kleinhans, David E. James, Morgan Woolsey, Michael T. Martin, Samantha Sheppard and Alessandra Raengo.  It is intended to be the sourcebook for all things L.A. Rebellion, conceptualized for use by teachers, filmmakers, researchers and enthusiasts alike.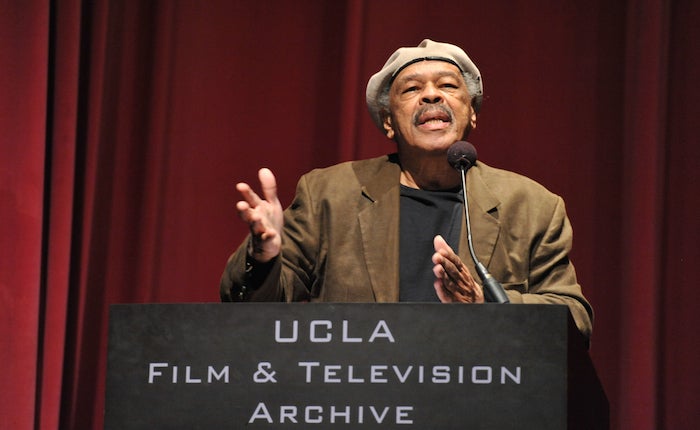 Clyde Taylor at the Billy Wilder Theater.

Parallel to the book, UCLA Film & Television Archive will release a three-DVD teaching set of the L.A. Rebellion.  It will include short films by no less than 23 filmmakers, giving students and teachers a sampling of the great breadth of work represented by the Rebellion.  Funded by the National Endowment for the Arts, the L.A. Rebellion DVD will be distributed free of charge to teaching institutions.
And the work continues.  This is a promise I made to all the L.A. Rebellion filmmakers: our efforts would not end when the exhibition went dark.  We, and I mean UCLA, owed that to a group of budding film talents who because of their skin color experienced institutionalized racism at the professorial level in these halls.
Anyway, only last week, we received a lead to Anita W. Addison's films, which had so far eluded discovery.  Addison died in 2004, far too young, a successful television producer-director.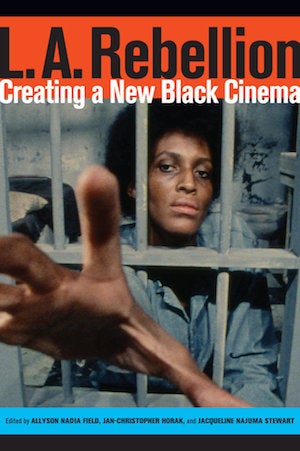 L.A. Rebellion: Creating a New Black Cinema
University of California Press, 2015
Editors:  Allyson Nadia Field, Jan-Christopher Horak, Jacqueline Najuma Stewart