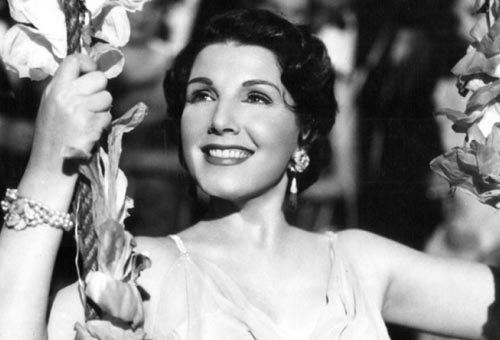 Libertad Lamarque
Acquiring films for the Archive is a difficult task.  Not because there are too few films out there, but rather because we get offered too many, forcing us to weigh a film or film collection's cultural value against the human resources needed to manage and preserve.  How we attribute value to films has evolved over time, as our individual missions have crystalized.  UCLA Film & Television Archive is dedicated primarily towards preserving cinema from the U.S.  Nevertheless, there are often moments of pure serendipity which result in fortuitous choices with unforseen outcomes.  For example:
For the past year, the curatorial team working on our Getty-funded film exhibition project, Recuerdos de un cine en español: Latin American Cinema in Los Angeles, 1930-1960, has been looking for Argentine films from 1930 - 1950.  While some titles can be found online, we were having little luck in tracking down actual film prints with our South American colleagues.  Several weeks ago, film archivist Todd Wiener reminded me that back in 2009 I had approved payment for the shipping for an unknown collection of films from Argentina.  I quickly checked our database and realized these were nitrate composite negatives from the 1930s!
According to emails, we were initially contacted by David Wiviott, International Relocation Manager for Rainier Overseas Movers, a Seattle-based shipping company.  They had been referred to us by the Seattle Film Festival, because someone had left unclaimed a palette of nitrate films on their shipping dock.  Even though we had no other information from the shipper other than that the films were from Argentina, we decided to pay for the shipping, just to take a look-see.  Once the films arrived in Los Angeles, they were inspected, partially identified, and then put in the vaults and forgotten.  With 350,000 titles in the collection, that can happen.  Who could have known that six years later, those very films would become a centerpiece for a classic Latin American film program.
So, two weeks ago, I made a field trip to the Archive's Santa Clarita vaults with professor Maria Elena de las Carreras, one of the curators of this film exhibition project, who also happens to be from Buenos Aires, to inspect our nitrate holdings from Argentina.  Much to our surprise, we identified no less than 10 Argentine features, made between 1938 and 1940 – all nitrate, and all negatives!  Nitrate negatives of foreign titles are extremely rare and usually produce excellent material, because they are only a generation or two from the original negative.  Inspecting the material, we realized that the negatives were not only in excellent condition, but that shrinkage was well below 1.5%, meaning we might be able to make new prints.  More importantly, the titles represented a cross section of some of the best Argentine directors, as well as a mix of genres.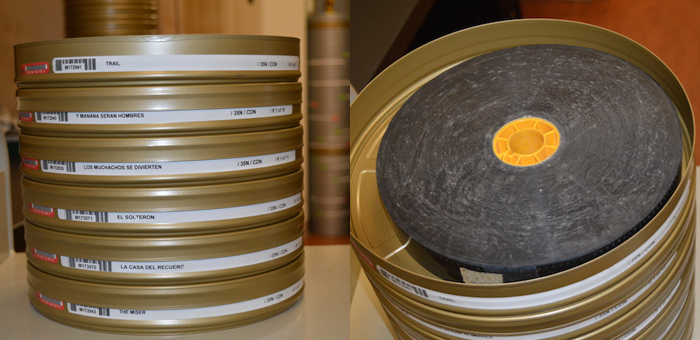 Nitrate prints of Argentine titles preserved in the Archive vaults.
Most of the films were produced by Argentina Sono Film, but two were produced by the significantly smaller Lumiton Film Company.  Argentina's most famous actress (except for her deadly rival, Evita Perón), Libertad Lamarque starred in Caminito de gloria (1939), the first title we inspected.  Caminito features Libertad singing the title song, a famous tango of 1927, popularized by Carlos Gardel.  Lamarque made numerous films before leaving for Mexico when the Peróns took power in 1946, then continued her career there for decades.  The film was directed by Luis César Amadori, an Italian by birth, who worked in Argentina (then in Spain after Perón's departure).  Amadori was responsible for two more films on our shelf, Hay que educar a Niní  (1940), starring Niní Marshall as a ditzy film actress, and El haragan de la familia (1940), which has Pepe Arias looking for a woman to support him.  Both were obviously comedies.  Pepe Arias also stars in El loco serenata (1939), a comedy directed by Luis Saslavsky.  Saslavsky is the only other director represented with two titles, the second being La casa del recuerdo (1940), which again starred Lamarque.  Here she plays in a melodrama, slowly falling into madness after an unhappy love affair.
Two more comedies round out the list.  Los muchachos se divierten (1940), a social comedy about a group of young men who just want to have fun, was directed by Manuel Romero.  One of Argentina's most prolific directors, Romero's comedy style was influenced by Frank Capra, and like Capra, his films were loved by audiences and hated by the critics.  Directed by Francisco Múgica, El Solterón (1939) starred Enrique Serrano as a man who realizes that his father is a famous doctor.  Múgica had worked as an editor and cameraman for nearly a decade in the Argentine film industry, but this was his first directorial work with many to follow.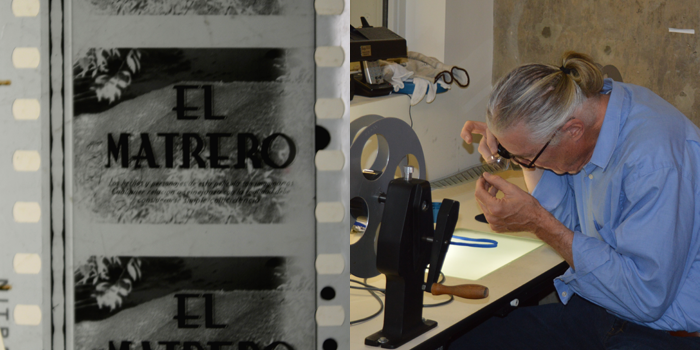 Jan-Christopher Horak inspecting a film print.
A melodrama with a social critical bent, Y mañana seran hombres (1939) told the story of juvenile delinquents and new methods of educating them in a reformatory.  It was directed by Carlos F. Borcosque, a Chilean by birth, who had directed silent features in Chile, then gone to Hollywood, where he produced Spanish language versions at MGM, like La mujer X (1931), before returning to Argentina to direct many other films.
Finally, given the long tradition of gaucho literature in Argentina, it's not surprising to find two gaucho dramas, which on their surface resemble Hollywood westerns.  Huella (1940), an atmospheric gaucho drama, was directed by Luis Moglia Barth, who had been responsible for the first Argentine non-disc sound film, Tango (1931).  Another gaucho drama, El Matrero (1939), relates the story of a gaucho falsely accused of murder who becomes a dangerous outlaw.  The film was directed by Orestes Cavilglia, a well-known actor with several directorial credits.
Some of these titles are available online, but it remains to be seen whether any are unique or best surviving material, which would make them candidates for full preservation.  In any case, we will at least be able to generate excellent digital copies.