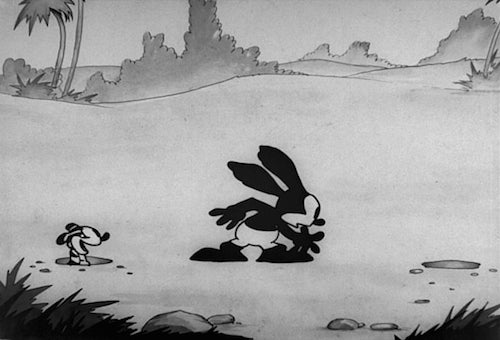 Last week, the Los Angeles Chamber Orchestra staged the 26th iteration of LACO @ the movies at the storied United Artists theatre in downtown Los Angeles.  Recently restored by the Ace Hotel next door, the present owner of the space, the mini movie palace offered a magnificent setting, recalling the theatre's glory days in the 1920s and 1930s.  In previous years, LACO has focused on accompanying silent film comedies, but this year they partnered with the Walt Disney Company to host an evening of animated cartoons, covering literally the whole history of the studio.  The silent films were accompanied by new music, while the sound films were screened with live music based on the films' original scores.  Adapting the scores and conducting for LACO was Mark Watters, who has been a house composer for Disney animated films for more than 20 years.  
Dave Bossert, Creative Director & Head of Classic Projects, Walt Disney Animation Studios, introduced the evening of screenings which began with two Oswald the Lucky Rabbit cartoons.  Indeed, this was an event welcoming Oswald back into the Disney family.
Oswald the Lucky Rabbit had been invented by Ub Iwerks and Walt Disney in 1927, when they were contracted by Universal Pictures to create a cartoon series for that studio.  Their first cartoon, Poor Papa, was rejected by producer Charles Mintz and was apparently only released in 1928, after the series proved successful.  Restored by Disney, the film had its premiere as the first short on the LACO program.  The second Oswald cartoon on the program, Africa Before Dark (1928), was considered lost for many years, until a German titled print was found at the Austrian Filmmuseum in Vienna, with whose cooperation the film was restored.
Walt Disney went on to produce 26 Oswald cartoons, but because he was very unhappy with the profit split (he was only getting 20%), he decided to create another character named Mickey Mouse.  Meanwhile, Charles Mintz set up his
own studio and simultaneously produced 26 more Oswalds, before Carl Laemmle decided to hire Walter Lantz in early 1929 to continue the series; Lantz went on to produce no less than 142 cartoons with Disney's blessing before the series shuttered in 1943.  Thus, for more than 70 years, Disney had no rights to the Oswald character.  In 2006, Bob Iger and Disney Company decided to buy back their rights, so they could create a new Oswald themed video game.  Trading the services of ABC sportscaster Al Michaels to NBC Sunday Night football, Disney acquired all 26 Disney/Iwerks Oswald titles and the intellectual property rights to the character, while the Mintz/Lantz Oswalds remained Universal's property.  In celebration, LACO ushers wore Oswald ears.
Next on the program was Plane Crazy (1929), which was actually the first Disney Mickey Mouse cartoon, but because it was silent and theatres were transitioning to sound, it failed to find a buyer.  Only after Disney produced Steamboat Willie (1929), Mickey's hugely successful debut in a sound cartoon, did the series march on to fame.  Plane Crazy, Disney's tribute to Charles Lindbergh, was eventually released with a track, but was screened here with live music.
The most charming film in the program, to my mind, was Musicland (1935), a color "Silly Symphony" in which Disney adapted the Romeo and Juliet story to create a short about a war between the Land of Symphony and the Isle of Jazz.  Between 1929 and 1930, the studio actually produced 75 Silly Symphonies, many based on well-known orchestral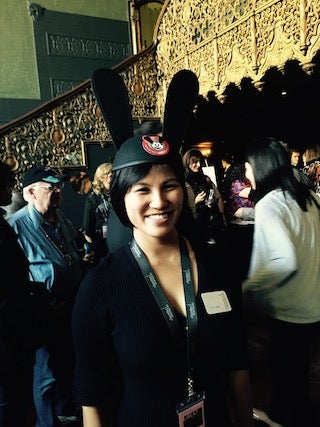 works.  Like Musicland, many of the Silly Symphonies after 1934 featured not only the new three-strip Technicolor, but also many experimental animation techniques, including the use of a multiplane camera which would become a signature of the Disney style.  Another Silly Symphony, The Sorcerer's Apprentice, featuring conductor Leopold Stokowski and music by Paul Dukas, was never released as a short, because Roy and Walt Disney realized the film had cost far too much to make its money back.  Instead, they hatched the idea of expanding the concept to a feature.  Thus Fantasia (1940) was born, but for this one night The Sorceror's Apprentice screened as a stand-alone short.
The program included three more classic Disney cartoons.  The Band Concert (1935) with Mickey Mouse and a score from Rossini's William Tell overture, Lonesome Ghosts (1937), the latter a cut-down version advertising Disney's new Have-A-Laugh program on the Disney Channel, and Mickey's Trailer (1938), all screened as new restorations.  The program closed with Get a Horse! (2013), Disney's newest animated theatrical short that references Disney's black & white cartoons of yore, as well as Buster Keaton's Sherlock Jr. (1924), and included a Mark Watters soundtrack.  I hadn't seen the short when it was in theatres, but it is certainly a worthy heir to th Disney animation legacy.  Frankly, I'm not a big Disney fanatic, but this program was both original and a great pleasure to attend.