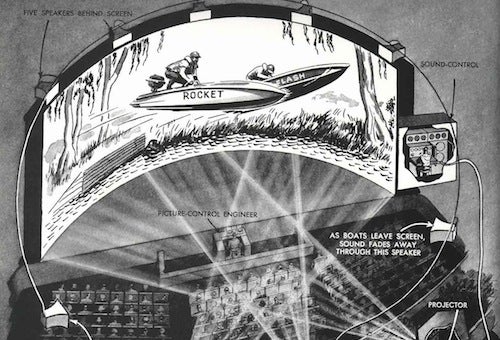 Back in November I attended the Association of Moving Image Archivists (AMIA) conference in Portland, Oregon, where I had the opportunity to see the newest digital restoration of This is Cinerama (dir. Merian C. Cooper, 1952), the legendary film that I had read about for decades but never seen.  As an eleven year old I had viewed The Wonderful World of the Brothers Grimm (dirs. Henry Levin, George Pal, 1962) and How the West Was Won (dirs. John Ford, Henry Hathaway, George Marshall, 1962), in Chicago's Loop at the McVickers Theater on Madison.  I also caught Louis de Rochemont's Windjammer (1958) at the same theater, shot in Cinemiracle, the only film ever to be released in that three projector process.  All three films were wholesome family entertainment, which was probably why my parents allowed us to see them in Saturday matinees.
Cinerama was one of a number of wide screen processes introduced in the 1950s, in the hopes that Hollywood could lure consumers away from their newly acquired TV sets into the theaters for an experience they couldn't get on television, including Cinemascope, Technirama, Todd-AO, and VistaVision.  Cinerama was an ultra-widescreen process, with an aspect ratio of 2.65:1, where the screen ideally curved around to cover the viewer's peripheral vision and give them a totally immersive visual experience.  A new seven-channel stereo sound system complimented the wide screen.  In order to achieve that width, three cameras with 27mm lenses were used in production, and three interlocking projectors threw the image on the screen.  Unfortunately, the three images overlapped slightly, so that the lines between the images were visible; changing focal lengths was also not possible, eliminating the ability to frame close-ups or even medium shots.  As a result, only seven films were ever shot in the process, and only the two films named above were fiction films, rather than travelogues.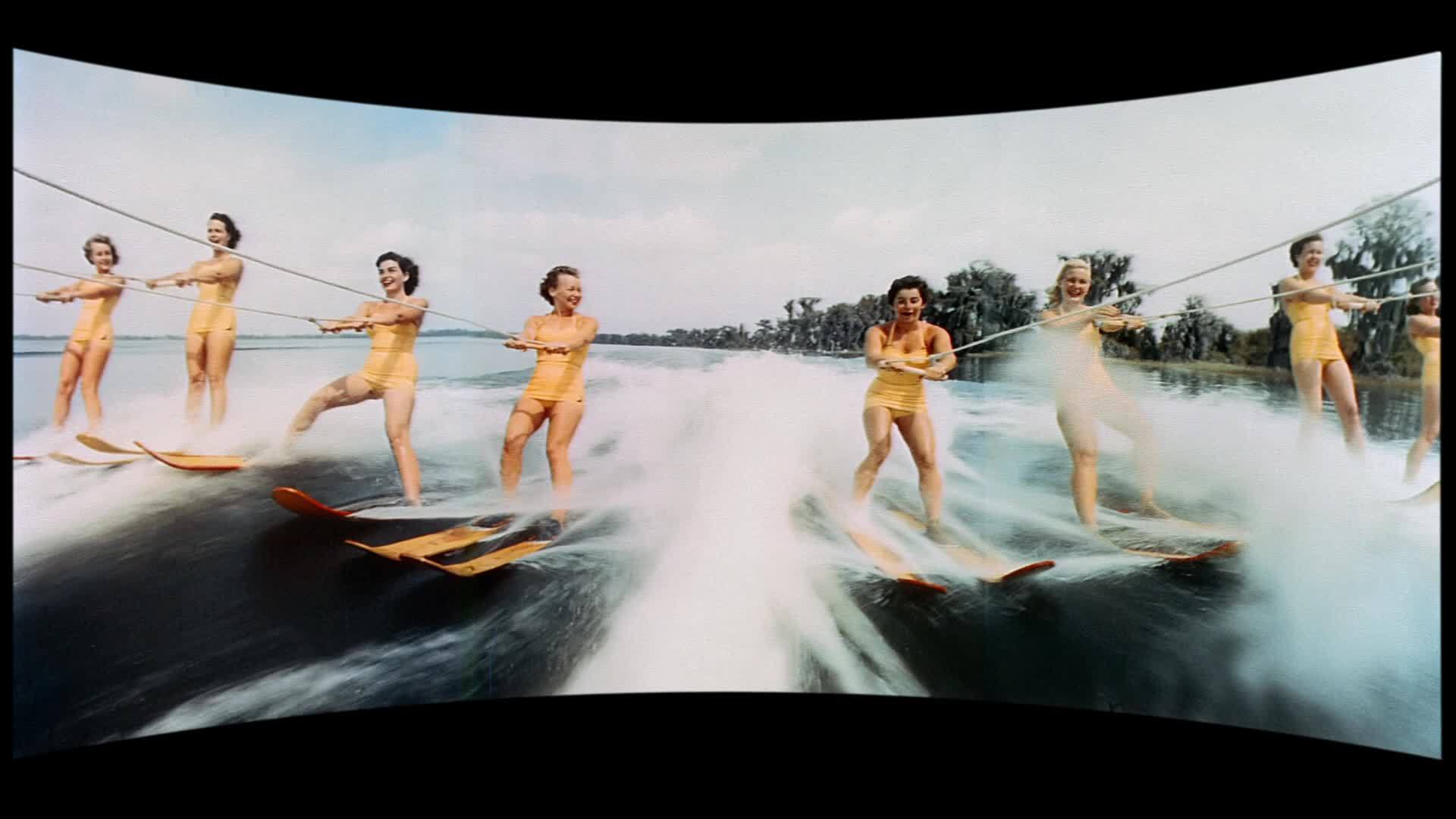 This is Cinerama  (1952).  Image credit: Flicker Alley.

Invented by Fred Waller and Ralph Walker and called "Vitarama," Cinerama was renamed when in the early 1950s Mike Todd, Merian C. Cooper, Lowell Thomas, and Hazard E. Reeves financially backed the newly formed Cinerama, Inc.  Cooper had been an early investor in 3-strip Technicolor, as well as the co-director of King Kong (1933), and Reeves owned the sound company that developed Cinerama's stereo sound, while Mike Todd was making the jump from Broadway producer to Hollywood (soon to be Elizabeth Taylor's husband).  Together, they premiered This is Cinerama on September 30, 1952 at the Broadway Theatre in New York, where it ran for 35 weeks.  In June 1953 it moved to the Warner Theatre in New York, where it ran for another 88 weeks.  A seeming success, but the cost of building the infrastructure was also very expensive.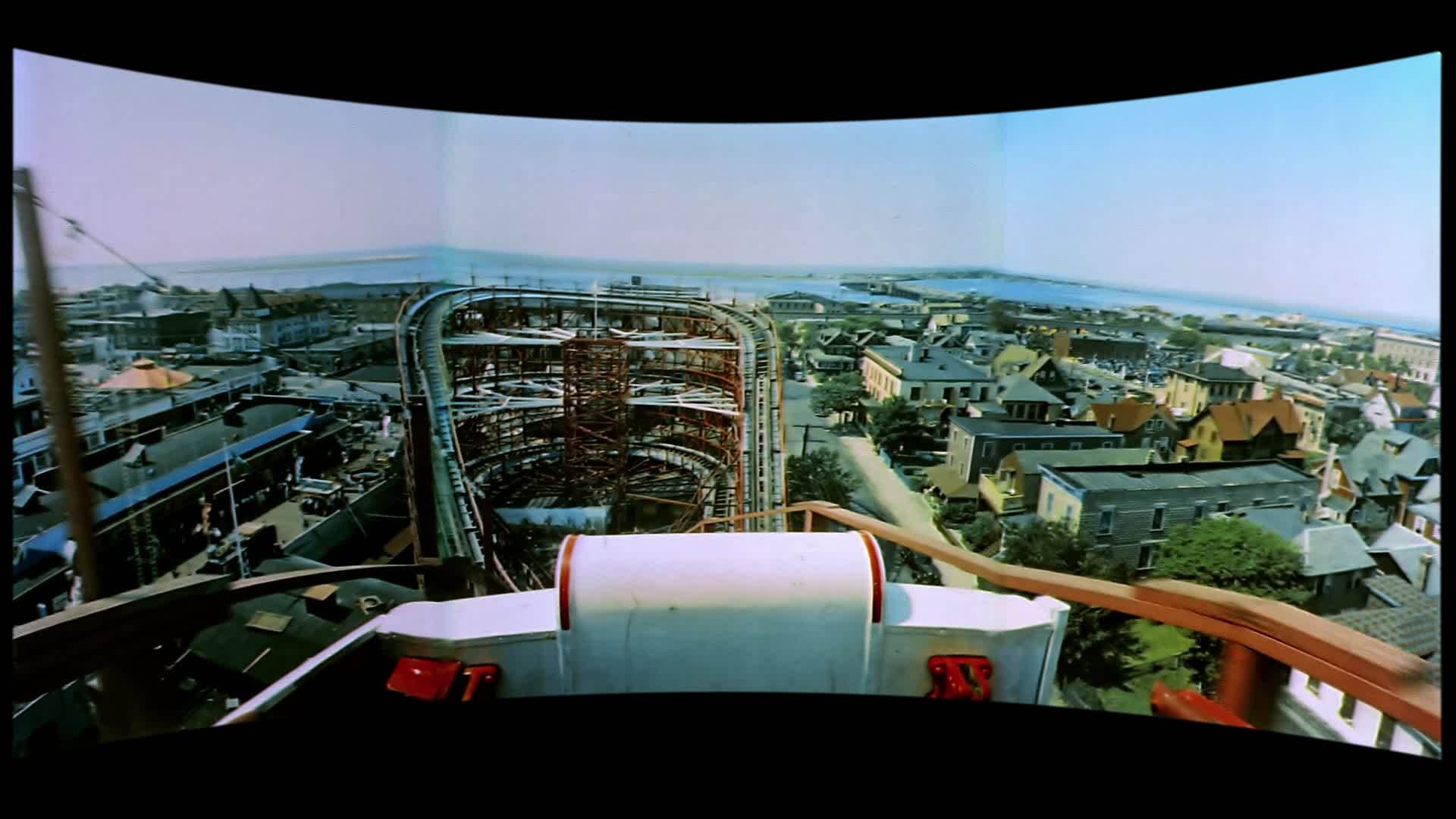 This is Cinerama  (1952)

For a long time, the films were unavailable because it was assumed that the copyrights on the originals had expired, although in the case of This is Cinerama, the copyright was renewed in 1983.  Other than This is Cinerama, none of the other Cinerama 3-panel travelogues were ever renewed because there was seemingly no need to do so.  By the late-1960s, no theaters possessed the intricate projection hardware and giant, curved screen necessary to project Cinerama.  Moreover, Cinerama couldn't be broadcast on a conventional 1:33 television screen.  Finally, the super-wide image made any DVD or Blu-ray a challenge, since the films would have to be letterboxed to the extreme.  Additionally, the composite triptych images were badly compromised, because by the 1970s the original prints were all turning pink.  Restorationists Randy Gitsch and Dave Strohmaier, however used new "Smilebox" technology to simulate the curved screen. The 6 perf negatives were also badly damaged, shrunken and faded, and many reels had been lacquered, so major film prep work was necessary before scanning.  After being scanned at Foto-Kem and Image Trends, using a Rank Ursa Gold Telecine, digital clean-up was done with BORIS FX Clean-up and Furnacecore software for dust-busting.  Digital curtains were added to the presentation, to complete the original theatrical experience, but those curtains also inadvertently allowed for the films to be recopyrighted, since the Library of Congress copyright office had rejected the new digital Smilebox version as an insufficient transformation of the work for a new copyright, but the curtains constituted newly added material.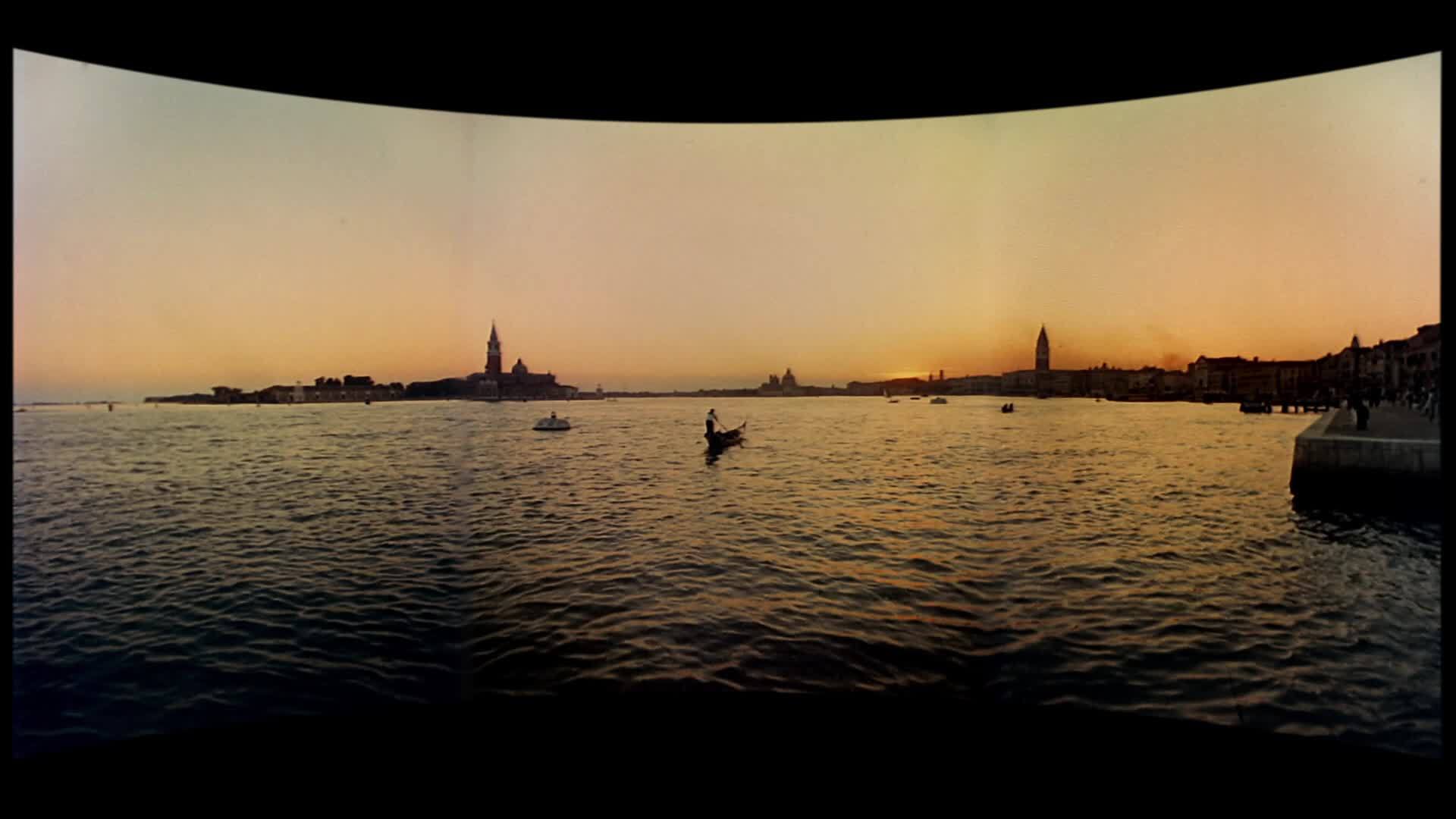 This is Cinerama  (1952)
This is Cinerama remains an interesting novelty item, a hodge-podge of travelogue and spectacle.  When seen on a theatrical screen, the Smilebox system does allow for an experience similar to the old Cinerama, but only if you sit in the first ten rows of the cinema.  Further back, it just looks like a super wide screen.  The film opens actually in Academy aspect ratio and black and white, as Lowell Thomas presents a brief history of moving images from the caveman era to color and sound motion pictures.  When he announces, "This is Cinerama," the curtains open to a widescreen color p.o.v. shot from a rollercoaster, one of the most dramatic scenes in the film, given the intense forward movement.  The three panels are now seamlessly stitched together, producing a spectacular image.  However, several choral (Vienna Boys Choir) and opera (Aida) scenes follow, as well as a bullfight and a Scottish military pageant, all held in such long shots that one cannot actually see any faces or lips of the singers move, creating a very static feel.  The film then moves to an extended sequence shot in Cypress Gardens, Florida, featuring girls and guys on water skis (Waller invented those in 1922), and a grand finale of a flyover the whole United States from East to West Coast, which remains spectacular, even if such images are now more commonplace, because everyone flies.  The film has been released by Flicker Alley.