I can't exactly remember when I met Bob Koster, but probably some time in my first year at Universal, where I had been hired to establish a material culture archive to collect all the history they had lost, despite being housed on the same piece of east Valley land for 85 years. Bob had called me, because he had materials he was interested in donating to "Archives & Collections," as the new unit was called, and he wanted me to meet Peggy, his stepmom and the widow of Henry Koster.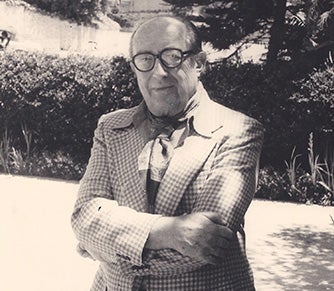 Koster père is best known as the director of Three Smart Girls (1936), Harvey (1950) and Flower Drum Song (1961). So, I drove out to Van Nuys where I met Bob Koster in his crowded flat, before we drove out to Leisure Village in Camarillo, where I was introduced to Peggy Moran, a rising star at Universal when she met the director who had financially saved the studio with his Deanna Durbin pictures. She was still beautiful. Bob's mom, who had come with Henry from the old country, was the casualty. But Bob adored Peggy. Bob was also about to move out to the Village. What I didn't know back then was that Bob was also in the business, a long time A.D. on both coasts.  A bond between us then and now was that I knew his dad. 
I met Henry Koster exactly once when I interviewed him on June 25, 1975 at his home. The house was filled with paintings, because he had become a painter, predominantly of portraits. I rediscovered many of those paintings, including one of Bob, in Peggy's house almost 25 years later. At the time, I had come to California on a Louis B. Mayer Foundation oral history grant, administered by the AFI. My topic was German Jewish refugees in Hollywood who had fled from Hitler. James Powers, the old Variety critic, was my conduit to Wilhelm Thiele, Joe Pasternak, John Brahm, Francis Lederer, John Mylong-Münz, and Henry Koster, among others. Koster had retired not quite ten years earlier, after the huge success of his The Singing Nun (1966) with Debbie Reynolds.
Henry Koster was born in Berlin on May 1, 1905, coincidently my birthday. Hermann Kosterlitz, as he was then known, began his film career in the last ten years of the silent era, writing scripts for another director who was to become an émigré, Kurt (Curtis) Berhnhardt. Koster's second directorial effort in 1933, The Ugly Girl, was banned after Nazi thugs interrupted screenings in Berlin and elsewhere. For the next few years he wandered through France, Hungary, Austria, and Holland, writing and/or directing films for little money, and often no screen credit, due to the lack of a passport and work permit. Then with no more than a promise, he landed in Hollywood with his friend, producer Joe Pasternak, and camped out at Universal's gate, until Charles Rogers gave them the job Carl Laemmle had promised them, before he lost control of the studio. Together they discovered Deanna Durbin and turned her into a hit machine with six musicals, including 100 Men and a Girl (1937) and Spring Parade (1940). Koster then moved to Fox, where he spent the rest of his career, directing nearly forty films. Here are my notes on the visit:
"When I arrive at his Pacific Palisades home one Sunday morning, it is his paintings that he shows me first. We quickly begin the interview, because he tells me he hadn't much time. His English is excellent and can only be defined as cultured and vaguely European. Our interview ends quite soon, when I am reminded that he has another appointment. Before I leave, I am allowed one quick photo, and then I am on my way."
The interview manuscript is seventeen pages, which isn't that short, although it does seem he was not particularly interested in keeping a twenty-four-year-old grad student around for very long. And in truth, I really had no clue at that point. I didn't know that you have to go into an oral history knowing more about the person than they will ever tell you.  Such oral histories are done to recover all that which is not in the written historical record.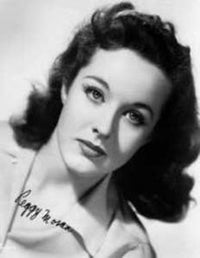 In any case, it didn't dampen my enthusiasm for all things Koster. One of my first large pieces at Universal was "Three Smart Guys: How a few penniless German émigrés saved Universal Studios" in Film History (1999). The same year I wrote about my own favorite Deanna Durbin film, "Spring Parade (1940): Imperial Austria Lives Again (at Universal)" in Modern Austrian Literature (1999). Bob Koster had made me a tape of that film, because Universal lost the rights back in 1945 and it has never been available since then.
Peggy played a supporting role in that film, but she may have met Henry on the set of First Love (1940), where she had an uncredited role. I cherish the dinners that I enjoyed in her and Bob's company, before she passed in 2002.  Bob and I are still friends. Bob has also written an autobiography, which I was going to write about, but will now have to wait for a Part II.