I've been reading Ross Melnick's excellent biography, American Showman. Samuel 'Roxy' Rothafel and the Birth of the Entertainment Industry, recently published by Columbia University Press. Reading this weighty and groundbreaking tome, I feel a bit like a proud mother hen with her chicks, because Melnick's project started life as a final paper in my UCLA Silent Film course, some time at the beginning of the century.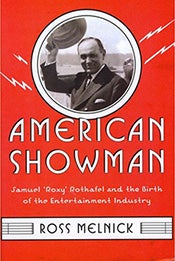 Even that first paper was so bloody good and far beyond the capabilities of most beginning graduate students that I had serious suspicions it might have been plagiarized. The paper also exceeded by twice the requirements of a standard term paper, but more importantly included a huge amount of original research in primary sources; my fears dissolved when an extensive search found virtually no work on Rothafel anywhere. Ross went on to expand the Roxy paper to a successful PhD. thesis, then this book, and is now an Assistant Professor at University of California at Santa Barbara.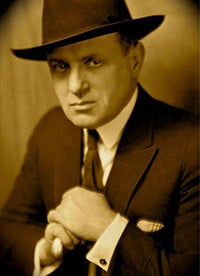 Samuel "Roxy" Rothapfel was probably born in Bromberg, Germany in 1882 of Jewish parentage and emigrated to the United States with his parents in 1886. After a stint in the U.S. Marine Corps and several jobs, Rothapfel bought a "family theatre" in Forest City, PA., thus officially entering the motion picture business. The impresario's immediate success, along with advice columns published in Moving Picture World, and his development of a system for showing films with the lights on (nickelodeons were still thought to be dangerous places) quickly lead to a national reputation.  Roxy, who anglicized his name to Rothafel in World War I, in order to hide his German roots, then built and managed a series of ever larger movie palaces around the country and in New York, including the Strand (1912), the Rialto (1916), the Rivoli (1917), the Capitol (1919), the Roxy (1927), and, finally, Radio City Music Hall (1932). By creating an "artistic environment" for films, offering nurseries, clean seats, and phantasmagorical architecture, Roxy significantly contributed to the acceptance of movies by the middle class.
"In the case of a showman like Roxy Rothafel, whose giant movie palaces featured huge stage shows with full orchestral accompaniment and musical interludes between a rich program of shorts and features, he could literally change how audiences read films."
So, I keep having these little film historical epiphanies, reading American Showman. The first came, when I realized to what degree exhibitors actually controlled the film text, at least in the large movie palaces during the classical Hollywood period. Film academics sometimes tend to take the text at face value, whether viewed on film in a theatre or at home in a digital format, as the one and only text. As Ross Melnick insists, though, the issue of a unified film text must be questioned, because film historians must consider those elements that can no longer be recuperated, like the actual live performance. In the case of a showman like Roxy Rothafel, whose giant movie palaces featured huge stage shows with full orchestral accompaniment and musical interludes between a rich program of shorts and features, he could literally change how audiences read films. In particular, by hiring well-known classical conductors, like Erno Rapee, and participating in the scoring of every single film on the program, Roxy established high art standards for the cinema's musical accompaniments. He would take this notion a step further with some of the first regular radio broadcasts from any American cinema, further enhancing cinema presentations with his own troupe of singers and dancers, culminating in the Roxyettes, known today as the Rockettes.
Furthermore, Roxy personally reedited many famous films for presentation in his theatres, for example, a version of Ernst Lubitsch's Madame Dubarry (1919). First National bought the film for American distribution, but could not find a New York venue willing to open the German film so shortly after World War I. Roxy reedited it down from nine to six reels, commissioned new intertitles, added the signature image of a candle being extinguished every time a victim dies, created a new score with Rapee, as well as an elaborate ballet prologue by Alexander Oumansky, and re-titled the film, Passion. When the film opened at his Capitol Theatre in December 1920, it broke all box office records and went on to storm the country, making Pola Negri a star.  It was Roxy's version that went down in the annals of American film history, not Lubitsch's German original. As Melnick notes, "It is highly probable that without Roxy intervention and presentation, Ernst Lubitsch's Madame Dubarry/Passion would have never received a New York audience…" (p. 190).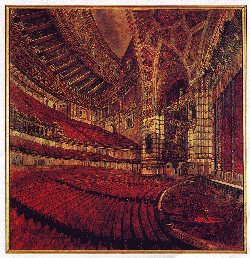 Another epiphany came when reading about Roxy's involvement with the World War I Committee on Public Information, the so-called Creel Committee. While writing my own dissertation on Anti-Nazi Films by German Émigrés, I had read about Hollywood's violent reaction prior to World War II against any kind of government meddling in film production or distribution, because of their experiences with the CPI. Little did I then know, how close the Woodrow Wilson Presidency had come to setting up a Goebbels-like propaganda ministry, which not only produced propaganda films, but also forced theatre owners to show them or risk imprisonment or defamation as unpatriotic traitors. Roxy was a friend of George Creel and had actually produced, directed, and edited several propaganda films, e.g. Flying with the Marines (1918), Devil Dogs (1918), and Pershing's Crusaders (1918), and seemed beyond reproach, despite his German heritage. Yet, even Roxy Rothafel, the most famous exhibitor in the country was not immune to threats, as a letter from Joseph B. Thomas demonstrated. Melnick notes: "Joseph Thomas's chilling language, full of red-baiting and implicit and explicit threats provides an important look at the coercive power of a national propaganda initiative… (p. 161)
For anyone interested in the historical transition from the Nickelodeon era to the classical Hollywood cinema, Ross Melnick's American Showman is a must read.