The buzz at Cinefest in Syracuse last weekend was palpable. For days, I heard that Mamba was going to be the event of the four-day festival. Here was a film made in 1930 that probably had not been seen in this country for at least 75 years or more. It was also supposed to be the first all-talking, all-color feature film produced in the United States. That's what the Cinefest program said. Actually, it was the sixth, but the first non-musical color, sound feature.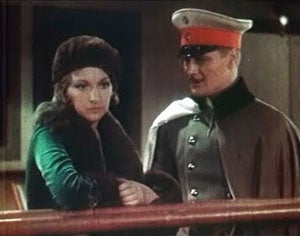 The film went into production in late 1929, when sound films were becoming all the rage. Tiffany, a low-budget, independent studio decided to play with the big boys in Hollywood, investing a half-million dollars to make a sound, color and 3-D film, at least according to Film Daily. Shot on the Universal lot by action specialist Albert S. Rogell, possibly on sets from The Golden Dawn, the film kept running out of money, but the gamble paid off. When the film opened in New York in March 1930, it broke the box office record for the Gaiety Theatre. That didn't help Tiffany, which went bankrupt in 1932 as the Depression deepened, its catalog of prints and negatives disappearing into oblivion.
Saturday afternoon, during a break in screenings at the Palace Theatre, I was introduced to Paul Brennan and Jonas Nordin. Paul, a dapper Australian, had "discovered" the two-color Technicolor IB print in 2009. The print belonged to an old couple in their 80s, who lived in or near Adelaide and apparently had quite a collection of nitrate films, including Mamba. And technically, Paul admitted he hadn't really discovered the film, because back in 1982 when the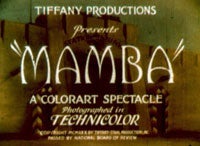 Australian National Film Archive had organized the "Last Film Search," the print was sent to Canberra, only to be politely returned, because it was American rather than Australian. Paul, who works for an Aussie film theater chain, knew he was onto something.
But there were problems. The film was sent to Australia in 1930 with Vitaphone sound discs, rather than sound on the film, and some of those were missing. Paul contacted Ron Hutchinson of The Vitaphone Project and he put him in touch with Todd Wiener, motion picture archivist at UCLA Film & Television Archive. Miraculously, the discs had survived at UCLA as well as two reels of color nitrate. Enter Jonas Nordin, a preservationist at the Swedish Film Institute, who used his laptop to synch up the sound from the discs to a DVD made from a videotape, which the Australians had produced three decades ago. And that's what we got to see on Saturday night.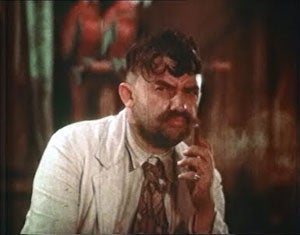 Starring Jean Hersholt, today best known for the Academy of Motion Picture Arts & Sciences Humanitarian Award in his name, Mamba takes place in 1913 in New-Posen, German East Africa, now Tanzania. The Danish-born actor, who had co-starred in Erich von Stroheim's Greed (1924), plays August Bolte, a thoroughly disgusting plantation owner who violently mistreats his African workers, sexually abuses native women, and is shunned by both the British and German military officers garrisoned in the border area between British and German colonies. He buys himself an impoverished countess as a wife and brings her back to Africa; shades of Heart of Darkness, Stroheim's Queen Kelly (1928), and many other films often illustrating Hollywood's racist imaginary of "the dark continent."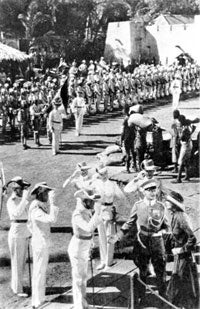 Surprisingly, the film is fascinating; in some ways so over-the-top perverse that we can enjoy it as camp. Hersholt learned his lesson well from Stroheim. The color was eye-popping, the camerawork and editing far ahead of the contemporary standard. Most films then were incredibly slow and stage-bound, because directors had not yet learned to deal with the cumbersome sound technology, while believing that audiences were incapable of understanding dialogue, unless they had a second or two to think about it between lines. Beginning with an incredible moving camera shot, the film takes place mostly outdoors, itself an anomaly in 1930, and moves at a fast pace, especially after war breaks out and the Africans go on the rampage.
Before the screening, Paul Brennan announced that the nitrate print will be repatriated to UCLA Film & Television Archive. There are restoration problems. One possible rape scene was censored by the Australians. But James Cozart from the Library of Congress told me that they might have a single reel with the missing footage. There are also continual color shifts from the red to the green record, which will probably demand frame by frame color balancing. Back then, as film historian David Pierce informed me, the studios would send prints with such flaws to far-away places like Australia, rather than junk them and take a loss. Finally, a significant amount of wear at the end of reels, in particular, will present a challenge. Nevertheless, the chances are good for magnificent resurrection of an important piece of Hollywood's technological history in a film that is a product of its time, but also a very guilty pleasure, if only for Wihelm von Brincken and that scar on his cheek, a German fencing "Schmiss."
What this again demonstrates is that successful preservation depends on a community of cinephiles, archivists, media historians and the public, as well as forums like Cinefest to engage in dialog. Now, I just need to fundraise.