The afterglow of the "L.A. Rebellion: Creating a New Black Cinema" exhibition's closing night party carried us all through the holidays. The wonderful nine weeks of inspired drama, both on screen, on stage, and in the audience also helped. During our holiday break, I took the opportunity to see other "Pacific Standard Time" exhibitions, but when I got an email on New Year's Day from S. Torriano Berry, announcing a screening at KAOS Network, I knew I needed my L.A. Rebellion fix.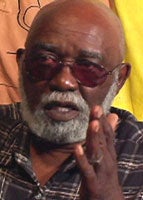 KAOS Network is Ben Caldwell. For several decades he has operated a community based media production center and screening space in Leimert Park, Los Angeles. Underfunded and certainly underpaid, Ben Caldwell is one of my heroes because he has remained absolutely true to the principles, pedagogical and otherwise, he formulated in his L.A. Rebellion films at UCLA, especially I & I: An African Allegory (1979). Namely, by training generations of African American youth to seize the means of image production and create their own, he has helped empower countless individuals. Furthermore, by creating an intimate space for film discussions, he as empowered the community to resist the overwhelmingly negative onslaught of images from the mass media.
On Tuesday evening, I got off the 10 Freeway and drove down Crenshaw Boulevard to Leimert Park. I had been to KAOS several times to see Ben, but never gone there for an actual event. So I was excited. When I got there, I was greeted by S. Torriano Berry and Ben Caldwell; then, Alile Sharon Larkin, Robert Wheaton and Julie Dash showed up, making it the first unofficial post-exhibition L.A. Rebellion reunion!  It was also Torriano's birthday, who co-hosted the party with actress and fellow birthday person, Jennifer Jones.
Once the screening got underway, Torriano introduced his feature length condensation of season four of "Noh Matta Wat!" the first dramatic TV series ever to be produced in Belize. Torriano is a professor at Howard University, but had been back to L.A. recently to screen his UCLA thesis film, Rich (1982), in our L.A. Rebellion series. As Torriano explained to an audience of approximately 20-25 persons, the overwhelming majority being women, he had taken a leave of absence from Howard to photograph, direct and edit all four seasons of this Belize-based television drama. He was now hoping to test "What Dreams Are Made Of," his reediting of the fourth season into a feature length film. Since many subplots had to be eliminated, he asked the audience to think about what was unclear or still needed work. Then, the film began on Ben's very large flat-screen television.
KAOS Network created a warm and open environment where ordinary folk from the community could participate in an earnest discussion about the material outcome of a film...
The narrative concerns a Belizean politician who not only wants to "go straight" and resist the daily corruptions endemic to his country, but also reconstitute the family he had previously lost. The discussion after the film was lively. A Belizean woman in the audience got involved in a controversy about the authenticity of the actor's accents, while a Nigerian woman complained that the Nigerian character in the film didn't sound right. There was a consensus among the audience that Torriano should increase the scenes that depict the topography and architecture of Belize, because that would be of interest to those who had not yet travelled there. I slipped out while the discussion continued, because it was a long drive back to Pasadena.
What most impressed me about the event was the way the audience got into the discussion. KAOS Network created a warm and open environment where ordinary folk from the community could participate in an earnest discussion about the material outcome of a film, which, even if produced in far-off Belize, still represented them at some basic level, if only because the filmmaker was an American. But then the L.A. Rebellion from Haile Gerima on down has always insisted on a Pan-African point-of-view, and this evening certainly embodied that concept.