For the past several years, colleagues of mine have been walking up to me at various film conferences and film festivals, asking me whether a certain Laura Horak is my daughter. When I finally met Laura at the Domitor Conference on early cinema in Toronto in summer 2010, I found out that lots of colleagues had been asking her whether or not I'm her father. Having finally met, we firmly established that we are not blood relatives, although she is also of Czech origin.
At the time, Laura was a PhD candidate in the cinema studies program at University of California, Berkeley. She gave an extremely interesting PowerPoint presentation on cross-dressed women in early films, work that has been incorporated into her now completed dissertation, "Girls Will Be Boys: Cross-Dressed Women and the Legitimation of American Silent Cinema" (2011). Since Laura had done some of her research at the UCLA Film & Television Archive's Archive Research and Study Center (ARSC), we received a copy of the dissertation, which I spent the Thanksgiving weekend reading. This is an extremely interesting work and I'm sure will be published in book form in the foreseeable future.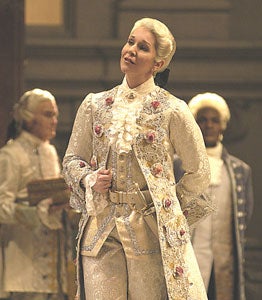 Somewhat counterintuitively, Laura Horak argues in her dissertation that while male-to-female cross-dressing was framed within burlesque traditions of grotesque comedy, female-to-male cross-dressing originated in—at least in the early and transitional cinema era, before Hollywood had firmly established its heteronormative classical narrative style—a genteel theatrical tradition that helped legitimize cinema as a middle class entertainment. Indeed, mezzo-soprano Hosenrollen were commonplace in 19th century operas, from the Page Cherubino in Mozart's Nights of Figaro to Richard Strauss' heroine in Der Rosenkavalier.  Furthermore, well-known actresses often played prepubescent boys in melodramatic plays like "Little Lord Fauntleroy."
In her first chapter, Horak looks at gender legibility in early cinema, arguing that the lack of "revealing" close-ups allowed filmmakers to play with gender, creating various "surprises" when male characters in comedies and detective films were shown to be women. However, as the transitional period neared its end around 1916-'17, gender ambiguity gave way to consciously unconvincing gender portrayals, as actresses increasingly portrayed men with audiences in on the joke or disguise.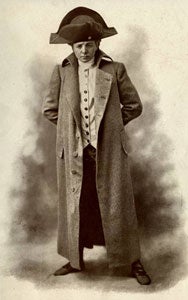 One of the most common forms of female cross-dressing involved actresses playing young boys, which Horak discusses in her second chapter. The Victorian ideal of boyhood was imbricated with feminine notions of innocence, sweetness and gentility, allowing actresses like Maude Adams to play Peter Pan on stage or Marie Doro to embody Oliver Twist in film (1916). However, as American attitudes after 1900 shifted, thanks in part to Teddy Roosevelt's campaign to toughen up American boyhood, these women in boys clothing became less prevalent; by 1921, when Mary Pickford played Little Lord Fauntleroy (1921) as a boy itching to get his curls cut and into a good fight, the new rough-and-tough male gender ideal was in place.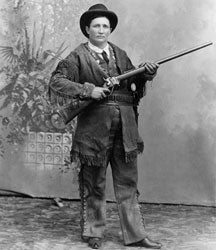 Horak's third chapter concerns cross-dressing women in westerns. In the real West, women dressed as men were not uncommon, given the need to survive in a hostile environment, where the only other women around were frontier prostitutes. Thus, in so-called "range romances," where cowboys fell in love with cross-dressed women, the threat of homoeroticism was not far behind, at least until the moment when the woman's gender is revealed and a marriage is on the horizon, reaffirming heteronormativity. Meanwhile, the rise of serial queens—undisguised women in male clothing accomplishing male feats of athletic prowess—allowed female spectators to identify with women heroes who were both strong and feminine.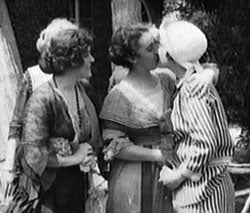 Horak's next chapter focuses on actual depictions of lesbianism in silent cinema, beginning with A Florida Enchantment (1914). However, while many commentators have written about the supposedly negative public reaction to overt lesbianism on the screen, the author points out that many contemporary reviewers viewed the film as wholesome family entertainment and not necessarily as a gay story. Indeed, mannish behavior in women was at this time not yet unambiguously coded as lesbianism.
By the time Garbo prances across the screen as Queen Christina in 1933, though, audiences were prepped for perceiving her kissing another woman as a lesbian act, thanks in part to the circulation in the 1920s of mass media images of lesbians. In her final chapter, Laura Horak looks at the American press reception of such lesbian plays as "The Captive" (1926) and the German film, Mädchen in Uniform (1932, Leontine Sagen).
This dissertation reminds me again how much excellent film historical work is being done by a new generation of scholars, mixing social analysis with close readings of films.
Laura Horak is now in Stockholm on a post doctoral fellowship, and hopefully reworking her book for publication.