I couldn't make it to the screening of Spirits of Rebellion: Black Cinema at UCLA, a new documentary film/work-in-progress by Zeinabu irene Davis. On first viewing, it promises to be the definitive statement by the filmmakers of the L.A. Rebellion themselves about their "movement." Although still a rough cut with footage and interviews still to come—she is shooting as we work our way through the series and guest appearances—Zeinabu's work is already very strong, balancing a shared cultural heritage and political experience with illustrations of the diversity and complexity of what has been called "L.A. Rebellion."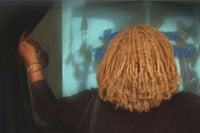 That very naming is a bone of contention in the film. A number of participants, including Haile Gerima and Pierre Desir, reject the term "L.A. Rebellion." Minutes into the film, Desir notes that the name implies that the filmmakers were reacting against a paradigm rather than just expressing themselves. For Gerima, the term denotes capitalist economics and marketing strategies, and is unfair to Chicanos and Asians and even some white students who were all looking for new aesthetic film forms far from Hollywood's stereotyped, generic narratives. Bob Nakamura, who was both a participant in the Third World contingent and an instructor at UCLA, makes a similar point. So why didn't we include Asians, Latinos, Native Americans and others in our series and work?
First, I have to note that the curators did indeed have long discussions about the naming of the series and movement, including questions about American professional soccer. And yes, Haile is right, capitalist marketing did play a role in our naming, because without it we would have not had any funding. There were two real choices based on the historical reception of the movement: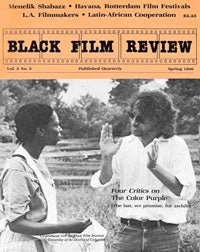 We could have called it "The L.A. School of Black Filmmakers," as a cohort member from South Africa, Ntongela Masilia, did in 1993 in an essay for Manthia Diawara's anthology, Black American Cinema.
"The L.A. Rebellion" was coined by African American cultural historian Clyde Taylor, another direct witness to the movement as professor, critic and curator. Taylor curated a first retrospective of this work at the Whitney Museum in New York in January 1986, calling it "The L.A. Rebellion: A Turning Point in Black Cinema." Later in Spring 1986, he used the term again in a piece in Black Film Review. (I have all the original issues going back to Vol. 1, No. 2, 1985.)
We made our choice because it was simply more descriptive. If our goal was to establish this specific group of African and African American filmmakers as a unique phenomenon in the history of American cinema, then we had to win an audience any way we could, including utilizing generalizations that ultimately distort reality. It was only in Zeinabu's film, however, that I learned that John Hanhardt, the Whitney Museum's long-time film/video curator, prodded Clyde Taylor into coming up with a "catchy name," a move Taylor now regrets, because some of the filmmakers might not be happy with the term.
"The Chicano and Asian filmmakers at UCLA, who worked together with the L.A. Rebellion filmmakers, shared with them Third World liberation politics and the desire to create a new aesthetics of color, but their cultural background had and has other origins."
Nevertheless, I believe the name is not only historically justified, but accurate. I certainly sympathize with Haile and Billy and Pierre, and probably others, who see the primary goal of filmmakers as wishing to express themselves and aligning themselves with other emerging ethnic minorities. Solidarity was not just an ideological position, it was experiential. There was an unbelievable optimism about the medium of film itself as a means to express anything. Furthermore, there was a backlog of close to 60 years where film stories, whether fictional or documentary, were rarely told by people of color, so all doors were open. The Chicano and Asian filmmakers at UCLA, who worked together with the L.A. Rebellion filmmakers, shared with them Third World liberation politics and the desire to create a new aesthetics of color, but their cultural background had and has other origins. Certainly, while we should and will do a series on these other filmmaking communities, the history of racism in America has (de)formed African American culture, politics and family in unique ways that are different from the experiences of (for example) Mexican Americans.
So as a historian, I am looking at the historical evidence, including the films, which reveal a much more ethnically specific film practice. It is an undeniable fact that many filmmakers were reacting at that historical moment to the prevalent image of African Americans in so-called "blaxploitation" films. However, more important for the Rebellion was the master narrative of migration from slavery and Jim Crow in the deep South to African American urban ghettos in northern cities, which the Rebellion constantly reference in their work and biographies. There is also a specificity of language, of body issues, of familial relations which needs to be accounted for. To ignore the specific cultural and political context of post-Watts Black America would do an injustice to all African and African American filmmakers at UCLA.