Back in March 2010, I wrote a blog about meeting L.A. Rebellion filmmaker Jamaa Fanaka when the UCLA Film & Television Archive was just beginning preparation for its forthcoming L.A. Rebellion exhibition. Opening on October 7 this year at the Archive's Billy Wilder Theater, "L.A. Rebellion: Creating a New Black Cinema" is now entering its hottest phase of preparation. It's a good time to take stock of how far we've come.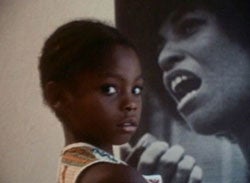 Our film program is embedded in "Pacific Standard Time: Art in L.A. 1945–1980," possibly the largest art exhibition in history, spearheaded by the Getty Foundation and involving more than 60 cultural institutions across Southern California.  We couldn't ask for a better media environment. And our program is really beginning to take shape.
Not that the process of organizing the exhibition, tour, website, oral histories, book, archival intake and preservation program has been easy. But let me start at the beginning…
The so-called "L.A. Rebellion" was a group of African and African American film students at UCLA who entered the University in the late-'60s/early-'70s before the nationwide establishment of black studies programs. Virtually unrecognized at the time, the group learned their craft as filmmakers at UCLA by working together and making use of the "free" equipment. For more than four decades the Rebellion filmmakers have remained largely invisible. The UCLA Film & Television Archive wanted to change that.
For me it is also personal. I first met Billy Woodberry in 1984 at the Berlin Film Festival when he showed Bless Their Little Hearts (1984) and had invited him to Rochester a couple years later, when I was at George Eastman House. After I came to UCLA, I learned of the Archive's restoration of Charles Burnett's Killer of Sheep (1977), which had been named to the National Film Registry, as had Julie Dash's Daughters of the Dust (1991). I realized a Rebellion retrospective was an idea whose time had come.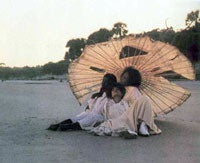 With a planning grant from the Getty Foundation, the Archive began to do the initial research and conduct oral histories. We have now completed oral histories with Abdosh Abdulhafiz, Don Amis, Carroll Parrott Blue, Charles Burnett, Ben Caldwell, Larry Clark, Alicia Danifu, Julie Dash, Zeinabu irene Davis, Jamaa Fanaka, Haile Gerima, Richard Hawkins, Barbara McCullough, Bob Nakamura, Bernard Nicolas, Thomas Penick, Clyde Taylor, Makara O. Funmilayo, Shirikiana Aina and Billy Woodberry. Sadly we lost our beloved UCLA School of Theater, Film and Television colleague, Teshome Gabriel, who was teacher, mentor and cohort member of the Rebellion. And unfortunately, the talented Anita Addison and Malvonna Ballenger have also passed. Amazingly, we still have many important representatives to document, including Gay Abel-Bey, Denise Bean, S. Toriano Berry, Jacqueline Frazier, Alile Sharon Larkin, Robert Wheaton and Iverson White, among others. Our list of filmmakers has expanded from an initial 12 to more than 50, and we are still identifying new names.
Identifying, finding, contacting and eliciting a response from the filmmakers has been challenging. We have had to prove ourselves to them. Even now, there are hesitancies, questions and suspicions connected to race that only more work and cooperation will overcome.
Happily, we've been very successful at attracting grant funding, so we've been able to make significant progress on our promise to bring the work of the L.A. Rebellion back to historical consciousness; restore and protect their legacy as part of the UCLA Film & Television Archive; and secure a place for them in American film history. Furthermore, we have been committed to undertaking this grand project with the direct and active participation of the filmmakers. We owe them that more than anything.