In his classic novel "Closely Watched Trains," made into an Oscar-winning film by Jiří Menzel in 1966, the Czech writer Bohumil Hrabal describes his fellow countrymen generally as opportunistic, indolent and with an elastic sense of morality. And I guess one can't blame them, given 300 years of Habsburg (German) domination, followed by a few (all-too-brief) years of independence, Nazi occupation with the goal of ethnic cleansing and 45 years of Communism. Happily, not all Czechs fit the stereotype—my dad certainly didn't—and I'm only half Czech. 
The other half is German, and I would describe my work ethic as Prussian, in that I believe a job is only worth doing if it is done with as much focus as possible. Personally, I have never been able not to do the best I can, even when, as happened once in my career, the ethics of the institution I was working for did not meet the highest moral bar. Hey, I needed to support my family. 
Nevertheless, for me, personal ethics and the ethics of institutions are intertwined. As Director of UCLA Film & Television Archive, I've insisted on the highest ethical standards for our professional work. And as a representative of the Archive, I want the institution to pursue honest and ethical relations with donors, vendors, colleagues, the public, our partners in the industry and our students. Finally, as a department within the UCLA School of Theater, Film & Television, the Archive must reflect the pursuit of scholarly inquiry and openness that is at the center of the university's mission. This stance has not necessarily always been a truism for everyone working in the field of moving image archiving and preservation.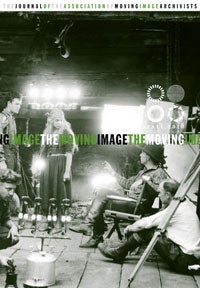 Professional codes of ethics for the field have been initiated by the International Federation of Film Archives and the Association of Moving Image Archivists, but have not been universally implemented. In her essay "Representation and Ethics in Moving Image Archives," published in The Moving Image: The Journal of the Association of Moving Image Archivists, Nina Rao, a recent graduate of the Moving Image Archive Studies program at UCLA (and new to the staff at the UCLA Film & Television Archive), writes:
"[T]he stipulations of the FIAF code fall short in providing resolutions to ethical dilemmas that balance legitimate public interest and education, or the rights of donors and copyright holders, against individual or cultural rights."
Referencing other professional organizations with codes of ethics, as well as the practical experience of international film archives, Nina's essay goes on to ask important questions about the privacy rights of indigenous peoples, as well as their property rights, advocating that apart from donor and copyright restrictions, the ethical ownership of the subjects must be factored into archival access policy, even when consent was sought and received.
As a field, we need to have a discussion about the issues addressed above, as well as many other ethical dilemmas confronting the Archive as a keeper of moving images.
For example, how do we deal with donors that suggest courses of action that might be construed as unethical? What about dealing with private collectors who have a different set of standards for handling archival material and are far less concerned with copyright?
These are questions for which there are no easy answers.