Serving the UCLA community and an international constituency of academic faculty, scholars, students, writers, and professionals, the Archive Research and Study Center (ARSC) provides a vital access point to UCLA Film & Television Archive's collection of over 300,000 films and television programs, over 100,000 News and Public Affairs (NAPA) programs, and over 2,000 radio programs.
ARSC coordinates individual viewing appointments, facilitating access to the Archive's rare collections in UCLA's campus media lab. Through ARSC's assistance, a diverse demographic of patrons conduct scholarly and professional research for hundreds of class assignments, books, articles, dissertations, and film and television productions.
Thanks to ARSC:
Students have discovered the classics of film and television history.
Scholars and writers researched thousands of articles and books.
Producers and programmers have prepared exhibitions and productions.
Please visit our list of selected recent publications Researched at ARSC.
Archive Research and Study Center (ARSC)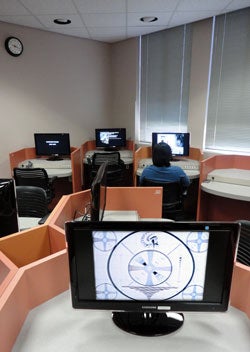 Powell Library Building (Room 46)
Los Angeles, CA 90095-1517
310 206-5388 voice
310 206-5392 fax
email: arsc@cinema.ucla.edu
Hours: Monday - Friday, 8:30 a.m. - 5:30 p.m.
Viewing requests can be made in person, by phone, fax or e-mail, or by submitting a Research Inquiry.
During the academic year, viewing hours by appointment may include weekday evening hours or Sunday afternoon hours. During summer session, only daytime weekday appointments are available.
Please note that due to an item's condition and format, many collection holdings can take up to 2-3 weeks or much longer to prepare for viewing. For this reason all research requests must be formally forwarded well in advance of any proposed visit. Some items listed in the catalog may not be available due to condition and/or format.
ARSC answers research questions relating to our collections and makes referrals to other sources, as appropriate. For more information regarding on-site research access and for help searching the collections, please refer to our Research FAQ or contact us by phone or e-mail.