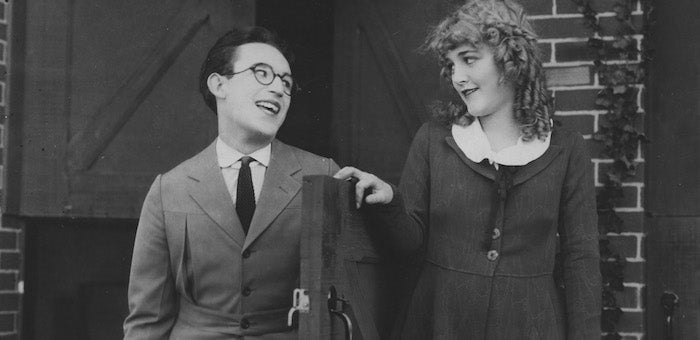 UCLA Film & Television Archive is pleased to recognize our generous contributors, whose support makes it possible for us to preserve and make accessible our nation's moving image cultural heritage.


We would like to thank:

Preservation Circle

 Maxine and Benton Barry
 Best of Best Inc.
 Barbara and Bob Booker Sr.
 Lane Retallick and Lance Brisson
 Cecilia DeMille Presley and Randall Presley
 The Film Foundation, Inc.
 The Andrew J. Kuehn Foundation
 Iranian American Heritage Foundation of Southern California
 National Film Preservation Foundation
 The Packard Humanities Institute
 Myra Reinhard Foundation
 Quentin Tarantino
 Pride Foundation Ric Weiland Estate Fund


Producers Circle

 Joseph Drown Foundation
 Ralph and Barbara Edwards Family Foundation
 Charles Fiscus
 Steve Mosko


Directors Circle

 Stephanie and Harold Bronson
 William D. Heer III
 Mary Pickford Foundation
 Andrew James McLaughlin IV
 Carol Bahoric and Myron Meisel
 Nello Pace and Mary Jo Pace Trust
 Rohauer Collection Foundation
 Patsy and Robert Sung
 Tuscan Corporation


Studio Circle

 Sharon and Joseph Adashek
 James Blakely
 Frank Buxton
 Rita Cossette
 Carol Frank and Ronald Diamond
 FotoKem Film Video & Data
 Nick Grbac
 Crystal and Hugh Hefner
 Mindy Schirn and Jan-Christopher Horak
 Ron Merk
 Lawrence A. Mirisch
 Margaret Black and John Ptak
 Bruce Stanbery
 Lawrence Edward Turman
 Underground Vaults & Storage
 Kerry Sue Underwood
 Alex Winitsky

 

Silver Screen Circle

 Bonnie Arnold and Robert Puglisi
 Audio Mechanics
 Sarah and Tyler Bensinger MFA
 The Bridges/Larson Foundation
 Jim Brown
 Criterion
 The Early To Bed Tent - Oasis #239
 Filmstyle HD, LLC
 John Gloske
 Jack Larson
 Patrick Ian Mc Greal
 Dina Merrill and Ted Hartley
 Ann and Jerry Moss
 Sandra Nichols
 Michael Duane Rutledge
 Cedar Sherbert
 Shout! Factory
 Jack Oakie & Victoria Horne Oakie Charitable Foundation
 Lisa Stevens Brown
 Alexandra Seros and Walter Ulloa
 Bruce Walters
 What Gaiety! LLC


Cinephile Circle

 Jacqueline and Gene Autry
 The W. & R. Bernheimer Family Foundation
 Block-Heads Tent of the Sons of the Desert
 Mark Cantor
 Eric L. Cheevers
 Bob Duncan
 Renee Rastorfer and Harry Keramidas
 Deborah and John Landis
 Christine Berardo and Robert Markowitz
 Jeffery Jon Masino
 Margaret and F. Donald Miller
 Thomas Nemeth
 Jackie and Peter Oreckinto
 Jennifer Owens and Jay Ornellas
 Diane Cary and Jim Parriott III
 D. D. and Shell Plutsky
 Cathleen and Peter Reiher
 Stephen Neal Sauer
 Barbara Sproul
 Richard L. Utley

 

 

 

 

 

*List reflects gifts made between July 1, 2014 and June 30, 2015.
  

Family and Friends of Ron Isroelit
"Our dad was an avid old movie buff, and he especially loved Laurel & Hardy films. I remember many times (pre-video/DVD/Internet) when he would setup his 16mm projector and screen Laurel & Hardy titles like Brats (1930) and Hog Wild (1930) in the basement of our house or outside on a warm summer night so that the kids in the neighborhood could also see them. We'd watch them once, then rewind and watch them again and again. It was the memory of this enjoyment and his passion for classic films that motivated us to look for a unique way to honor his memory after he passed away. This led us to the discovery of UCLA Film & Television Archive's restoration program and the idea of restoring a film in his honor.
At the first meeting with the UCLA archivists, we were amazed at the list of films that needed to be restored: features, shorts, serials, westerns, comedies, silent and sound eras. Wow! What an opportunity, but how do you decide? Then we saw a few Laurel & Hardy titles on the list, and we knew immediately that restoring one of those would be a perfect way to honor his memory—and that his love for Laurel & Hardy films that he'd passed down not only to his kids, but also to his grandkids would live on. We settled on a classic Laurel & Hardy title called Helpmates (1932). It was a great way to give back to a specific cause that had meant so much to him during his life. And what better way to insure that future generations could benefit from the timeless Laurel & Hardy humor than to restore a classic title within the UCLA Film & Television Archive library."


Ken and Carol Schultz
"Our first exposure to classic films of the 1930s through the 1950s was during the 1970s in our hometown of Pittsburgh, Pennsylvania, where a guy named Rege Cordic hosted "Sunday Afternoon at the Movies." There were probably dozens of these Sunday afternoon matinee shows on air throughout the country at that time, but those shows were not hosted by Rege Cordic.
Rege had grown up in Pittsburgh and worked in radio during the '40s and '50s and moved to Los Angeles in the '60s to begin an acting career in television, but he returned to Pittsburgh regularly to host his show. Rege did a wonderful job of analyzing plots and characters, and describing the skills exhibited by actors and directors in creating fascinating depictions of human aspirations, fears and dreams—along with aspects of the films that nobody else ever talked about. Our love of classic films and belief that it is critical to preserve them is as much a result of our childhood memories of watching these films and learning about the complexities of life from them as it is the quality of the stories, phenomenal acting and talented people who brought them to life.
We are so pleased to be able to further our understanding of, and experience with, classic film and moving image through our involvement with UCLA Film & Television Archive. It has been quite meaningful to us that our philanthropic support of the Archive means not only our favorite films, but also other portions of the Archive collection can be preserved and accessed for future generations to study and enjoy.
Thank you Rege, and thank you to those at UCLA who dedicate their lives to this mission."