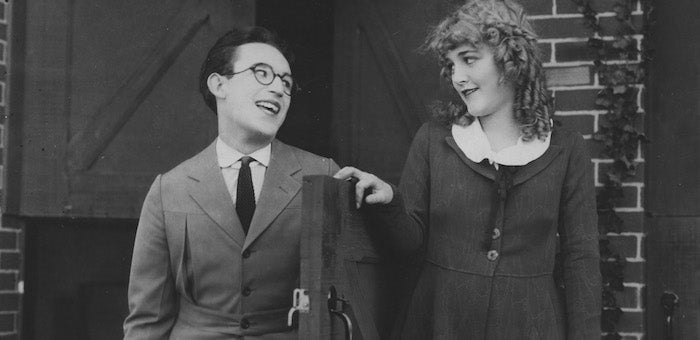 UCLA Film & Television Archive is pleased to recognize our generous contributors, whose support makes it possible for us to preserve and make accessible our nation's moving image cultural heritage.



We would like to thank:

Preservation Circle

Anonymous
Century Arts Foundation
Dagmar and Ray Dolby
Connie Bandy Elliot
Farhang Foundation
The Film Foundation, Inc.
John Randolph Haynes and Dora Haynes Foundation
Doug Jones
Louis B. Mayer Foundation
Moss Family Trust
The Packard Humanities Institute


Producers Circle

Anonymous
Antique Phonograph Society
Bronni Stein and John Connolly
Barbara Roisman-Cooper and Martin Cooper
Carol Bahoric and Myron Meisel
National Film Preservation Foundation
Eleanor and Glenn Padnick
Margaret Black and John Ptak
Robert Rosen
Carol and Ken Schultz


Directors Circle

Anonymous
Stephanie and Harold Bronson
Mindy Schirn and Jan-Christopher Horak
Beth Kurteson
M. Duane Rutledge
Underground Vaults & Storage Inc.


Studio Circle

Anonymous
Dana Cocke
Raymond De Felitta
Richard Haden Gordon
Edmund C. Grainger Jr.
Bonnie Arnold and Robert Puglisi
Rohauer Collection Foundation
Rubicon Film Productions, Ltd.
Amber and Richard Sakai
Leslie and Andre Stojka
Tuscan Corporation
Joan Borsten Vidov

Silver Screen Circle

Anonymous
Block-Heads Tent of the Sons of the Desert
Elizabeth Bryson
Keith Buckley
Rhonda Fleming Carlson and Darol Carlson
Sarah Cruikshank and Jon Davison
Bob Duncan
Marla and Jeffrey Garlin
John Gloske
Gloria and Willard Huyck Jr.
Philip Ituarte
Maria B. Jacobson
Richard Lindner
Leslie and J. Frederick MacDonald
Cecilia deMille Presley 
Margaret Jolley and David Sameth
Stephen Neal Sauer
Todd Schiffman
Kerry Sue Underwood
Brian Roskam and Mike Werb


Cinephile Circle

Anonymous
Dail E. Barbour
Karen L. Dillon
Gay and Donald Durward
Shari and Richard Foos
George Grant
Lin Zhang and Michael Iracondo III
Bradley Bayou and Mark Itkin
Mark DeAngelis and Henry Jung
Jeffery Jon Masino
Marion Peters and Jonathan Mersel
Margaret and F. Donald Miller
Chon A. Noriega
Jennifer Owens and Jay Ornellas
Jane and Max Reid
Linda and Jay Sandrich
Writers Guild Foundation
  Friend Circle
Anonymous
Robert Ackerman
Alberto Airaudi
Meredith and Robert Alcock
Ronald Apple
Margaret and Danilo Bach
Steve Bailey
Brad Baillie
Alphons Bakker
Dan Barham
Grace Mary Barnes
Devon Baxter
Bayside STEM Academy Sci-Fi Club
Lois Becker and Mark Stratton
Richard L. Beecher
John L. Benson
Coleen and Steve Bentley
Tim Arne Bergfelder
William M. Besse
Anthony Jamel Best
Beverly and Bernard Bienstock
Patricia Biggi
James Bigwood
Robert Birarelli
Susan and Simon Blattner III
Peter E. Blau
Jerry Houston Bledsoe
Jürgen Bodemann
The Boeing Company
Amy Bonato
Minako and Robert Borgen
Karen and Vincent Brook
Ben Louis Browdy
Lawrence H. Bulk
Christopher Bungo
Frederick E. A. Bush
Oscar Cadeddu
William Caffrey
Jeff Calof
Aneta Campbell
Elaine O'Brien Capogeannis
Katherine L. Carlson
Mac Carlson
Sondra and Richard Carnahan
Shirley B. Carpenter
Nico Cartenstadt
William Cassara
Paul Castiglia
Emily Caston
Gil Cates Jr.
William Chiappetta
Joy A. Chuck
Nicolas Ciccone
Kristine A. Cimmy
Peter Cohn
Nancy and David Colman
Bob Conte
Stuart Cook
Mike Cooke
Kathryn and Thierry Couturier
Larry Cox
Rita Crandall
Neil Cutler
Jim Dallape
Shieva Davarian
Andy Davis
Rani Lila Demuth
Allen M. Deraney
Andrew Dimeglio
Wheeler Winston Dixon
D. J. Audio, Inc.
Allison M. Dragotto
Brigit and Jim Drake
Dwight Hatfield
Mark Heimback-Nielsen
Pamela and Bruce Henstell
Craig Heslor
David Hollingsworth
Ava and Charles Hoover Jr.
Gary Hoselton
Glenn Ishioka
Claudia D. Israel
Keiko and Larry Jacobson
Yoko and Nicholas James
Sally and Michael Janover
Elaine Deidre Johnson

Michael Johnson
Patricia Johnson and Leslie Lee
Hank Jones
John Jones
Rick Jones
David Kaliner
Anna Keizer
Adrienne and Eric Kentor
Ilyanne and Michael Kichaven
Diana L. King
Jim Koenig
Lily Korte
Maria De Las Carreras and Jonathan Kuntz
Ralf Kutzner
James Lacey
Lois and Raymond Langer
Robert Lanier
Tobin Larson
Ron Lavallee
Ryan Ledoux
Brian Legrady
Emily and William Leider
Audrey and Peter Levin
Jesse A. Levy
Joe Libby
Robert Lion
Stuart Liss
Diane Locklear
Erica Pinto and Tommy Lovato II
Javier Lozano
Peter Lushing
Natasha and John Lyons
Paul Maclachlan
Ronald David Mael
Zandra Maffett
Anthony J. Magliocco
Alice and Leonard Maltin
Scott E. Margolin
Joseph Mathis
Luca Mauli
John May
George Mazzey Sr.
Peter James McBain
Ann Marie and Patrick McCarthy
Helaina and Brian McKibbin
Gabrielle and Jeffery Miller
Ryan Mindell
Ken Miyasako
Cary Moore
Sarah E. Moore
Darryl Mori
Dennis Paul Moriarty
Darrell Morley
David R. Moss
Ryan Mottesheard
Mary Jane Muro
Rebecca Borkgren Myers
Daphne Gronich and Paul Nagle
Debbie and Randall Nakashima
Anthony Naples
Farran Nehme
Darren Michael Nemetb
Thomas Nemeth
Keith Nesson
Marsha L. Niles
Oriana Fiona Nudo
Paul Nyman
Marcia Opal
Anne Spielberg and Dan Opatoshu
Jackie and Peter Oreckinto
Pamela and Ron Orenstein
Stephanie Parke
Jim Pauley
Paul Francis Penna
David Perkins
Herbert A, Perry Jr.
James Peters
Patrick Picking
Brian Pinkerton
Leonard Pitt
Jim Plannette
John Polito
Julie and Richard Prince
Aditya Kiran Putcha
Ruben R Garza
Alice Radley

Leah Radstone
Abraham Ravett
Lyle Ray
Dennis Reece
Celia and Robert Regan
James Reid
Cathleen and Peter Reiher
Retro Video, Inc.
Nicky Rheinstein
Vittorio Riccaboni
René Riva
Alan Rode
Robert Rosen
Bill Roth
Marguerite Roth
Ulrich Ruedel
Steve Runyon
Danilo Russo
Brenda and Gary Ruttenberg
Esteban Jose Samra
David Samuelson
Freida Mock and Terry Sanders
Alessandro Santi
Robert Satterfield
Steven Jerome Sattler
Michael A. Schlesinger
Andy Schmitt
David H. Schmutz
Holger Schuett
Marlene and Eric Schultz
Kenneth Schultz
Robert H. Schulz Jr.
Leonardo Scipilliti
Roselyn K. Scott
David Sedman
Lisa and Larry Selkow
Julie Sesnovich
Perry Shields
Barbara Shore
Joel Shprentz
Barry Siegel
Charlene and Michael Sievers
Dave Sikula
Dan Silver
Jack Silverstein
Randy Skretvedt
Luke Uriah Slendebroek
Will Sloan
Eric Jerome Small
Steven Smith
Way Out West Tent Of The Sons Of The Desert
Daniel Staley
Kristen Nicole Stankowski
Taylor Elizabeth Stayton
James Stephenson
Lynne and Robert Stryker
Jeff Suess
Thomas S. Suhs
S. Marc Tapper
Harold Taylor Jr.
John Tefteller
Maurice Terenzio
Laurens Johannes Jan Timmer
Cassie Tinta
Toyota Motor Sales U.S.A. Inc.
Lou Ursone
Jaap Verheul
Olga Yokoyama and Brent Vine
Robert Wales
Seamus Walsh
Jane and Richard Ward
Judy Watson
David Webb
Wells Fargo & Company
James R. Wendt
Markus Wernig
Jan Westman
John Wilson
Stephen Wolterstorff
Mabel Anne Woods
Iman Yahya
Ronald Yankovich
Catherine Young
Jordan Young
Carol and Richard Zbriger

*List reflects gifts made between July 1, 2017 and June 30, 2018.

Family and Friends of Ron Isroelit
"Our dad was an avid old movie buff, and he especially loved Laurel & Hardy films. I remember many times (pre-video/DVD/Internet) when he would setup his 16mm projector and screen Laurel & Hardy titles like Brats (1930) and Hog Wild (1930) in the basement of our house or outside on a warm summer night so that the kids in the neighborhood could also see them. We'd watch them once, then rewind and watch them again and again. It was the memory of this enjoyment and his passion for classic films that motivated us to look for a unique way to honor his memory after he passed away. This led us to the discovery of UCLA Film & Television Archive's restoration program and the idea of restoring a film in his honor.
At the first meeting with the UCLA archivists, we were amazed at the list of films that needed to be restored: features, shorts, serials, westerns, comedies, silent and sound eras. Wow! What an opportunity, but how do you decide? Then we saw a few Laurel & Hardy titles on the list, and we knew immediately that restoring one of those would be a perfect way to honor his memory—and that his love for Laurel & Hardy films that he'd passed down not only to his kids, but also to his grandkids would live on. We settled on a classic Laurel & Hardy title called Helpmates (1932). It was a great way to give back to a specific cause that had meant so much to him during his life. And what better way to insure that future generations could benefit from the timeless Laurel & Hardy humor than to restore a classic title within the UCLA Film & Television Archive library."


Ken and Carol Schultz
"Our first exposure to classic films of the 1930s through the 1950s was during the 1970s in our hometown of Pittsburgh, Pennsylvania, where a guy named Rege Cordic hosted "Sunday Afternoon at the Movies." There were probably dozens of these Sunday afternoon matinee shows on air throughout the country at that time, but those shows were not hosted by Rege Cordic.
Rege had grown up in Pittsburgh and worked in radio during the '40s and '50s and moved to Los Angeles in the '60s to begin an acting career in television, but he returned to Pittsburgh regularly to host his show. Rege did a wonderful job of analyzing plots and characters, and describing the skills exhibited by actors and directors in creating fascinating depictions of human aspirations, fears and dreams—along with aspects of the films that nobody else ever talked about. Our love of classic films and belief that it is critical to preserve them is as much a result of our childhood memories of watching these films and learning about the complexities of life from them as it is the quality of the stories, phenomenal acting and talented people who brought them to life.
We are so pleased to be able to further our understanding of, and experience with, classic film and moving image through our involvement with UCLA Film & Television Archive. It has been quite meaningful to us that our philanthropic support of the Archive means not only our favorite films, but also other portions of the Archive collection can be preserved and accessed for future generations to study and enjoy.
Thank you Rege, and thank you to those at UCLA who dedicate their lives to this mission."