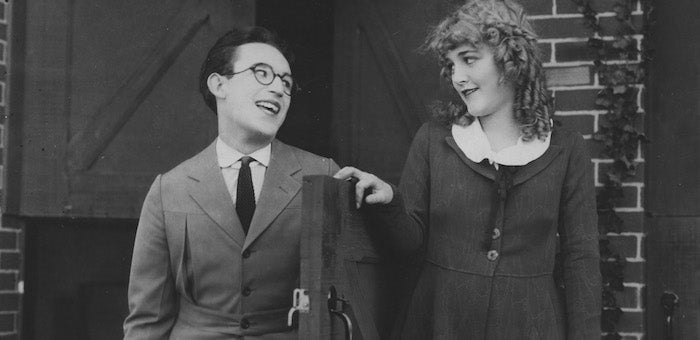 UCLA Film & Television Archive is pleased to recognize our generous contributors, whose support makes it possible for us to preserve and make accessible our nation's moving image cultural heritage.



We would like to thank:

Preservation Circle

Anonymous
Gaye and Charles Burnett '69, MFA '77
Farhang Foundation
The Film Foundation, Inc.
Susan Fuhs MBA '93 and David Fink
The Andrew J. Kuehn, Jr. Foundation
Patricia W. Mitchell Charitable Remainder Trust
The Packard Humanities Institute
Myra Teitelbaum Reinhard '58 (p)*


Producers Circle

Anonymous
Carol Bahoric MBA '88 and Myron Meisel
Ivy Tombak and Joey Berlin
David Chierichetti '70, MA '73**
Cohen Film Collection, LLC
Bronni Stein and John Connolly
GRAMMY Foundation
Dorothy Manzarek
Eleanor DDS '80 and Glenn Padnick (p)*
Margaret Black and John Ptak '67
Robert Rosen
Ken Schultz


Directors Circle

Anonymous
Monica L. Bouldin
Broadcast Film Critics Association
Stephanie '81 and Harold Bronson '72
Cineric Inc.
Cinnafilm, Inc.
Barbara Roisman-Cooper '62 and Martin Cooper '63
Mindy Schirn and Jan-Christopher Horak
Luxe Summit Hotel
National Film Preservation Foundation
Netflix, Inc.


Studio Circle

Anonymous
Ahimsa Cinema, LLC
Paul Federbush
Shelly and Vincent Fremont
Richard Haden Gordon
Edmund C. Grainger Jr.
Hollywood Heritage, Inc.
Mackey Miller Laurel
Stephen Oliver Lesser '61
Robert Williams Lewine
Kerri Martinez
Tom Reed
Rohauer Collection Foundation
Vincent Fremont Enterprises Inc.

 

 

 

 

Silver Screen Circle

Anonymous
Argyros Foundation
Julianne and George Argyros Sr.
Bonnie Arnold and Robert Puglisi
Audio Mechanics
Elizabeth Bryson
Benedict Campbell
Sarah Cruikshank and Jon Davison
Robert Grant Dickson
Bob Duncan
Film Society of Minneapolis St. Paul
John W. Gloske
Lynda and Alan Goldman '81 (p)*
Heidi and David Hodges
Glenn Ishioka
The Ishioka Living Trust
Linda Marie Lee '66
Jenni Olson
M. Duane Rutledge
Stephen Neal Sauer '74 (p)*
Jennifer Scherrel
Alexandra Seros '69 and Walter Ulloa
David Paul Wexler
Todd Wiener


Cinephile Circle

Anonymous
John Gregory Branca JD '75
Anne Bruner '98 and James Bremner
Andrew Dimeglio
D. J. Audio, Inc.
Gay '67 and Donald Durward '64
George Grant
Charles Horak
Lin Zhang and Michael Iracondo III '91
Maria B. Jacobson
Elaine Deidre Johnson '76
Diane and Jeffrey Jones (p)*
Mark Deangelis and Henry Jung '87
Willard Huyck Jr. and Gloria Katz '69**
Sharon F. Katz
Deborah '71 and Jeffrey Kaye
Sharon and Leslie Klinger
Glenn A. Knickrehm
Leslie MacDonald

Jeffery Jon Masino
Debbie Graber and Patrick McCarthy
William Wayne Mora Jr.
Jackie and Peter Oreckinto
Jennifer Owens-Ornellas and Jay Ornellas '74, MBA '76
James Pedas
Theodore Pedas
Victoria Riskin
Adam S. Rubinson
Gary Joseph Rutkowski
Schwab Charitable Amy Aquino and Drew McCoy Fund
Gwen Ewart and Robert Thomas
Marlene M. Trois
Matthew M. Wheeler
David C. Willms
Sharon '80 and Randall Wixen '81
Ziffren Brittenham LLP
  Friend Circle
Anonymous
Michael Abraham
Erik Abrahamson
Patricia Tobias and Joseph Adamson III '67, MA '70
Barbara Pariser Adler
Meredith and Robert Alcock (p)*
Anti-Defamation League Foundation J&T Roth/
M&F Livingston Philanthropic Fund
Alan Aperlo
Karina Arzate-Arenivaz
Steve Bailey
Dail E. Barbour
Dan Barham
Grace Mary Barnes '76, MFA '92
Richard L. Beecher
Roxanne Benecke
Chiara Benedetti
John L. Benson
Judith '64 and Allan Bernstein '65, DDS '71
Frank L. Bidart
Beverly '68, MA '69, PHD '73 and Bernard Bienstock '68, MS '70
Patricia Biggi
Debby Jo Blank
Peter E. Blau
Laure Norma Brost Halliday PHD '11
Ben Louis Browdy '69, MS '70, PHD '78
Adam Bugbee
Melinda L. Burge
Edmond Burzycki
Frederick E. A. Bush
Thomas Canning
Mac Carlson
Shawn Mc Mullen-Chen '86, MED '88 and Charlie Chen '87
Tony Chen
Joy A. Chuck MA '74, MLS '83
Peter Cohn
William Charles Coker '70
Luis A. Cordero
Susie MacLean and John Crittenden '78, JD '81 (p)*
Neil Cutler
Susan and Rynol Dahlman Jr. '71
Steve Dean
Rani Lila Demuth MFA '05
Jeannie L. Dimter '74
Wheeler Winston Dixon
Edward Dodd
Allison M. Dragotto
Brigit and Jim Drake
George Drucker
John Duff III
Laryssa Duncan
Scarlett Edwards
Connie Bandy Elliot
Peyton Ennis
George Eubanks
Stephen Edward Farber MA '69
Shana Kay Feibel MA '94, MFA '04
Randy Ferguson
Mark Forer
Janine Roseanne Fowler '83
Pierre Francois
Steve D. Gabel
Miguel Garcia Gonzalez
General Electric Company
James D. Gentile
Lisa Beckers and Michael Gershbein
Mari Gilbert
Deepak Giri

Pooja Giri
Magdalena and Barry Goch '90 (p)*
Jacquelyn Pearl Goldman
Mark Joel Gordon '83
Greater Albany Public Schools
Tracy Grunig
Jere N. Guldin
Gary J. Hancock
Jackie Haskins '68
Kazumi Hatakeyama
Robert Heckes
John Heinsen
Marcia and Jack Heller (p)*
Pamela and Bruce Henstell MLS '89, PHD '01
Christopher Hernandez
Craig Heslor
Elliott Hicks
Adrianne Briana Hodge '16
Nick Holdsworth
Marlana Hunt
IBM Corporation
Claudia D. Israel
Philip H. G. Ituarte '84, MA '06
Keiko and Larry Jacobson '79
Audrey Jamme
Sally and Michael Janover MFA '73
Jody Michelle Johnston (p)*
Bobette Jones '50
Yensey Murillo and Kenneth Jones
Mikhail Khitrik
Amy Krell '86
Peggy Otsubo MA '82 and Don Kuroyama '75
Alison Laird Craig
Melissa Lambert
Bruce Chilton Lane '62, MA '70
Lois Langer '53 (p)*
Robert Lanier
Maria Crenna '87 and David Leiman '84
John Patrick Lennon '92
Judith '64 and William Levin '63, MS '66, MS '73 (p)*
Leland Fong Lew '78
Joe Libby
Gail Kamer and Warren Lieberfarb
Magali Lozano '14
Sylvia Lynch
Justin Wayne Macuga '03
Anthony J. Magliocco
Nikki Masher
William V. McTaggart
Marion Peters and Jonathan Mersel MS '77
Stephan Meyer
Microsoft Corporation
Peter Mikkelsen
Ida M. Miller
Gabrielle and Jeffery Miller
William Morgan
Darryl Mori
Dennis Paul Moriarty
Daphne Gronich and Paul Nagle '82
Debbie and Randall Nakashima '76
John Nemec
Thomas Nemeth MA '06
Keith Nesson

Marsha L. Niles
Oriana Fiona Nudo
Gene O'Brien
Eva Baker '63, MA '65, EDD '67 and Harold O'Neil Jr. (p)*
Paul Francis Penna
Sally Phillips
Sylvie Poitevin
John Polito
Julie and Richard Prince '74, MBA '77
Alex Prisadsky
Federica Pudva
Jennifer Rader-Quigley and Mark Quigley MFA '00 (p)*
Judy '81 and Louis Race '68
Vicki Johnson and Mike Raugh '62
Abraham Ravett
Norma '68 and Neil Reichline '68, MFA '70
James Reid
Jennifer Rhee MA '14
Michael Patrick Richards
Howard A. Rodman
Jo Ann Roth
Noel Rowsome
Charles Franklin Ruebsamen '72
Tyler Ruggeri
Jane Ruhm '72
Janette Ruiz
Beverly and Stephen Sbarge
Roselyn K. Scott
Lisa and Larry Selkow
Susan and Peter Sherayko
Gary Shulberg
Dan Silver
Jack Silverstein
Randy Skretvedt
Megan Skyy
Shawnee Isaac Smith '78, MFA '06
Susan L. Solat (p)*
Maris Somerville
Gene Sorkin
David Sorrenson
Daniel Jakub Stach
Helena Stach
Kristen Nicole Stankowski
Taylor Elizabeth Stayton
William Bond Steele
Paul Jeffrey Steier '72
Carrie Gorringe and Scott Thurlow
Gregory Topping
Steve Turnbull
Izabella Jeanne Velez
Gloria Campbell and John Verwys
James Robert Watkins III '99
Wells Fargo & Company
James R. Wendt
Betty J. Werner
Susan Wester '82, MA '85
Jan Westman
Kathryn E. White
Helen Wicks
Richard Willett
Diane and George Wolfberg '61 (p)*
Robert S. Wollin '58 P
Diana L. Woody
List reflects gifts made between July 1, 2018 and June 30, 2019.
(p)*parent(s)
**deceased

Family and Friends of Ron Isroelit
"Our dad was an avid old movie buff, and he especially loved Laurel & Hardy films. I remember many times (pre-video/DVD/Internet) when he would setup his 16mm projector and screen Laurel & Hardy titles like Brats (1930) and Hog Wild (1930) in the basement of our house or outside on a warm summer night so that the kids in the neighborhood could also see them. We'd watch them once, then rewind and watch them again and again. It was the memory of this enjoyment and his passion for classic films that motivated us to look for a unique way to honor his memory after he passed away. This led us to the discovery of UCLA Film & Television Archive's restoration program and the idea of restoring a film in his honor.
At the first meeting with the UCLA archivists, we were amazed at the list of films that needed to be restored: features, shorts, serials, westerns, comedies, silent and sound eras. Wow! What an opportunity, but how do you decide? Then we saw a few Laurel & Hardy titles on the list, and we knew immediately that restoring one of those would be a perfect way to honor his memory—and that his love for Laurel & Hardy films that he'd passed down not only to his kids, but also to his grandkids would live on. We settled on a classic Laurel & Hardy title called Helpmates (1932). It was a great way to give back to a specific cause that had meant so much to him during his life. And what better way to insure that future generations could benefit from the timeless Laurel & Hardy humor than to restore a classic title within the UCLA Film & Television Archive library."


Ken and Carol Schultz
"Our first exposure to classic films of the 1930s through the 1950s was during the 1970s in our hometown of Pittsburgh, Pennsylvania, where a guy named Rege Cordic hosted "Sunday Afternoon at the Movies." There were probably dozens of these Sunday afternoon matinee shows on air throughout the country at that time, but those shows were not hosted by Rege Cordic.
Rege had grown up in Pittsburgh and worked in radio during the '40s and '50s and moved to Los Angeles in the '60s to begin an acting career in television, but he returned to Pittsburgh regularly to host his show. Rege did a wonderful job of analyzing plots and characters, and describing the skills exhibited by actors and directors in creating fascinating depictions of human aspirations, fears and dreams—along with aspects of the films that nobody else ever talked about. Our love of classic films and belief that it is critical to preserve them is as much a result of our childhood memories of watching these films and learning about the complexities of life from them as it is the quality of the stories, phenomenal acting and talented people who brought them to life.
We are so pleased to be able to further our understanding of, and experience with, classic film and moving image through our involvement with UCLA Film & Television Archive. It has been quite meaningful to us that our philanthropic support of the Archive means not only our favorite films, but also other portions of the Archive collection can be preserved and accessed for future generations to study and enjoy.
Thank you Rege, and thank you to those at UCLA who dedicate their lives to this mission."